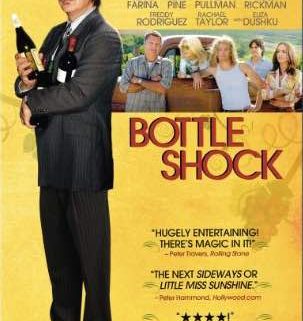 I'm a champion of food films. But to be quite honest, I'm really an order it from Netflix and spoon on the couch type, not a share the experience with the masses type. So the fact that I went to the theater twice in the past month to see Bottle Shock is really, well, shocking.
The film is based on a true event, the Judgment of Paris. If you're not familiar with the Judgement of Paris, (and I'm not talking the fall of Troy, here), it was a wine tasting in 1976 that marked the first time in history that American wine was recognized as world-class.
A competition conceived by British wine merchant Stephan Spurrier, The Judgment of Paris pitted 12 California wines, 6 Chard and 6 Cab, against the French. A panel of French wine experts tasted the wines side-by-side, blind, of course. Shockingly, an American wine won in both white, (Chateau Montelena) and red (Stag's Leap).
The film was an extremely engaging drama, with heartfelt story lines and scenery that truly captures the beauty of California's Wine Country, (the movie was primarily shot in the Napa Valley as well as Carneros and Glen Ellen in Sonoma County).
But, unlike so many films featuring food and wine, the subject matter with approached with extreme detail and accuracy. In fact, after two viewings, I could only catch one gastronomic faux pas. One vintner, after pouring barrel samples, knocked the bung back into place on the barrel, before the wine was tasted. Everyone in the wine biz knows that you don't dare spill a drop of great wine. In the real world, the remaining wine in the glass would always be returned to the barrel before the bung hole is corked.
But what's one flaw in a film full of facts that entirely capture the incredibly special world of California's wine industry?
Bottle Shock opened to an extremely limited release, but is growing momentum every week. It is definitely one of those flicks that will maintain its allure on DVD, but if you can find a theater playing the film in your neighborhood, it is your duty as a great American foodie to get your ticket to this year's greatest food film.
https://www.eatsomethingsexy.com/wp-content/uploads/2008/11/bottle_shock.jpg
429
303
Amy Reiley
https://www.eatsomethingsexy.com/wp-content/uploads/2017/01/Amy-Reileys.png
Amy Reiley
2008-11-18 06:19:46
2016-10-04 12:33:16
Shocking Behavior: the pleasures of wine in bottle shock