Shiitake Noodle Salad with Nuoc Cham and Herbs
Our articles may contain affiliate links. For more information, view our policies.
A saucy bowl of aphrodisiac noodles
This Shiitake Noodle Salad recipe comes to us from Becky Selengut, from her latest cookbook, Shroom: Mind-Bendingly Good Recipes for Cultivated and Wild Mushrooms.
Here she shares her passion for mushroom, the aphrodisiac ingredient with one of the best folkloric histories. Inspired by Vietnamese noodle salad, the recipe combines the earthy flavor of shiitake mushrooms with the bite of chiles and a garnish of aphrodisiac herbs.
Worth the effort
A dish with this depth of flavor does take several steps to make, like creating your own Porcini powder. But the complexity of the final recipe is worth it. Our advice? Make a double batch of Porcini powder because once you make this recipe, you'll want to do it again!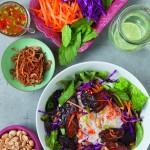 Shiitake Noodle Salad with Nuoc Cham and Herbs
Print Recipe
Shroom: Mind-Bendingly Good Recipes for Cultivated and Wild Mushrooms offers a complex array of Vietnamese flavors in one vegetarian bowl. 
Ingredients
1

heaping tbsp

kosher salt

1 1/2

lbs

wide rice noodles

(it may say "stir-fry rice noodles" on the packaging; I use thin pad thai noodles for this dish)
For the shiitake seasoning:
1

tbsp

tomato paste

2

tsp

soy sauce

2

tsp

seasoned rice vinegar

2

tsp

toasted sesame oil

2

tbsp

coconut oil

melted, plus more for brushing the pan

freshly ground black pepper

optional

1

tsp

porcini powder

recipe follows

1

lb

shiitake mushrooms

stems removed (saved for stock)
For the garnish:
1

cup

vegetable oil

1/2

cup

thinly sliced shallots

separated into rings

1/2

tsp

fine sea salt
Fixings:
1

head red leaf or green leaf lettuce

cut into bite-size pieces

1

medium carrot

peeled and julienned

1

medium cucumber

seeded and julienned

1

cup

thinly shredded red cabbage

1/2

cup

roasted, salted peanuts

1

cup

packed fresh basil leaves

1/2

cup

fresh mint leaves
for the Nuoc Cham Sauce
1/2

cup

water

1/2

cup

freshly squeezed lime juice

about 4 limes

2

tbsp

fish sauce

1/4

cup

sugar

2

Thai chiles

minced (substitute serrano chile with seeds and 1 Cherry Bomb chile, seeded)

2

cloves

garlic

minced and mashed to a paste

2

tbsp

finely shredded carrot

optional
Instructions
Place a rack in the middle of the oven and preheat the broiler to high.

Bring a medium pot of water to a full rolling boil. Add the salt and then the noodles, turn off the heat, stir well, and let sit in the water for 8 to 12 minutes.

Stir from time to time. Check for doneness at about 8 minutes. You want the noodles to be al dente (soft but just slightly firm in the middle).

As soon as they are done, drain them through a colander and run cold water over them to stop the cooking. Set aside at room temperature.

In a small bowl, whisk together all of the ingredients for the shiitake seasoning.

Add the mushrooms and, with your hands, mix the seasoning onto the shiitakes.

Brush a little melted coconut oil onto a parchment paper–lined baking pan and add the shiitakes, gills down.

Broil for 5 to 6 minutes on one side, until browned, then flip over and broil on the other side for 3 to 4 minutes. Alternatively, grill over a medium-hot fire until caramelized on both sides.

To make the garnish, heat the oil in a small saucepan to 350°F.

Add the shallots and fry until lightly browned. Remove with a slotted spoon and drain on paper towels.

Sprinkle the salt over the top of the shallots and reserve at room temperature until ready to serve.

To serve, rewarm the mushrooms either in a hot oven or in a skillet, if necessary.

Place an equal amount of lettuce at the bottom of 4 bowls. Top with the noodles, carrot, cucumber, cabbage, peanuts, basil, mint, fried shallots, and warm mushrooms.

Serve the nuoc cham sauce at the table. Instruct your guests to apply liberally.
Nuoc Cham Sauce
Whisk the water, lime juice, fish sauce, sugar, chiles, garlic, and carrot, if using, together in a bowl. Make sure the sugar gets dissolved. This sauce will keep in your fridge for 1 week.
PORCINI POWDER:
Break high-quality dried porcini (avoid buying really dark, dusty, broken, or worm-eaten pieces) into small pieces and buzz to a fine powder in an electric spice grinder. Store in a plastic freezer bag or glass jar in the freezer for up to 6 months. There are several ways to use this powder. You can mix it with hot water and then cook it into a soup or stew, or use it along with salt and pepper as a crust for beef or fish, or add it to boost the earthiness in a vegetarian dish. See www.shroomthecookbook.com for a video demonstration of how to make porcini powder. Please note that the porcini powder you make will be uncooked. You will want to cook this powder, by simmering it into the soup or stew, by searing the meat in the pan, and so forth. Keep in mind that you can't really remove the gritty sediment from porcini when you are making porcini powder (as you would when rehydrating). Make sure you choose clean-looking high-quality dried porcini and grind to a very fine powder. Do that, and you shouldn't have any grit problems.
Shiitake Noodle Salad photo credit: Clare Barboza for Shroom: Mind-Bendingly Good Recipes for Cultivated and Wild Mushrooms 
For more of Becky's mushroom-based magic, check out Shroom:
FREE APHRODISIAC NEWSLETTER
Subscribe to our free aphrodisiac newsletter