SHE Restaurant Cancun – an aphrodisiac dining experience
Our articles may contain affiliate links. For more information, view our policies.
SHE Temptation Resort is sexy on a plate
If you're thinking of giving your love life a surge with a couples trip, Temptation Cancun might be the destination for you.
Perhaps you've heard of the resort?
They made a splash when they announced their top-optional beach and pool areas. But that's not what we're buzzing about. What got our attention is the new aphrodisiac menu at the SHE restaurant Cancun.
SHE is the hotel's formal, couples restaurant. (As opposed to the anything goes vibe of the pool, at this restaurant, formality calls for long pants and collared shirts.) Instead of the dress, (or undress), at this restaurant, it's the menu that is provocative.
RELATED: Mexico Travel, Imanta Style
An aphrodisiac restaurant menu
According to Executive Chef Adrian Peregrina, "Our provocative menu is designed to awaken all the senses, not just taste. From the intimate restaurant setting, the way our food is presented to the music and our entertainment, everything at SHE is a testament to Temptation taking romance to a new level."
We appreciate the chef's sentiment. But how does this translate to the food?
What you'll find on the SHE restaurant Cancun menu
The answer is, with dishes both varied in textures to help excite the senses. But more importantly they deliver many of the nutrients essential for achieving passion in the bedroom. For example, there's Sweet Potato and Roasted Pineapple Salad with Sliced Duck and Fried Greens in a Citrus Gel. (Read more on what makes pineapple one of our favorite aphrodisiacs.)
There's also Mussels with Bacon and Spinach Gratin. (If you've read much about mussels on our site, then you already know that they contain amino acids that support hormone production.)
Other dishes feature aphrodisiac ingredients like figs, salmon and saffron. 
About SHE restaurant at Temptation Cancun Resort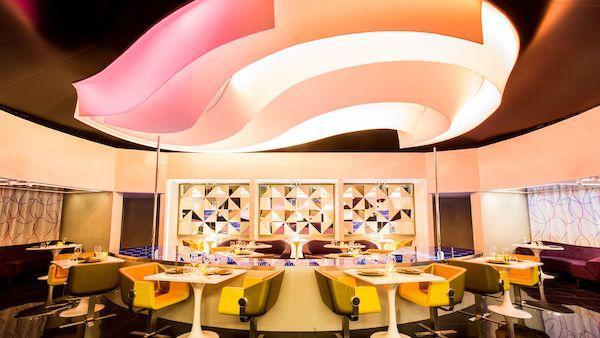 Although SHE restaurant Cancun is a part of the hotel's all inclusive package, reservations are required.
And all tables are for two.
Although the restaurant's focus is romantic dinners, the resort welcomes bachelorette and divorce parties as well as couples seeking their private paradise.
For more information on all-inclusive packages or to make a reservation, visit the Temptation Cancun Resort website.
For more romantic travel ideas, check out our Favorite Destinations page
Get on our mailing list
Subscribe and get our exclusive list of Six Great Sex-Boosting Snack Foods for FREE! Unsubscribe at any time.