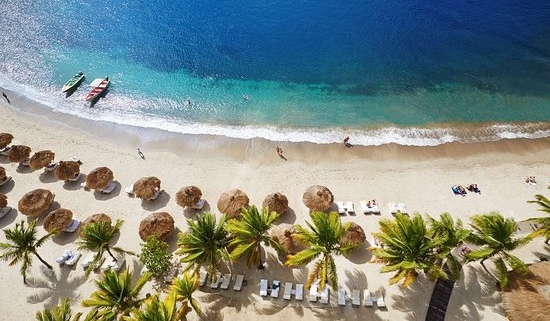 The Rummelier – only in St. Lucia
Our articles may contain affiliate links. For more information, view our policies.
Sun, Sand and a Rummelier
If you like sugary white sand beaches, tropical sunshine and rum, we've got a destination for you. Sugar Beach, a Viceroy Resort in St. Lucia, now has a rummelier. (Yes, that's their word for a sommelier for rum. Sounds delicious, doesn't it?)
Rum has been a part of St. Lucia's history since it sugar was introduced to the island in the 1700's. The resort is, in fact, on the site of a former plantation. So traveling to St. Lucia to experience rum is really like taking a lesson in history and culture…only one that smells and tastes much better than your average college lecture.
What does a Rummelier do?
A session with the rummelier promises to take guests through the history of Caribbean rum. And, of course, it includes a tasting of some of St. Lucia's finest rums. (The rummelier compares the selection to a Scotch tasting.) Of course, the experience offers plenty of instruction on the appreciation of high-end rum as well as a lesson in the evolution of the island's rum trade.
Tastings are held in Sugar Beach's Cane Bar. For those who prefer their rum mixed into a classic, Caribbean cocktail, don't worry. The bar staff is also expert in crafting Lava Flows, Hurricanes and Old Havanas.
About Sugar Beach
Sugar Beach is a part of the Viceroy Hotel Group's Icon Collection. The resort offers a variety of accommodations overlooking the Caribbean, including rooms, cottages, luxury villas and privately owned residences. The setting is a romantic, 100-acre property with plenty of room for getting lost in your own private paradise. In addition to the Cane Bar's rummelier experience, the hotel has three restaurants including two casual options and one fine dining dinner option. There is a full-service spa and a host of water sports including windsurfing, sailing kayaking and snorkeling. To view the hotel's current discounts and special offers visit the Sugar Beach website.
FREE APHRODISIAC NEWSLETTER
Subscribe to our free aphrodisiac newsletter