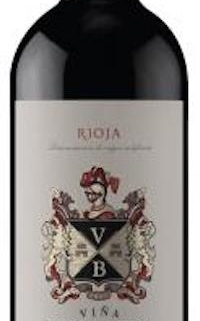 Rioja Deconstructed, Part 1: Tempranillo
Our articles may contain affiliate links. For more information, view our policies.
2017 Viña Bujanda Tinto, Tempranillo, Rioja DOCa, Spain
Wine of the Week with Annette Tomei
Tempranillo is indigenous to Rioja and is the primary grape in any red wine of Rioja. It is a thick-skinned, early-ripening grape with relatively high acidity and moderate tannins. It is not known for a specific flavor profile, making it difficult to generalize. Tempranillo's aromas can range from bright red and blue fruits to woodsy and spicy depending on soil conditions and climate, as well as age and choice of oak, if any. It ripens best in hot, sunny climates.
Rioja DOCa is located in northern Spain along the Ebro River. It is best known for its red wines, typically a blend of Tempranillo, Garnacha, and sometimes Graciano and/or Mazuelo (Carignan). The region is protected from the influence of the Atlantic Ocean by the Cantabrian Mountains. Therefore, it enjoys a warmer drier climate than its neighbors to the north. Wines have been produced in the region since at least 200 BC.
Viña Bujanda is part of a family of wines with deep roots in this region. Familia Martínez-Bujanda was established in 1889 and has been making wines in the reason ever since.
About this Wine
Tinto simply means red wine; this one is classified as a Rioja Joven – a young wine with no oak aging (this one was bottled less than 6 months after harvest). That leaves us to enjoy the full expression of the 100% Tempranillo without the influence of wood and time. This may be new to many of us when it comes to Rioja, which many of us expect to be a fuller, more serious wine.
This wine is medium to light bodied with forward fruit tannins that integrate with a bit of decanting or time in the glass. Aromas of cassis, cedar, and seductive wisps of violets are carried on a delicate bright acidity, making this a lovely warm weather red. The finish is clean and pleasant. This is a red that can handle a slight chill before serving.
The light, brightness of this wine makes it a great match with a variety of foods. I prefer to keep it simple – assorted charcuterie, light tapas, salty aged cheeses, olives, crusty bread. It's also a great choice with roasted salmon, a pot of mussels, or paella.
The Verdict
Since it's still summer as I write this, I am looking forward to enjoying a few more bottles of this Tempranillo while the weather is still calling for wines with a chill. But, at an average of less than $10/bottle, this is also a great weeknight wine any time of the year – light and friendly with food and on your budget.
I hope you enjoyed the first pour of our last summertime flight of fancy, Rioja Deconstructed. Come back soon for the next two pours, and more!
For more about where I enjoyed this and other flights, please visit Crush Bistro and Bottle Shops.
Latest posts by Annette Tomei
(see all)
Get on our mailing list
Don't miss out on a thing! Get news, deals & more!