Recipe for Alfajores (aka Famous Tango Cookies)
Our articles may contain affiliate links. For more information, view our policies.
I have to give a HUGE thanks to Marcy Goldman of BetterBaking.com for sharing her recipe for temptation with us. This Alfajores recipe is from her cookbook, The New Best of BetterBaking.com by Whitecap Books. (Scroll to the bottom for a link to purchase the book.) I love dulce de leche but I've never attempted Alfajores until now. (Who knew I'd been missing out my whole life.)
A simple cookie with a complicated history
Although Alfajores are popular throughout South America, you rarely see them in North America or most of Europe. (However, I've been told that they're fairly common in parts of Spain and southern France.) You might be surprised to learn that these cookies are embraced by Latin cultures as their own, the cookie's origin is actually in the Middle East. You can read the full history on Wikipedia.
What are Alfajores?
But despite their many exotic influences, these cookies are surprisingly basic. They are essentially sandwich cookies made from two fairly plain butter cookies with a thick slathering of dulce de leche in the center. Unfortunately, unlike many Christmas cookies that have a shelf life of a week or more, these cookies are quite moist and are best eaten right away. I recommend serving within three days of baking. And that really shouldn't be too hard to do. Once you taste these Alfajores, you'll have a hard time stopping at one!
Alfajores and Tango – a sexy combination
Comments Marcy, "[they are a] one of a kind gift but save some for yourself! Make your own dulce de leche from the free recipe on my site or find ready-made (if you must). This is about the best cookie in the world and the ideal holiday gift. Make it once-it will become, as it is mine, your trademark. I learned about alfajor cookies in tango class. 13 years of tango later (which one needs to work off the Alfajores calories), I am still making these amazing cookies. If you make only one cookie (after oatmeal and Tollhouse) this would be it."
And if you love making cookies, be sure to check out our whole collection of cookie recipes.
Alphahores or Famous Tango Cookies
Print Recipe
Ingredients
Cookie Dough
1 1/2

cups

unsalted butter

1

cup

confectioners' sugar

3

tablespoons

sugar

1/4

teaspoon

salt

1/4

teaspoon

almond extract

1/2

teaspoon

vanilla extract

1/3

cup

ground almonds

3

cups

all-purpose flour
Dulce De Leche Filling *
2 14

ounce

cans of condensed milk
Finishing Touches
Confectioners' sugar for dusting

Toasted or plain shredded coconut for sides
Instructions
For the cookies, cream the butter with confectioners' sugar until fluffy. Stir in granulated sugar, salt, almond extract, vanilla, nuts, and flour. Wrap dough and chill for 30 minutes. If you chill longer, you have to let the dough warm up a bit before it can be rolled.

Preheat oven to 350 F. Line two large baking sheets with parchment paper.

Roll out dough on a lightly floured board to a thickness of 1/4 inch or so. Cut in 2 1/2 inch to 3 inch circles, preferably using a serrated or fluted edge cookie cutter.

Bake for 12 to 14 minutes. Cool well.

Spread some caramel filling on a cookie. Top with another cookie and press together carefully.

Dust tops with confectioners' sugar. Alternatively, you can smear more dulce on the sides of the cookies and roll in toasted or plain shredded coconut.
Notes
Prepared Dulce de leche is available in Latin food markets but homemade tastes much better and is easy to do. For homemade Dulce de Leche, prepare filling several hours or the day before. Spoon condensed milk into the top of a double boiler and set over simmering water. Stir occasionally, allowing milk to heat for several hours on very low heat. Eventually, the milk will thicken and turn a deep butterscotch color. Cool well. It will thicken further. Refrigerate until needed.
Pin this recipe: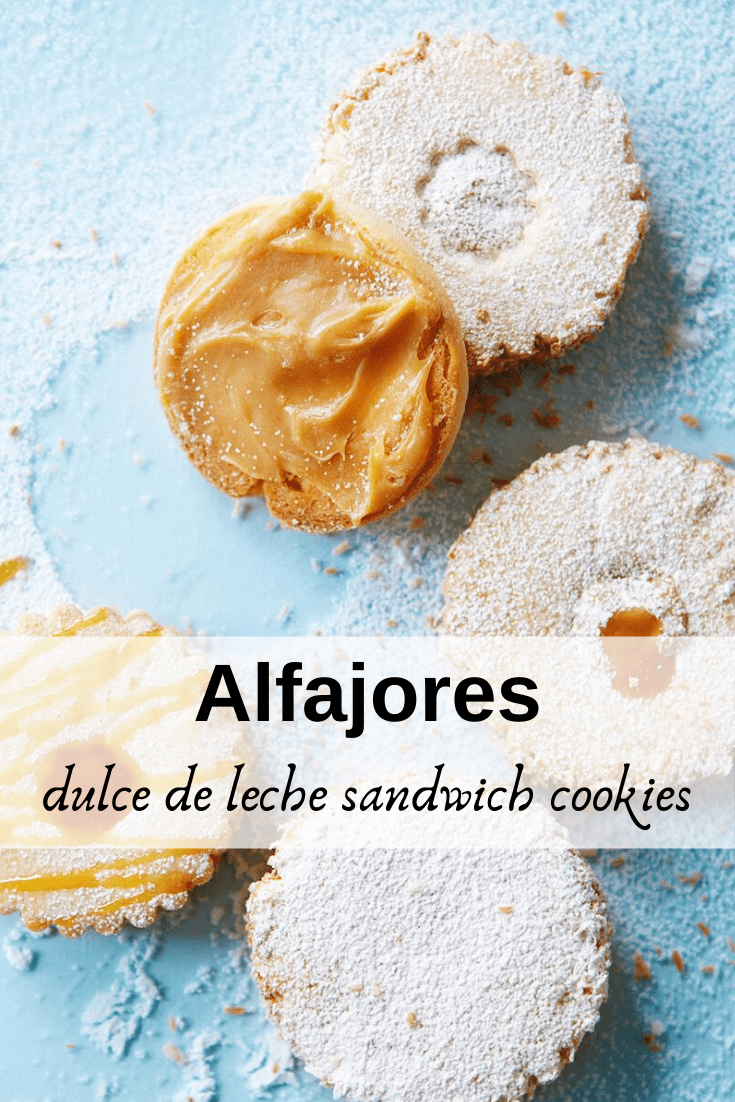 Love this recipe? Check out more of Marcy's recipes in The New Best of BetterBaking.Com.
FREE APHRODISIAC NEWSLETTER
Subscribe to our free aphrodisiac newsletter