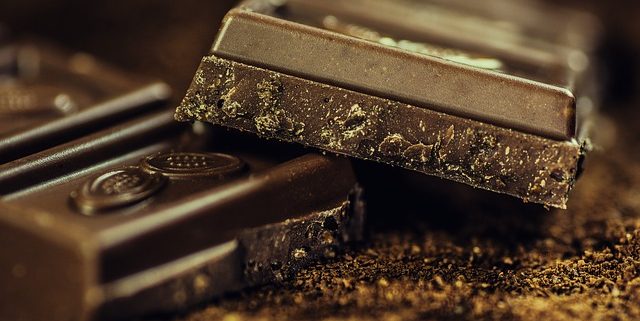 The Best Books On Chocolate
Our articles may contain affiliate links. For more information, view our policies.
If you love chocolate, you'll love this list of the best books on chocolate!
As a holiday gift, a friend gave me Stephan Lagorce's book aptly named Chocolat. As I tore through the wrapping paper, I was thrilled to find what I thought was a giant box of chocolates. I was not, however, the slightest bit disappointed in the candy bar-lookalike book underneath the wrapping. That's because it's one of the best books on chocolate.
The gift inspired me to write a roundup of some of the most interesting books I can find that feature chocolate. The books I've chosen all present chocolate in a different way, which is why it's worth owning all three.
Why you need the chocolate making book called Chocolat
Featuring tasting guidelines (along with a glossary of terms used to describe chocolate's features), chocolate history, purchasing and storage recommendations, and 40 recipes, this book is (almost) as satisfying as the real deal. The pages devoted to pairing are specifically detailed, and outline suggestions from the standard wine and spirits to cigars and vegetables (chocolate and tomatoes!).
Each of the book's recipes denotes the degree of chocolate intensity, indicating below the title whether the effect will be subtle, medium or intense. Additionally, the book provides several recipe staples that can be used for a base for multiple treats. The recipe for "Butter-Chocolate Squares" is an outline for a pastry base that can double as a tart shell, which the author suggests pairs well with roasted figs, pears or prunes. "Chocolate Genoise" provides a simple recipe for a cake that can be used in other creations, or enjoyed simply with a little ganache or Chantilly cream.
No modern book on chocolate would be complete without recipes for updated versions of chocolate classics, like brownies and chocolate sauces.
Delightfully, none of the recipes require a professional's hand, and Lagorce offers a list of amateur chocolatier's tools (read: normal stuff you'll likely have in your kitchen) that will help you forge a path to your own creative chocolate indulgence.
Experience the chocolate book Chocolate for Breakfast
Barbara Passino's Chocolate for Breakfast takes the reader on a sinful stroll literally all over the map. Without question, it's one of the best books on chocolate to come out in recent years. With the common thread of a chocolate-infused breakfast recipe, Passino's cookbook takes the chocolate adventurer through the Southwest (Chocolate Tacos), Asia (Chocolate Fortune Cookies), Italy (Chocolate Pasta), Spain, France, Morocco (Chocolate Mint Tea) and back home again (All-American Chocolate Sandwich).
Proprietor and chef of the former Oak Knoll Inn in Napa Valley, Passino wrote the book to share both her life-long love of chocolate and her passion for entertainment and hospitality. These aren't just recipes; Passino also shares her notes on "How to Make a Bed," tips for selecting and assembling a plush nest for the perfect night's sleep (accompanied, of course, by a recipe for decadent chocolate chip cookies).
Her emphasis on the seductive qualities of chocolate doesn't stop there; in her chapter devoted to "Valentine's Day Decadence," she shares a work-around method for chocolate box constructed from break-apart chocolate bars for those who don't have the time, patience or skill to temper their own. (Passino invented this method on the fly for a visitor to her inn in desperate need of a vehicle with which to propose to his chocolate-loving girlfriend). Also included in her Valentine's arsenal are recipes for Rose Petal Sorbet and Chocolate Fondue.
The book focuses on more than coma-inducing sweets. And I mean that in the best way. A recipe for Chocolate Papaya Tamales pairs bittersweet chocolate with tequila and chiles, and recipes for two different Tajines suggest Harissa and Ras-al-hanout to spice things up.
Not all recipes incorporate chocolate; far from it, actually. The suggestive allure and seductive qualities of chocolate are, however, present in most of the dishes through other aphrodisiac ingredients. A recipe for Parmesan Crepes with Asparagus and Wild Mushrooms calls for Champagne, and notes for Figs Five Ways allow home cooks to explore multiple possibilities of the fruit.
It's an adventurous collection of recipes from a chef obviously committed to playing with food. Chocolate for Breakfast stretches and recomposes familiar combinations with care.
Do you have the cookbook Dessert FourPlay yet?
Speaking of adventures, pastry chef Johnny Iuzzini's book Dessert FourPlay showcases his innovations made famous at the restaurant Jean-Georges in NYC. Iuzzini presents his recipes in fours, organized seasonally. His "Indian Summer FourPlay" includes Poached Quinces with Farmer's Cheese and Pedro Ximenez Granite, Corn Panna Cotta with Madeleine Sponge Cake and Spiced Walnuts, Sweet Potato Cake with Cranberry Foam and Flax Seed Tuiles, and Beet Parfait with Chocolate Brittle Gel and Beet-Raspberry Fluid Gel. Dizzy yet?
While the description alone of any given FourPlay is enough to confuse a home cook, don't throw in the towel yet. Any of the desserts listed is a delectable, artistic creation on its own. The liner notes convey that Iuzzini shares tips on "simplifying professional recipes", and many of those recipes shared can be used as "building blocks" for other creations of your own. Even a recipe for Crystallized Herbs (a fresh herb leaf, simple syrup and sugar) is a basic and beautiful way to add a sophisticated touch to something simple and otherwise unrefined.
As far as ingredients go, most are familiar to the home cook. However the occasional recipe call for exotics that will have you traveling to destination markets. For these, Iuzzini is specific in his margin notes to let readers know exactly where to look: "Verjus is available at gourmet markets and online from Amazon," "Gianduja paste and feuilletine are both available online from L'Epicerie."
Throughout the book, he also offers tips on making a recipe simpler: "Rather than poaching the pears, you could dice a super-ripe pear and serve that instead". It seems that Iuzzini is acutely aware of the degree of his talent, and makes a significant effort to share his creative recipes with those seeking to simply impress a date or whip up an artistic dessert.
Dessert FourPlay allows the home cook to become a pastry chef through Iuzzini's beautifully composed recipes. If you're only looking for a simple and fantastic recipe for a cookie, ice cream or cake, you'll find it here as well, along with tips from a professional on enhancing your next dessert masterpiece.
Article written by our intern Meredith Cella in 2008, most recently updated in November 2021.
Get on our mailing list
Don't miss out on a thing! Get news, deals & more!