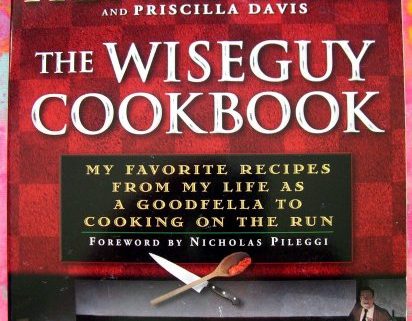 Your food-centric "to do" list
March marks that time when the seasons start to shift. It is a time to come out of hibernation and get back into the swing of things (like cooking). That being said I think these five food books should be first on your spring to do list.
A wise guy cookbook
The first book comes from the renowned "wise guy" Henry Hill–yes that's right from Goodfellas (one of my top 5 movies of all times). The Wise Guy Cookbook: My Favorite Recipes From My Life as a Goodfella to Cooking on the Run
is full of never heard before anecdotes about his life before, during and after the mob. More importantly it contains some great traditional and "on the run" Italian recipes. He gives tips on ingredient swaps and shortcuts. FYI, the meatball recipe (pg38) is awesome!
Food books for people who don't cook
You don't always have to read a cookbook for culinary inspiration. My second pick is A Catered Murder
by Isis Crawford. In the growing genre of culinary "who done it", this one is a stand out. Not only is the drama fantastic, think murder at high school reunion complete with throwback recipes like tomato aspic (darn tasty, too).
Since you don't always want to do the cooking yourself, a local gastronomic guide should make the list of food books to add to your collection. I'm an Angelino so eat.shop los angeles: A Curated Guide of Inspired and Unique Locally Owned Eating and Shopping Establishments (eat.shop guides)
is my pick. (The eat.shop guides cover most every major US city.) This little guide is full of noteworthy eateries and shops with an emphasis on what's local. Neighborhoods such as Highland Park, Santa Monica and Silverlake are featured among its pages. This is a handy number for anyone wanting to explore areas outside their own neighborhood without looking like a tourist.
Cocktailing
Spring, summer, fall or winter, there is nothing like a classic cocktail. Vintage Spirits and Forgotten Cocktails
by Ted Haigh (aka Dr. Cocktail) is the book to make your Welcome Spring party a standout. The book offers over 100 drinks and even homemade "bitters" recipes. Some of my favorites are The Moscow Mule (pg 217), Hanky Panky (pg 158) and the Mamie Taylor (pg 198), yum.
A cookbook to improve your diet
In keeping with my "bringing sexy back" campaign I purchased the Cooking Light Mix & Match Low-Calorie Cookbook
by Oxmoor House. I LOVE this book, it's over 300 pages of snacks, drinks and food all under 500 calories. That means that if you're in a 1500 calorie per day diet, you could make a breakfast, lunch, dinner and two snacks meal from this book. The simplicity and the variety of food make this book a no-brainer for healthy eating. Swimsuit season is around the corner!
These food book reviews were created for us by Lashanda Chadwick during her time as our editorial intern. 
FREE APHRODISIAC NEWSLETTER
Subscribe to our free aphrodisiac newsletter