Raspberry Semifreddo Recipe – an Italian dessert that's pretty in pink
Our articles may contain affiliate links. For more information, view our policies.
Raspberry Semifreddo Made Easy
This recipe is by one of  my favorite pastry chefs, Chef Leah Kuo. Her raspberry semifreddo is made with fresh raspberries and the resulting flavor is pure fruit deliciousness. And don't forget, raspberry is an aphrodisiac. (Learn more about raspberry's aphrodisiac side.)
What is Semifreddo?
Semifreddo is one of those desserts that sounds much more complicated than it is. In fact, we think you're going to love just how easy it is to make this icy, refreshing treat.
The name of this Italian dessert means semi-frozen. It's a creamy custard, made with similar ingredients to ice cream but it isn't churned like ice cream. It also feels less cold on the tongue when you're eating it–less likely to cause an ice cream headache? The prepared semifreddo custard is often poured into a loaf pan for freezing, as it is in this raspberry semifreddo recipe. This is so it can be sliced once it's frozen. (The New York Times calls semifreddo ice cream's chic cousin.)
Made in advance
One of the things I like best about this raspberry semifreddo recipe is it has to be prepared in advance. You can make it as much as 24 hours ahead of time. When you're ready to serve, simply remove from the mold and enjoy! You can slice it and serve on a plate garnished with fresh raspberries. Or, for a playful presentation, cut into cubes arranged in a martini glass. Leftovers are best eaten within a week.
Chef's tip
There are a few things to keep in mind to make a successful semifreddo at home. First of all, make sure the beaters and bowl used to whip your eggs whites are completely clean and dry. As for the egg yolks, be sure to pour the hot sugar mixture over them slowly, so as not to curdle the eggs.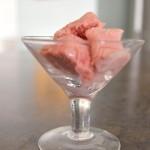 Raspberry Semifreddo
Print Recipe
This recipe is for a traditional Italian dessert. Made similarly to ice cream but without the churning, semifreddo is a deliciously refreshing dessert. 
Ingredients
2

pints

fresh raspberries

pureed

4

egg yolks

lightly beaten

1/2

cup

sugar

1/2

cup

corn syrup

2

tbsp

champagne

3

egg whites

beaten

1

cup

heavy cream

whipped
Instructions
Puree the raspberries with the champagne and set aside.

Boil and the sugar and the corn syrup to the softball stage (235-245 degrees F). 3. Pour over the lightly beaten egg yolks. Beat until cool.

Combine the raspberries with the yolk mixture and fold in the whipped cream. Fold in the beaten egg whites.

Pour into a prepared mold (I use a loaf pan lined on the sides and bottom with plastic wrap). Freeze overnight.

When ready to serve, let stand for about 10 minutes, invert the pan, remove the plastic wrap, and serve.
Pin this Raspberry Semifreddo recipe:
FREE APHRODISIAC NEWSLETTER
Subscribe to our free aphrodisiac newsletter