Recipe for Pumpkin Coffee Cake with Bacon Streusel
Our articles may contain affiliate links. For more information, view our policies.
When we were writing our cookbook, Eat Cake Naked, Delahna Flagg and I wanted to come up with a cake for all the bacon lovers in our lives–and there are many! But we wanted to come up with a way to use bacon in a dessert that didn't involve chocolate. So we came up with this unique pumpkin coffee cake. Our inspiration was an autumn breakfast: pumpkin pancakes with a side of extra crispy bacon. Could we translate that into a new kind of pumpkin cake?
TO TRY: The best pumpkin bundt cake recipe
A pumpkin coffee cake dedicated to bacon lovers
We started inventing this pumpkin streusel bread with all the best things about pumpkin, like it's combination of savory and sweetness and creamy, moist goodness. And then we considered the most seductive notes of bacon, like its crisp texture and lingering smoky saltiness. The result is something that goes both ways…as in savory and sweet.
This decadent pumpkin loaf cake can be served as a happy ending to a Holiday meal. But I prefer serving it as a show-stopping side dish at brunch. This loaf cake is also great served a midnight snack shared between starved lovers. Personally I like serving this pumpkin coffee cake with streusel as a breakfast dessert…or maybe the whole breakfast.
RELATED: Need more breakfast inspiration? Check out all of our breakfast and brunch recipes. 
A tip for making the best pumpkin loaf cake
A loaf-style cake is a great place to start if you're new to making cakes from scratch. And with this cake, the addition of pumpkin helps guarantee your cake will never come out dry. (Adding ingredients like pumpkin or even zucchini or apple sauce to your cake mix adds moisture to the final cake.) However there's one very important ingredient distinction you must make before baking this cake.
Double check your canned pumpkin. Make sure that you are not using canned pumpkin pie filling. You must use just pumpkin. Pumpkin pie filling is made with added sweeteners and spices. If you use it for this cake recipe, your streusel cake will be too sweet and over-spiced.
Why this bacon cake might be your new breakfast in bed dish
Let's talk about bacon. There really is no history of bacon as an aphrodisiac. I know, it's hard for me to believe, too. In fact, when people want to "talk aphrodisiac" with me, it's the single, most mentioned food.It's so popular in our modern culture that I even included it in my dictionary of aphrodisiac foods. Many bacon lovers have sworn to me that the mere scent of cooking bacon can send them into the throes of passion.  It's definitely something to consider when you're getting ready to bake this coffee cake.
Sometimes, it's the timing that matters most.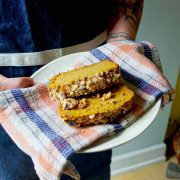 Pumpkin Cake with Bacon Streusel
Print Recipe
This decadent cake recipe uses the salty crunch of bacon to play off the sweetness of pumpkin. It's a good recipe for a Holiday dessert, with brunch or even for breakfast.
Ingredients
for the bacon sprinkles:
2

oz

applewood-smoked bacon

approximately 2 slices of thick-cut bacon

1

tbsp

brown sugar

lightly packed
for the streusel:
1/4

cup

all-purpose flour

1/4

cup

granulated sugar

1

tbsp

unsalted butter

softened

1

tsp

water

bacon sprinkles
for the loaf cake:
1 1/3

cup

all-purpose flour

2/3

cup

coconut flour

2

tsp

baking powder

1

tsp

baking soda

2

tsp

cinnamon

1

tsp

ground ginger

3/4

tsp

salt

1/2

cup

brown sugar

lightly packed

1/2

cup

2% or whole milk

1

tsp

white vinegar

1

large egg

1/4

cup

vegetable oil

1 15-

oz

can pumpkin
Instructions
to make the bacon sprinkles:
Preheat the oven to 350 degrees.

Line a baking sheet with foil or parchment. Arrange the bacon strips on the baking sheet.

Cook the bacon until crisp, approximately 18-20 minutes. (Keep the fires burning in the oven after you've removed the bacon. You'll use it again in a few minutes.)

Wrap the bacon in a blanket of paper towels and press out the grease. You may need to use additional towels to soak up as much grease as possible.

Once the grease is removed, cut the bacon cross-wise into 1/3-inch strips.

Transfer the bacon to another parchment-lined baking sheet and tenderly coat with brown sugar.

Return the bacon to the oven and coat for 14-15 minutes until it's ultra-crispy. (Keep the oven hot for the cake.)

Separate the bacon from the brown sugar and finely chop it until it resembles bacon bits. These bacon sprinkles will be added to your buttery streusel.
to make the streusel:
Combine the flour, sugar and bacon in a small bowl.

Sprinkle with the water and cut in the butter with a fork until the mixture is crumbly.

Squeeze it in your hands until it's thoroughly combine then break into large, sugary bites with a bit of fine crumbs for a variety of texture.
to make the cake:
Make sure your oven is heated to 350.

Coat a 9-inch (1.5-qt.) loaf pan with butter or baking spray.*

In the bowl of a mixer or a large bowl, combine the all-purpose flour, coconut flour, baking powder, baking soda, cinnamon, ginger, salt and brown sugar.

Add the vinegar to the milk and take it for a quick twirl.

If you're using a mixer, crack the egg into a small bowl then add it to the mixer (or to your bowl if you aren't using a mixer). Add in the milk and oil and blend for one minute, making sure to scrape down the sides of the bowl. If you're working it by hand, make a small well in the center of the flour mixture. Gently whisk the egg in a small bowl then add it, along with the oil, to the milk. Pour the liquid into the center of the bowl and rhythmically stir until the ingredients are completely incorporated.

Fold in the pumpkin and stir to a smooth, thick batter.

Spread the batter into the prepared loaf pan, gently smoothing the top. Sprinkle with the streusel,

Transfer the cake to the oven. (The streusel may topple over the sides of the pan during baking. If you don't want to risk having to clean your oven, cook the loaf pan on top of a baking sheet. Note that cooking may take a few minutes longer.) Bake for 70-75 minutes, until a cake tester inserted into the center comes out clean.
Notes
*You can make this cake as 4 mini loaves or 12 muffins, but you'll need to adjust your cooking time.
Love the recipe? Get my cookbook!
Pin this Pumpkin Cake recipe:
FREE APHRODISIAC NEWSLETTER
Subscribe to our free aphrodisiac newsletter