Recipe for the Best No Bake Cookies for Chocolate Lovers
Our articles may contain affiliate links. For more information, view our policies.
Easy Chocolate Peanut Butter Oatmeal No Bake Cookies
What could be easier than a cookie you mix, drop and cool? I love this simple recipes for no bake cookies. By layering the flavor with aphrodisiac ingredients, it's a perfect cookie for adults. But their mouthwateringly sweet, peanut butter flavor is one kids will love, too.
It might be surprising  that as a nutrition authority, I'm  offering such a rich and sugary recipe. It's true, these cookies wouldn't win high marks with any of my nutrition professors. But they win smiles  from  everyone who  tries them and sometimes we all need  a little indulgence. However, while this no bake cookie recipe will never make it onto any physician's dietary recommendations, it does include a number  of aphrodisiac ingredients, (some with a few health benefits, even!)
Oatmeal is an aphrodisiac
You've probably heard  of cocoa's role in health and might be expecting to talk about the link between cacao and romance. But oatmeal?
Yes! Not only is oatmeal loaded with fiber, which benefits not only sexual health but overall health, oats can improve sugar metabolism and help support good blood flow. (I'll bet you never thought that breakfast bowl of oats could do that much  for you!) In addition, they're a good source of manganese,  which  is what puts them on our list of the 10 Best Foods for Men.
Of course, there are some benefits to peanut butter and coconut, too, which are worth a mention. Both offer protein. And although there aren't significant enough amounts of protein in these no-bake cookies to count as a daily serving, that protein will help slow down a possible sugar rush from overindulging in cookies!
The history of no bake cookies
If you've never made no bake cookies before you might be wondering  where the idea came  from  or why   anyone would make these kinds of cookies when traditional chocolate chip is so good. The reason to make them is simple. Haven't you ever craved baked goods during summer when  it's simply too  hot to turn on the oven? Now you have a recipe! But as far as history goes, well, I had to do some digging. The truth is, I have no idea where no bake cookies come from.
It appears I'm not alone because it took a bit of digging to come up with what seems to be a legitimate answer. The cookies as we know them are distinctly American. However the concept of "cookies" that have not been baked traces back to the ancient Middle East. But, according to foodtimeline.org, what we know as a no bake today emerged during the depression, when items like butter and eggs could be scarce. However I found very little mention of them prior to the 1950's, when the world  of baking (or no baking) seemed to explode with recipes for these kind of cookies.
I should add that I read a few accounts on  personal baking blogs of no bake, or Preacher Cookie recipes that passed through families from earlier than the depression, so I'm not positive the historical timeline is correct. But what I do know that this recipe makes for memorable cookies that bring a smile to the eater's lips.
Want more great cookie recipes? We've got just what you're looking for! 
Chocolate Peanut Butter Oatmeal No Bake Cookies
Print Recipe
This is one of the quickest cookie recipes you'll ever find. It combines the irresistible flavors of peanut butter, cocoa and oats. 
Ingredients
2

c

sugar

1/4

c

cocoa

1/2

c

milk

1

stick butter

2

t

vanilla

pinch

salt

1/2

c

peanut butter

1/2

c

coconut

3

c

quick oatmeal
Instructions
In a large sauce pan, bring cocoa, milk sugar and butter to a boil.

Cook for 1 additional minute.

Remove from heat and add vanilla, salt, peanut butter, coconut and oatmeal.

Drop by teaspoon onto cookie sheets covered with wax paper.

Let stand 1-2 hours or refrigerate 30 minutes to 1 hour before serving.
Pin this Chocolate Peanut Butter  Oatmeal No Bake Cookies recipe: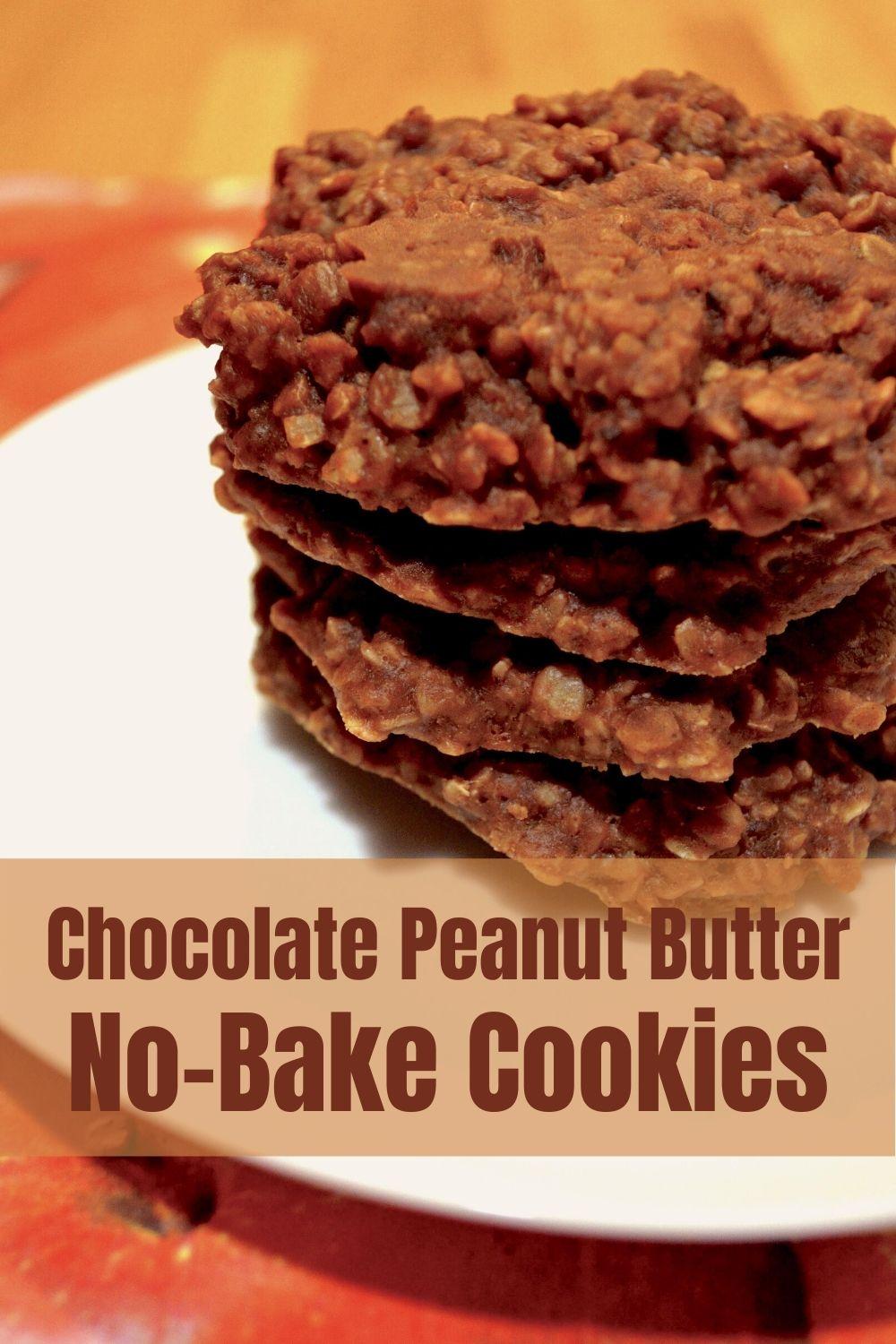 FREE APHRODISIAC NEWSLETTER
Subscribe to our free aphrodisiac newsletter