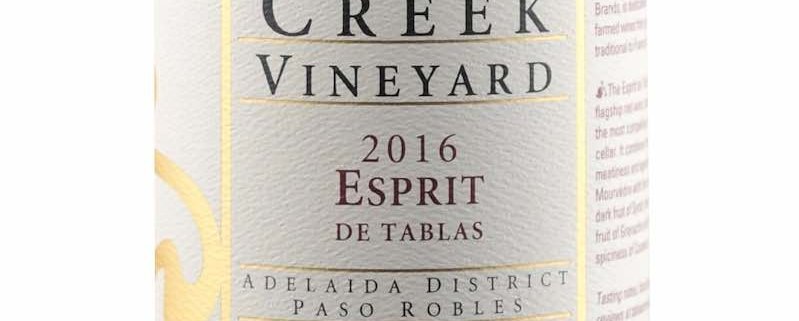 Paso Robles Wineries that Helped Change the California Wine Industry
Our articles may contain affiliate links. For more information, view our policies.
If you're a fan of California wine, then you probably already know that Paso Robles is the state's third largest producer. And you probably know that the region is known for robust reds. But you might be surprised to learn that Paso Robles wineries have a history stretching back as far as 1790!
Paso Robles wineries that made history
However what we know as modern, commercial winemaking didn't really hit the Paso region until the 1970's. The region was made an official AVA in 1983 with 17 wineries. One of those wineries was Eberle, established in 1979. I took some time this summer to taste current releases from this historic winery, celebrating its 40th anniversary.
I also tasted wines from two more of the wineries credited with shaping the region's modern wine movement, Castoro Cellars and–a personal favorite–Tablas Creek Vineyard. Here are my tasting notes from what you can expect today from these pioneers. I think it's safe to say that, even though there are now more than 200 Paso Robles wineries, these three are still among the leaders today.
The wine recommendations
2018 Tablas Creek Picpoul Blanc
You may not be familiar with Picpoul. The grape is most commonly grown in the south of France. It's generally made into a lively white that quenches a summer thirst. This Californian rendition offers tropical, limestone and citrus aromas, the freshness of great acidity. But malolactic fermentation gives it a richness to balance the acid. It finishes clean with a faint salinity that makes you reach for the next sip.
2017 Castoro Cellars Reserve Falanghina
A Paso Robles winery founded in that groundbreaking year of 1983, Castoro Cellars has a commitment to the land that led the winery to farm 100% organic and become SIP (Sustainability in Practice) certified. Falanghina is an ancient, Italian varietal rarely grown in the U.S. This rendition offers remarkable aromatics. It has surprising tannic structure, unusual in a white, and a refreshing, crisp finish.
2018 Eberle Winery Muscat Canelli
If you like Muscat Canelli, put this wine on your must-try list! It offers jasmine flower and honeydew aromas. In the mouth, melon combines with white peach and a faint something tropical. Although its sweetness is overt, it is balanced by bright acidity and a faint salinity on the finish.
2016 Tablas Creek Esprit de Tablas
As I mentioned, this is one of my favorite Paso Robles wineries. And this bottling just might be my favorite of their wines. A Mourvedre-based blend, it offers robust aromas of black cherry, mocha and spice. There's richness in the mouth. But it doesn't translate to heaviness. A complex wine, it offers flavors of cherry, black plum, cocoa powder and a touch of smoke.
2015 Castoro Cellars Reserve Zinfandel, "Zinfusion"
If you're a fan of big reds, prepare to be blown away. A full-bodied, big bear of a red, it's just the sort of thing Paso Robles wineries have become known for. It is unquestionably jammy on the nose and palate with ripe, luscious fruit flavors of raspberry and cooked cherries. Just watch out with this one. At 15.8% alcohol, its effects can sneak up on you!
2016 Eberle Winery Estate Cabernet Sauvignon
Surprisingly elegant for a Paso Robles red, this wine offers complexity, texture and a great finish. Its aromas hint at blackberry, black cherry and an indefinable woodsy something. Its flavors are distinctively masculine, with cherry, currant, sage, spice and just a hint of musk. The wine's tannins are velvety and it offers a finish that lingers with a hint of espresso.
Get on our mailing list
Subscribe and get our exclusive list of Six Great Sex-Boosting Snack Foods for FREE! Unsubscribe at any time.