Discovering how a chef celebrates a birthday
I've heard that a lady never tells her age. However, since I consider myself a strong woman, more so than a "lady," I am proud to say I recently celebrated attaining the age of 41. And celebrate, I did! In fact, the un-41-year-old-like manner in which I celebrated is the subject of this month's (attempted) reminiscence…
For my 21st birthday, I worked. (Punishment for lying about my age at 20 to get a bartending job?)
For my 30th birthday, I had the meal of a lifetime with my family at the French Laundry. For my 40th birthday, my sisters and I went to Tulum, Mexico for a yoga and spa weekend on the beach. This year was not one of those milestones, so no major plans were made. Maybe it was just coincidence that my entire winter's social schedule found itself packed into one debaucherous week.
Monday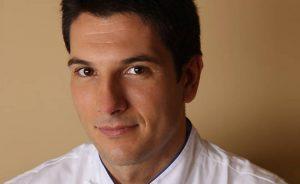 Plan A: Celebrate my birthday with my friends at Allegretti. The chef/owner is considered by many to be the hottest chef in NYC – he is, (deliciously so).
Unfortunately, four of the six first-string revelers were down for the count. The reservation was postponed (sadly) and Plan B was devised. There will be more on this delectable gem to come soon.
Plan B: Rescued by a former student (and dear friend), my favorite gay boyfriend, his boyfriend, and the widow Cliquot. When the bubbles ran out at home, we headed to a neighborhood haunt where I had my first Sazerac (of possibly too many), and lots of wonderful tasty bites. In the end, I got what I really needed – the warm fuzzy of cozying up with friends, eating simple, well prepared, delicious food where we could just be ourselves – and a minimal hangover compared to the rest of the week!
Tuesday my actual birthday
Plan A: Visit my sweet niece, Thalia the Beautiful, have pizza and cupcakes and call it an early night. Surprise! Slight change of plans. My sister would like to go out instead of staying in… let's make it a girls' night! Sounds good to me… hangovers be damned.
Plan B: This time, I had a Plan B that magically worked into the schedule pre Plan A. So an A and B evening was ahead. An impromptu invitation from a sexy Aussie olive oil making singer of Spanish love songs to see him perform in an intimate club on the Lower East Side, courtesy of his record label (does it get any stranger than this?). The show is only from 6-6:40 p.m., so even if going alone to something like this is a bit uncomfortable, it will be over soon – why not? That's why they make bourbon. Neither the sexiness nor the awkwardness of this experience disappoint… happy birthday to me!
From there, to girls' night – and hurry! Dinner for three at Momofuku Noodle Bar. David Chang may have done dirty things to the devil to get where he has so quickly, but that doesn't stop me from being a huge fan. Chang and his cooks have a way of coercing flavors and textures from raw fish and pork products that bring to mind the term "oral fixation"; and the pulsating, writhing, crowd of loyal sensualists would not be out of place in, shall we say, a less family-friendly group activity. Yes, just a bowl of Momofuku Ramen (completely with luscious pork belly) can make a girl think dirty thoughts. Multiple bottles of sparkling Shiraz don't hurt, either!
Dinner was only the start to this girls' night – one of the good things about being a grown-up is that you (or your dear ones) have nice apartments in convenient locations (such as nearly upstairs from the restaurants you love), and the resources to have a party delivered to your door to keep the revelry going on a good Ramen buzz. It was nearly 2 a.m. when I got home (doesn't seem late to some, for me that's way past my school night bedtime). The hangover the next day was nearly unbearable. I felt 21 again – but in a 41 year old body… ouch.
Wednesday
Plan A: Date night with the sexy Aussie olive oil-making Spanish love song singer. Date was made over a week ago – offered to change or cancel, but he was game. Food, drink, and even hottie Australians are not on my wish list today. Uh oh! I must be getting old… OK, 7:00 at L'Artusi it is. Or not. Olive Oil Boy, as he is now known, was over 35 minutes late without calling. When he arrived, he apologized for double booking his evening, that he would need to leave soon. He was pleasant enough and we got through our meal without me stabbing him, but all the while, I was fantasizing about a Plan B where I was enjoying this wonderful new restaurant alone.
The L'Artusi kitchen illuminates the back of the restaurant like a light at the end of a midnight blue tunnel – luxuriously comfortable and stylish. The prime seating is at the crudo bar facing the kitchen. Comfort and a live floor show. Like sister restaurant Dell' anima (www.dellanima.com), the menu here is a perfect balance of sweet, salt, crispy, soft, chewy, cool, and warm that is elusive and exciting – and that I am not surprised to find in one of Joey Campanale's restaurants.
Plan B (the post-plan A salvage the night plan): Once the unfortunate dating incident was over, I enjoyed walking around my favorite NYC neighborhood. Good news! My "Guardian Angel" had dinner at Dell' anima and happened to be walking on the same street a few blocks away. We met for a cocktail before I headed home… at least it was an early night and ended in good company. No hangover to speak of, just a bruised ego!
Thursday
Plan A: (Actually, the only plan for the day…) A holiday night out with a handful of co-workers (dear friends) led by my boss – he's quite a hottie chef himself – but don't tell him I said that! The evening began at his home for Champagne and cocktails – his secret recipe Manhattans (an undisclosed blend of Maker's Mark, sweet and dry vermouth, and Aperol – kind of like an orange version of Campari). We were enjoying ourselves so much that it was a bit of an effort to bundle up for a cold trudge to our dinner reservations.
Dinner was at the highly anticipated The John Dory, the latest by Chef April Bloomfield of Spotted Pig fame. In my humble opinion, the new place is not quite as on the ball as one would expect from the rave reviews. The famed fish tank was in dire need of a cleaning – not a good sign. However, the room is fun and we have quite a few alumni cooking there, so it was well worth the visit. As far as the week's newcomers go – not as memorable as L'Artusi. In the end, we were all pleasantly full, tipsy, and tired – maybe too much so, as I proceeded to leave my bag at the coat check that night and I still had two more days of festivities to go!
Friday
Plan A: Pick up my abandoned belongings at The John Dory and proceed directly to the evening's festivities – my sister's Christmas party.
Plan B: Same as Plan A, but add a nasty snow and sleet storm and a mandatory trip to the crowded shoe store to buy unnecessarily expensive snow boots in a hurry! Since the party was a personal thing that did not involve restaurants, I am keeping the details to myself (sorry!). Suffice to say that the apartment we were in was one of the chicest I've seen… On the Lower East, on the top floor (a whole floor) with huge walls of windows looking over oldest, coolest parts of Manhattan. Breathtaking views, luxury across the board – though none of us could figure out how to use the Miele oven properly!
Saturday
The final stretch. Hangover from Friday night in full swing, I got myself pulled together and set out for the ultimate hangover helper lunch at the famed Peter Luger's in Brooklyn… my first time. If you have to have a hangover and can afford to pamper it a little, this is so the place to do it! We had killer bloody marys, slabs of grilled bacon, huge rib eye steaks that served four people each, fried potatoes, creamed spinach and giant shrimp cocktail. Heavenly, rich like you can only dream of, and likely the cause of death for many New Yorkers. It was so decadent that I did not eat again until the next day.
Sunday
Throughout this week, the weather has been less than cooperative. We had to cancel all plans for today because a nighttime snowfall turned into pouring rain and sleet forecasted for the entire day. The bad news: no ice-skating or pancake brunch. The good news: me home all day in my jammies, and the wonder of NYC life – hot bagels delivered to my door! Life is good.
FREE APHRODISIAC NEWSLETTER
Subscribe to our free aphrodisiac newsletter