Our articles may contain affiliate links. For more information, view our policies.
Get ready to get organized
Have you seen Oenomad? (pronounced eeno-mad) This new website and app is designed to help you choose the perfect itinerary for a wine country vacation. (The website currently includes wineries in Napa, Sonoma and the San Francisco Bay area with plans to expand to several more popular wine destinations soon.)
Update: Since we first published this article in September 2017, Oenomad added several Wine Country vacation destinations to their map. You can now use the site to plan your next wine tasting trips from Sonoma all the way south to San Benito and Monterrey. 
But how does it work? Say for example, you want to go to Sonoma and you only want to visit wineries offering dessert wines. Oenomad can prepare your list. You can then refine by price, amenities, winery size, style of architecture and even the vibe of the place. You only want to visit small wineries with a relaxed atmosphere? Done!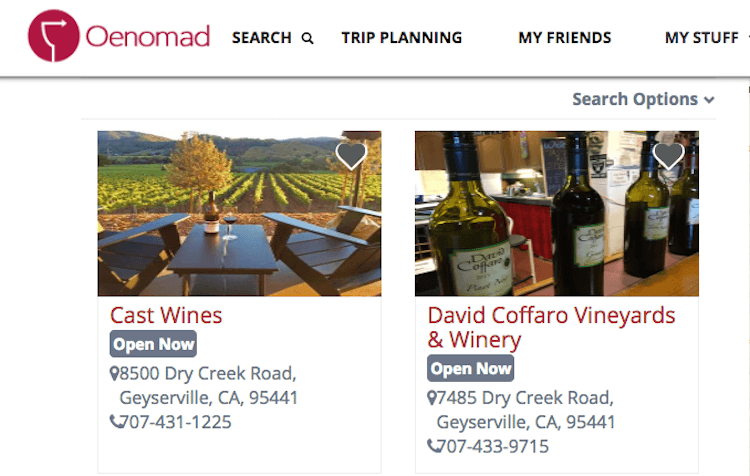 It's also helpful for planning a trip when you have special needs, like a family reunion trip. Say you need to find 5 wineries fairly close together that are kiddie friendly. Or you want to make sure wineries can handle your group of 20. You can do all the things that used to take several phone calls with a couple of clicks. We love it! Oenomad won't help you plan your accommodation or take care of a designated driver, but it pretty much does everything else to get your itinerary in order.
But wait, there's more
Users have the opportunity to take notes, leave public reviews and photos for other users and easily share their info via social media. You can mark all of your favorite destinations, as well as keep private notes on all of your favorite wines for a future wine country vacation. Wine tasting has never been so organized! Oh and you know what's great about being organized? It's so sexy! Get organized at http://www.oenomad.com/.
FREE APHRODISIAC NEWSLETTER
Subscribe to our free aphrodisiac newsletter