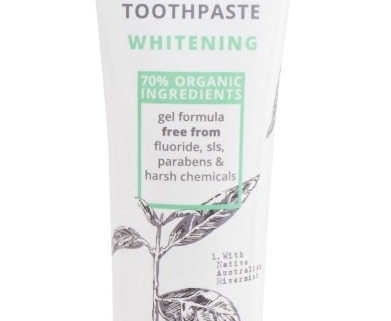 Natural Teeth Whitening and a More Kissable Mouth
Our articles may contain affiliate links. For more information, view our policies.
Every year I attend an event called the Natural Products Expo. I go hoping to find exciting ingredients that will spark the next food trend. But this year, I found a bath and beauty products company called Natural Family Co. that I'm hoping will change the world. If nothing else, their natural teeth whitening toothpaste is going to change my smile–and it can increase your chances of getting kissed.
Taking care of your mouth and the planet
Why am I so excited about another natural toothpaste company? Because Natural Family Co. doesn't just want to give you a naturally clean smile. They want to make it easy for you to help the environment. They make all of their outer packaging and their toothbrushes out of biodegradable products. But I also love this toothpaste for its flavor and texture. And that's something you can't say about most natural toothpastes. In addition, I love that they offer a natural teeth whitening option.
Natural Family Co.'s toothpastes, (they also come in sensitive, anti-plaque and original formulations), are flavored with a variety of mint found growing wild on Australia's river banks. The result is a very subtle toothpaste flavor that hints at mint. But there's no artificial tang and no overwhelming flavors. Your breath doesn't have that overpoweringly minty aroma after brushing. And the flavor doesn't distort your tastebuds for hours, unlike some other commercial toothpastes. In other words, it's the perfect toothpaste for a post-brushing make-out session. And you can rest easy knowing that it's also free of fluoride and harsh chemicals. (Meaning it's safe for the youngest members of the family.)
Natural toothbrushes for natural teeth whitening
As I eluded to earlier, the Australia-based, family-owned company also makes natural toothbrushes to go with their natural teeth whitening toothpaste. So if you want to save the planet while working on your smile, check out their cornstarch brushes with PBA free nylon bristles while you're ordering a case of the world's greatest toothpaste.
For additional information and ordering, visit the Natural Family Co.'s website.
FREE APHRODISIAC NEWSLETTER
Subscribe to our free aphrodisiac newsletter