A cookbook to seduce someone with a sweet tooth
We always love bringing you our favorite cookbooks–especially when they bring something sexy to the table, like aphrodisiac dessert recipes. Our newest favorite was created by two members of our own family, our Editorial Director Amy Reiley and Nutrition Director Delahna Flagg. Their book, Eat Cake Naked: aphrodisiac desserts to heat up your love life, will have you loving naked cake (and a whole lot of other desserts made from surprising ingredients).
What do we mean by surprising ingredients? Did you ever think that chickpeas would make the perfect flour for brownies? Don't believe us? We're previewing the brownie recipe. Try it for yourself and become a believer! (Incidentally, because chickpea replaces white flour, the brownies are naturally gluten-free!)
Oh, and that's not all. How about adding coconut flour to your pumpkin cake? And if you want to know how to make your vanilla pot de creme dairy-free (and highly aphrodisiac), follow Delahna's recipe using avocado instead of cream!
Dessert recipes to improve your love life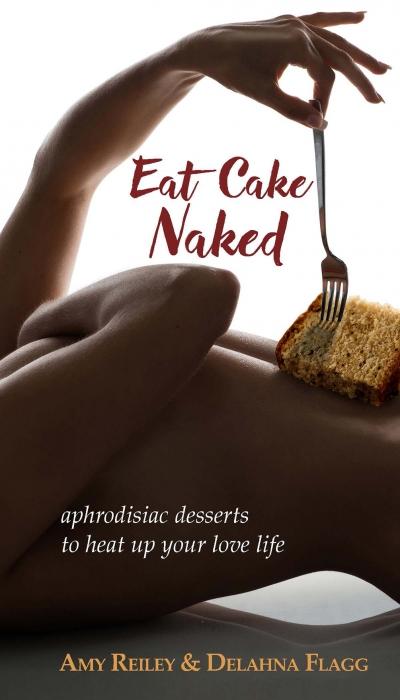 True, we're completely impartial but we love this book. We love it for its many creative tricks for layering beloved dessert recipes with aphrodisiac ingredients proven to improve your love life. Best of all, Amy and Delahna don't just add ingredients for their health benefits, they choose things that add flavor and complexity to the recipes. You're going to love what the addition of black sesame seeds does to traditional tea cakes.
Why should you use an e-Cookbook?
One thing that's a little different about this cookbook for us, (and for the authors), is that Eat Cake Naked is an ebook. It's the first time we've recommended an ebook on our site. But we're having so much fun with this book of creative dessert recipes that we're sure it won't be our last. One thing we'd never considered before was how much more interactive an ebook can be than print.
Of course, we're still enamored with the feel, the smell, the sound of turning a page but if all ebooks were like this one, we wouldn't have too much trouble going digital. Want to know where to buy an exotic ingredient? They have links for that! Considering making the Champagne Apricot Muffins but you can't remember what the book said about apricots as an aphrodisiac? There's a link right in the recipe to the apricot section of the Best Aphrodisiac Ingredients for Baking chapter. We love this! But where do you buy it? It's available wherever ebooks are sold, including iTunes, Google Play, Kobo and the Kindle version is available through Amazon.com.
FREE APHRODISIAC NEWSLETTER
Subscribe to our free aphrodisiac newsletter