Marshmallow Chocolate Peanut Butter Bars Recipe
Our articles may contain affiliate links. For more information, view our policies.
Chocolate, marshmallow and peanut butter are all known as guilty pleasures. As a dietitian, I'm here to show you how to eat these comfort ingredients without guilt in my Marshmallow Chocolate Peanut Butter Bars recipe.
Keto friendly dessert bars
These gooey, rich, satisfying bars contain only 5.2 net carbs. In diet-speak, this means they're keto-friendly. I do this by using a keto protein bar mixed with almond flour the way you would typically use all-purpose flour. They feel quite decadent but they're actually loaded with the kind of protein you need for a long night of passion.
And don't forget that this recipe's main ingredient, peanut, is among our 10 Best Foods for Women for the nutrients they offer beyond the protein. (Of course chocolate is among the world's most beloved aphrodisiacs!)
And beyond all the good things the ingredients have going for them, these Marshmallow Chocolate Peanut Butter Bars are among the easiest baking recipes you could ever hope to make. All you need to do is mix all the ingredients together, pour batter into a baking dish, bake for up to 20 minutes and voila!  Moist and tender bars loaded with peanut butter flavor.
And, as I mentioned, they're keto friendly. You might be interested to learn that they contain no sugar and only 5.2g of net carbs. They also offer almost 10g of protein to help keep you feeling full since protein is the most satiating of the three macros.
I recommend these Marshmallow Chocolate Peanut Butter Bars a midday snack, afternoon treat, or after a workout.
Tips for making the best Marshmallow Chocolate Peanut Butter Bars
You can make these Marshmallow Chocolate Peanut Butter Bars with chocolate chips if you don't want to use protein bars, but it may change their taste and make them less moist. And, of course, if you aren't following a keto diet, you can make them with regular marshmallows.
But if you do want to avoid the carbs, you can either make low-carb marshmallow yourself. Of course, you can also buy them online on Amazon
or at your favorite health food store.
Low-carb marshmallows are made with allulose, gelatin, and sweeteners. However, there are many different recipe versions you can easily find online. (Here's a link to a popular recipe for keto and paleo friendly marshmallows.)
Store these bars in an air-tight container in the fridge for up to 5 days. (These bars stay moist for at least 3 days providing that you keep them in an air-tight container in the fridge.)
Love baking? Check out all of our dessert recipes. 
Marshmallow Chocolate Peanut Butter Bars
Print Recipe
These fun and easy dessert bars are keto-friendly.
Ingredients
½

cup

softened butter

½

cup

Swerve sweetener

1

cup

creamy peanut butter

1

large egg

room temperature

1

tsp

vanilla extract

1 ¼

cup

almond flour

1 ½

tsp

baking powder

1

Keto Bar – Chocolate Peanut Butter flavor

chopped

¾

cup

Keto-friendly marshmallows
Instructions
Preheat the oven to 350F.

Line a 9-inch baking dish with parchment paper.

In a mixing bowl, beat softened butter, peanut butter, and sweetener.

Once combined, fold in egg and vanilla.

Add almond flour and baking powder. Stir to combine.

Finally fold in the chopped Keto Bar and marshmallows.

Transfer batter into the prepared baking dish and bake for 15-20 minutes.

Cool completely before slicing and serving.
Pin this recipe for Marshmallow Chocolate Peanut Butter Bars: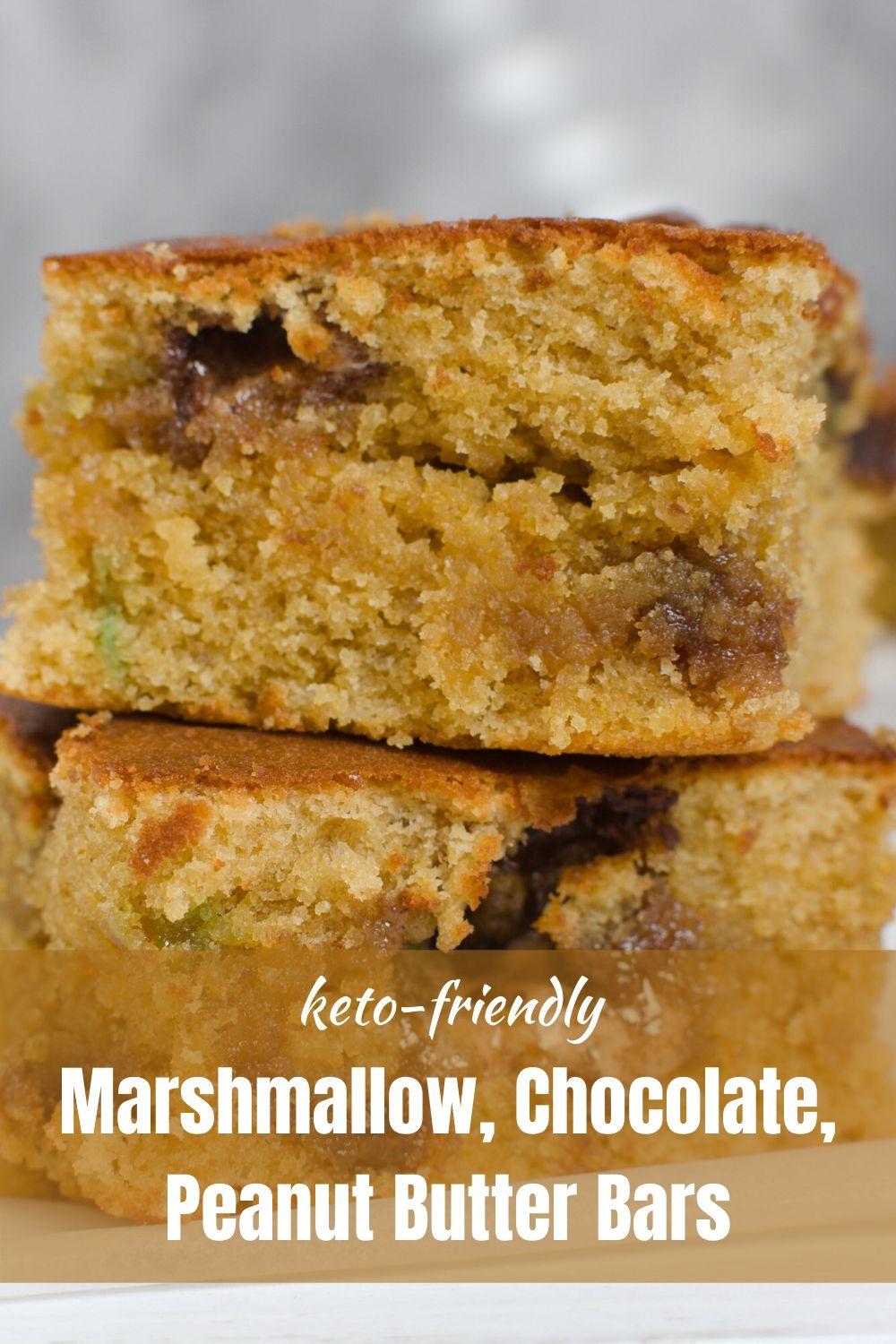 FREE APHRODISIAC NEWSLETTER
Subscribe to our free aphrodisiac newsletter