Madflowers Malibu–blending scent and sentuality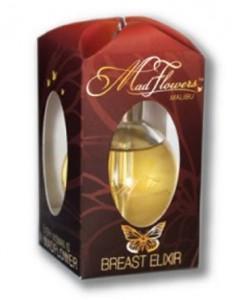 As research has demonstrated, the connection between scent and the mood for love is a powerful one. And although we are food people first and foremost, we firmly believe that there are times when you don't need to feed physical hunger to achieve more primal effects.
That's why we're featuring Madflowers Malibu's Breast Elixir, a sensual oil blend that quenches a different kind of thirst. An all-natural blend of essential oils, Breast Elixir is a product designed for women–but of course it can also benefit the man who massages her! The Breast Elixir blend is designed to promote breast firmness and includes ingredients that encourage circulation, anti-aging and also boast anti-inflammatory properties. The seductive bouquet of scents is pure aphrodisiac. No, really, we can't resist it! An unusual combination including rosewood, gerenium, spearmint and sandalwood, it is at once calming and uplifting and designed to bring out the "inner goddess." Since we all need to let our inner goddess out on occasion, we recommend every sensual woman keep a bottle on her vanity.
For more information on Breast Elixir and all of Madflowers Malibu's products, visit the Madflowers website.
FREE APHRODISIAC NEWSLETTER
Subscribe to our free aphrodisiac newsletter