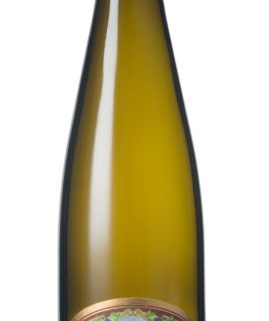 Lovers of Gewurztraminer Will Adore This Trip To Alsace in a Glass
Our articles may contain affiliate links. For more information, view our policies.
2012 Willm "Clos Gaensbrœnnel" Gewurztraminer, Grand Cru Kirchberg de Barr, Alsace, France
A "clos" in Alsace is a walled vineyard – I imagine them as secret gardens of happy vines. Clos Gaensbrœnnel – the name means Goose Fountain – is named for the fountain at the entrance, and on the label of this wine. Clos Gaensbrœnnel is a not-so-secret garden, its soil heavy with limestone and mostly older vines, that is home to some of the happiest Gewurtztraminer available. The rarified site is located within the Grand Cru vineyards of Kirchberg de Barr – also known for its exceptional Rieslings. Maison Willm is one of only two who make wine from Clos Gaensbrœnnel. And lovers of Gewurztraminer should be excited.
Gewurtztraminer is a pink skinned grape closely related to Savagnin (aka Traminer). The word Gewurtztraminer means "spiced Traminer". It is an extremely aromatic grape and low in acidity. It is at its best in the Grand Cru vineyards of Alsace. But it grows happily in Germany, Italy, Australia, New Zealand, and the colder regions of the US. It is often produced in a sweet style (late harvest or botyrized).

About this Wine
This sweet wine (33.7 g/l residual sugar) has a golden yellow hue and aromatics that leap from the glass. Bursts of honeysuckle, jasmine, apricot, roses, and spiced tea aromas. On the palate, it is all florals and spice, roasted pineapple and tree fruit, with a hint of petrol. It is full bodied with a rich, creaminess carries on forever. New layers of aroma continue to blossom as you savor this wine.
I could easily recommend this wine to lovers of Gewurztraminer with any number of traditional roast pork dishes, spicy foods, and bright Southeast Asian flavors. But I tasted it with a perfectly ripe, stinky Epoise and can't imagine a better pairing after that!
The Verdict
Even with the fine pedigree of being from an exclusive clos in a Grand Cru vineyard in the most heavenly place for Gewurtztraminer, this is still a very reasonably priced wine at around $25-28/bottle. A steal. Definitely try this one if you can. It will also age well for at least 5-10 years (though not as long as a good Riesling because of its lower acidity).
Latest posts by Annette Tomei
(see all)
Get on our mailing list
Don't miss out on a thing! Get news, deals & more!