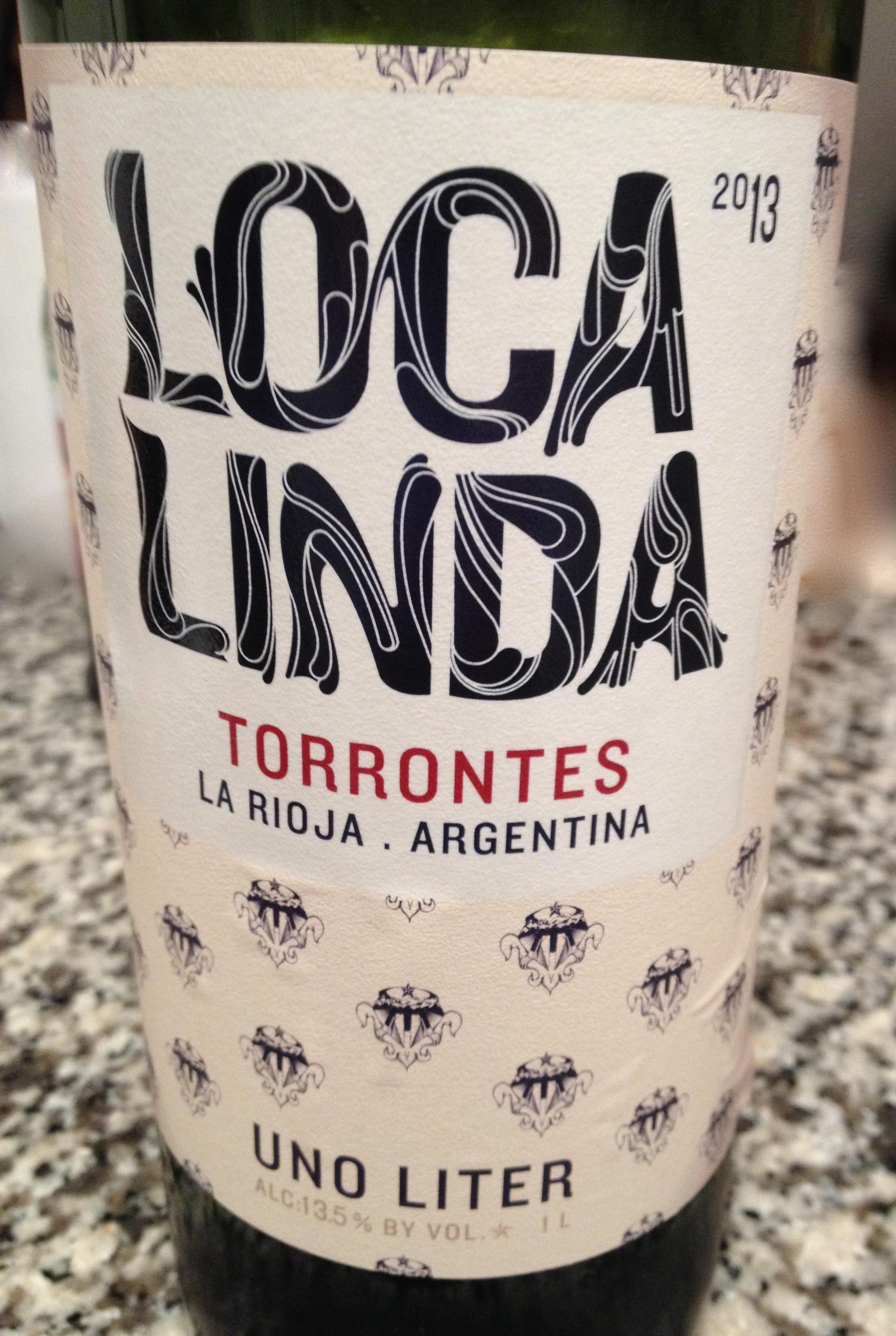 Loca Linda Torrontés, La Rioja, Argentina
Our articles may contain affiliate links. For more information, view our policies.
The Wine of the Week
 by Annette Tomei
2013 Loca Linda Torrontés, La Rioja, Argentina
If we're lucky, we learn something new every day. Today, I learned that Torrontés from Argentina is not the same as Torrontés from Spain, not just in terms of terroir, but also genetically. This week's wine is the Argentine variety – the most common and popular white wine grape in that country. Argentine Torrontés is a descendant of the Muscat grape, and is often compared to it aromatically.
Argentina is the second largest country in South America and the top wine producing country on that continent. La Rioja is located in the west, in the foothills of the Andes Mountains. It is one of Argentina's oldest wine regions, known for its bright, aromatic Torrontés. La Rioja is situated closer to the equator than most other world wine regions; the region is also at high altitude, providing a cooling and drying impact.
Loca Linda ("crazy beautiful") is the creation of former professional snowboarder Brian Smith, who is also a highly acclaimed sommelier based in Brooklyn, New York. The company works with local farmers and winemakers to maintain "non-interventional" winemaking practices. The wines are packaged in "earth-friendly" one-liter bottles that weigh in at approximately 15% less than standard 750 ml bottles and holds 33% more – a good deal for the customer and the environment.
The wine itself is a great value – delicious and averages $15 or so for a liter bottle. Aromas of white flowers, melon, minerality and summer fruits give way to flavors of fresh peach and apricot with a little bit of grapefruit and a minerally finish. This wine is very aromatic with a silky mouthfeel (in part from a small amount of residual sugar) that finishes with a peppery sting and lingering perfume (insert your own sexy innuendos here). The label suggests pairing this wine with "lovers, family and friends" – I agree, and would add triple cream cheeses, Caprese salad, roast chicken or fish, or a fresh-from-the-garden salad with a drizzle of fruity olive oil and sprinkle of crunchy salt.
Annette is the founder of VinEducation, where she is a food and beverage educator and consultant. She is also a professional chef who frequently contributes delicious recipes to EatSomethingSexy.com.
FREE APHRODISIAC NEWSLETTER
Subscribe to our free aphrodisiac newsletter