Recipe for Vegetarian Meatloaf with Ancient Grains
Our articles may contain affiliate links. For more information, view our policies.
A vegetarian meatloaf recipe packed with so much flavor, you'll never miss the meat
Meatloaf has to be high up there on the list of comfort foods. With Roman and French roots, it quickly became popular during the Depression and other economically rough times, and thus a staple of American classic dinners. But now is the time to consider a vegetarian meatloaf.
Why you should consider vegan meatloaf
The typical meatloaf may have been suited for those times. People needed heavier fat-drenched meals to keep meat on their bones. Now a days, we could use a little less meat. This meatless meatloaf is a great choice for the environment. And with a dish that offers a great balance of vegetarian protein and fiber, it's a great choice for our bodies.
What is Bulgar?
To make this vegetarian loaf, I traded out the ground beef and possible bacon or veal for some good old fashioned lentils and grains. Bulgar is such a fantastic and often times forgotten whole grain. It's a great source of fiber, B vitamins, iron, and lowers your risk of developing cardiovascular disease. Maybe people living in the Depression Era could have benefited from this whole grain recipe after all!
A nutritious meatless meatloaf recipe with some big health benefits
The base of this vegan meatloaf recipe is lentil. Lentils bring texture and a meat-like consistency to this meatless meatloaf recipe. But they also bring some nutritional benefits, particularly when it comes to sexual health. That's right! This meatless recipe has the potential to boost your sex life.
Why lentils will benefit your sexual health
You may already know that lentils are low in calories and very high in nutrients. They lower cholesterol and support heart health. But remember, what's good for blood flow to your heart, is also good for blood flow to, well, every part of your body. In other words, foods that promote blood flow help make sexual arousal possible.
TO TRY: Spanish Chicken with Lentils
Getting vegetarian protein
Lentils are also a good source of protein, which is beneficial for giving you the energy you need to perform the bedroom tango. Due to their complex carbohydrates and insoluble fiber lentils increase steady, slow burning energy.
Lentils support women's health
Lentils are also among our 10 Best Foods for Women. So this lentil meatloaf is one meatloaf recipe that might make you actually feel like doing something other than passing out when you hit the sheets after dinner.
Check out more great vegan recipes
Vegetarian Meatloaf with Ancient Grains
Print Recipe
A healthy, vegan variation on meatloaf made with lentils and grains.
Ingredients
1/2

cup

brown lentils

1

cup

vegetable stock

1/3

cup

water

2

dried bay leaves

3/4

cup

bulgur

1

cup

water

boiled

1/4

cup

ketchup

1

cup

rolled or quick oats

3

tablespoons

tamari or soy sauce

2

tablespoons

nutritional yeast

1

tablespoon

flax meal

2

tablespoons

Worcesteshire sauce

2

tablespoons

tahini

2

teaspoons

blackstrap molasses

1/4

teaspoon

dried thyme

1/2

teaspoon

dried oregano

1/4

teaspoon

marjoram

1

teaspoon

dried basil

Fresh pepper and salt to taste
For topping:
3-4

tablespoon

natural ketchup

1

teaspoon

Worcestershire sauce

1

teaspoon

BBQ sauce
Instructions
Combine the lentils, veggie stock, 1?3 cup of water, and 2 bay leaves in a saucepan. Bring to a boil, then lower heat to medium-low, cover, and cook for 25 to 30 minutes, until just about tender. Then add the bulgur and boiling water, cover, and cook on medium-low heat for another 10 minutes.

Preheat your oven to 375 F. Lightly oil an oven-proof glass loaf pan and line the bottom of the pan with a strip of parchment paper to cover (make sure some sticks out along the short ends of the pan; it will be much easier to remove!). Combine the topping ingredients in a small bowl.

After the bulgur is cooked, remove the bay leaves and add all the remaining ingredients (except topping). Stir very well and transfer the mixture to prepared pan and pack it in. Generously spread the topping on top!

Cover the dish with aluminum foil and bake for 25 to 28 minutes. Remove the foil and bake for another 7 to 8 minutes. Remove from the oven and let stand for 10 to 15 minutes or so, before cutting to slice and serve. You'll never look at meatloaf the same way again!
Pin this vegetarian lentil meatloaf recipe: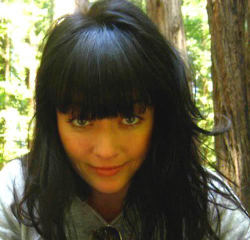 Latest posts by Vanessa Vanya
(see all)
Get on our mailing list
Subscribe and get our exclusive list of Six Great Sex-Boosting Snack Foods for FREE! Unsubscribe at any time - privacy policy