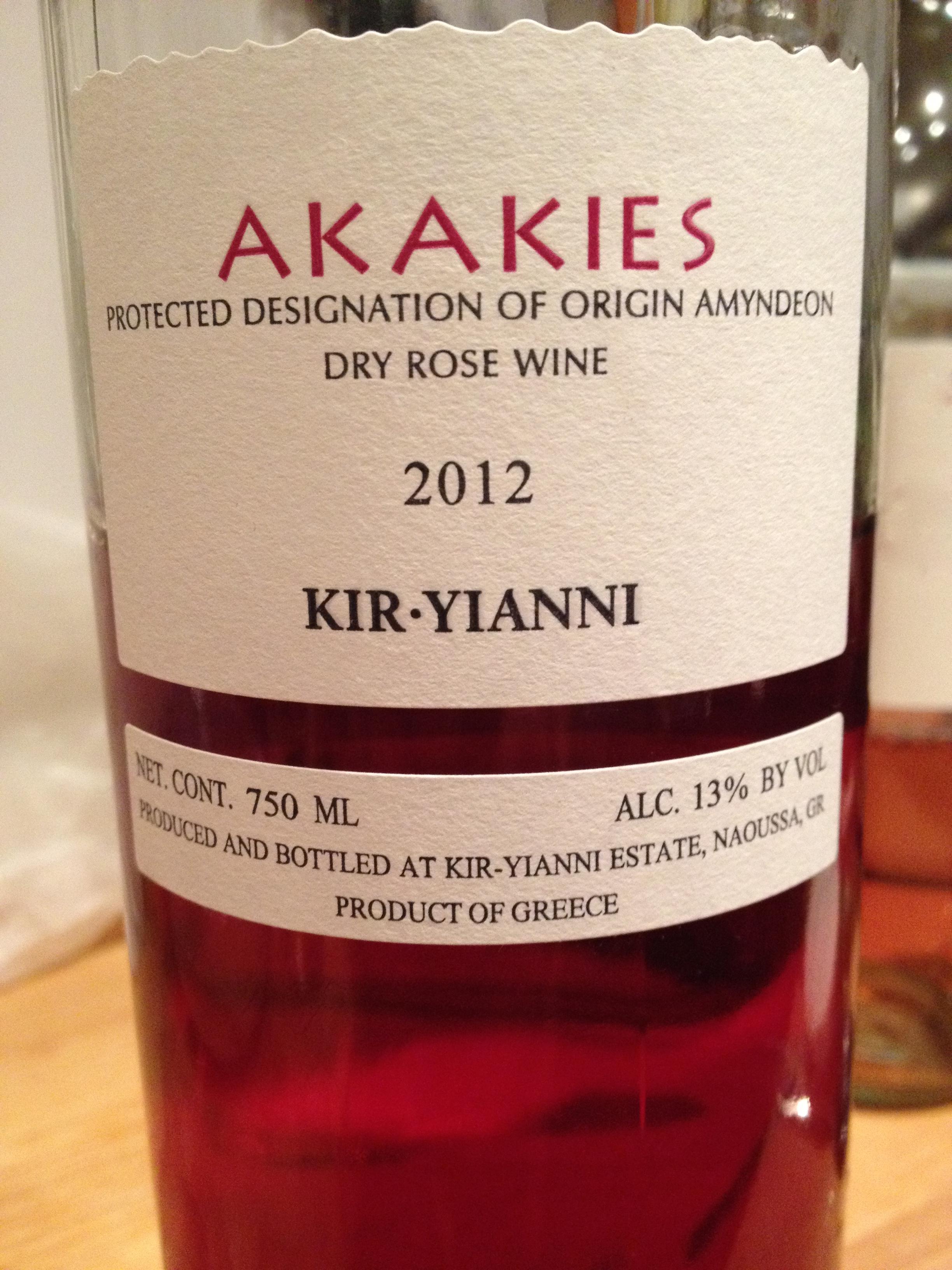 Kir-Yianni Akakies, Rosé, Amyndeon, Greece
Our articles may contain affiliate links. For more information, view our policies.
The Wine of the Week
 by  Annette Tomei
2012 Kir-Yianni Akakies, Rosé, Amyndeon, Greece
In the history of wine, Greece plays a significant role – much of what we know about winemaking we learned from the ancient Greeks (the word for the science of winemaking, oenology, is Greek in origin). Centuries of unrest – civil wars, world wars, and financial upheaval – isolated Greece and its wines from the rest of the world. Until recently, most of us knew of Greek wine was the infamous retsina – sharp, mediocre-quality wine with a Pine-Sol-like kick (maybe that's still what you're expecting). It wasn't until the first years of the 21st century that Greece entered the world wine market in earnest.
Though Greece is now growing many traditional European grapes, I find that the most interesting wines are being made from native varieties – several are some of the oldest known varieties in the world. It may take some time till we learn to pronounce some of their names, but that shouldn't stop anyone from embarking on a taste adventure!
The Akakies Rosé is made by combining two traditional winemaking methods: 85% "cold soaking" the juice on the skins before pressing, 15% in the traditional saignée method ("bled off" juice used in the making of red wine). The grape is Xinomavro (ksee-NOH-mah-vroh) – considered to be the top red wine grape from Greece, native to the northwestern part of the country. As a red wine, it is known to be high in tannins, strong backbone of acidity, and quite full-bodied and ageable. It's often compared to wines of Rioja, Chianti and Barolo.
The Akakies rosé is the only Greek PDO rosé (appellation specific), it is made from 100% Xinomavro. The color is deep ruby; the initial aromas are quite intense with a bit of earthy/mineral funkiness, opening to ripe berries and cream. On the palate, the rich floral, strawberry jam flavors dominate, accented by a delicious peppery bite. The finish is long and lush. This wine is enjoyable now and can age for about 2-3 years. Try it with grilled chicken or fish, especially salmon or other full flavored fish. For a vegetarian alternative, grilled or roasted eggplant dishes would be ideal – especially seasoned with peppery summer savory or marjoram.
Annette is the founder of VinEducation, where she is a food and beverage educator and consultant. She is also a professional chef who frequently contributes delicious recipes to EatSomethingSexy.com.
FREE APHRODISIAC NEWSLETTER
Subscribe to our free aphrodisiac newsletter