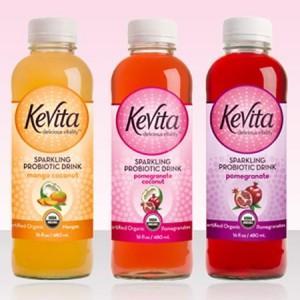 It is nearing the end of November which means that we are coming up on our favorite, national, smorgasbord- Thanksgiving! Time to prepare for temptation, overindulgence, and the possibility that you will not be making it to the gym for as long as the leftovers/ holidays last. Give in to this reality, do what you can to stay healthy: eat and drink right, sometimes.
You should consider giving your body some extra vitamins during this time because there will be the familial stress, the (I repeat) indulgence, the heavily caloric days, and a change in an activity routine. Vitamins and vegetables should be visited on a daily basis (along with quality sleep) but, since the discipline might be lacking you might want to consider just adding one good idea: Kevita.
Kevitais a probiotic "superdrink" full of healthy bacteria to balance your body's digestion and immune system. It's good for a little assistance during a period of overindulgence and, if you get a Mojita, or one of the other new flavors, the blue ocean minerals ® will strengthen your cells and neurological function to help your immune system, brain activity, and rest.
Enjoy yourself more during the holiday season by refreshing your body, mind, and palate with Kevita. For more information, visit the Kevita website.
FREE APHRODISIAC NEWSLETTER
Subscribe to our free aphrodisiac newsletter
https://www.eatsomethingsexy.com/wp-content/uploads/2013/11/kevita-sparkling-probiotic-drink.jpg
451
450
admin
https://www.eatsomethingsexy.com/wp-content/uploads/2017/01/Amy-Reileys.png
admin
2013-11-26 07:00:38
2018-06-21 11:34:30
Kevita--the delicious way to probiotic health