Want the Best Hot Chocolate Bomb Mold? Try This
Our articles may contain affiliate links. For more information, view our policies.
Homemade gifts are often the best presents. They show you not only care but that you took the time to give your love something unique. And we've found a gift that says I love you in a special way…with chocolate. Handstand Kitchen's hot chocolate bomb mold is a roadmap to homemade goodness, (with easy-to-follow instructions).
What is a hot chocolate bomb mold?
If you follow food trends at all, then you've probably enjoyed a hot chocolate bomb or two. As far as food fads go, it's a fun one. And a trend that offers aphrodisiac potential, since chocolate is not only one of the best-known aphrodisiac foods but also one of the best foods for women's sexual health.
But you may not know that you don't have to pay exorbitant prices for a hot cocoa bomb made from premium chocolate. You can actually just do a DIY hot chocolate bomb – and you get to choose your chocolate! All you need is a hot chocolate bomb-making kit, some high-quality chocolate and a little spare time. Hot cocoa bomb kits – and I was surprised to learn how many exist – come with a chocolate mold in the "bomb" shape along with a few accessories to make your chocolatier task as easy as possible.
The cocoa bomb mold is typically a flexible, silicone half-sphere in which you shape a thin shell of chocolate. I have also seen molds made of hard acrylic but this less-flexible material can be more challenging, particularly for beginner candy makers. With the flexible silicone mold, the chocolate shell is easily removed for assembly. And this type of mold doesn't require you to temper the chocolate.
What to look for in a mold for hot chocolate bombs
Flexible material – Food-grade silicone molds are superior to hard molds, especially for beginners because they make removing the finished cocoa bombs easy.
Capacity – You need to make sure the mold holds enough hot chocolate mix to actually make a cup of cocoa when you put it in the cup.
Mold size  – A standard mug has an opening that's around 2.5″ wide. So you need to make sure you're using a mold that makes spheres small enough to fit inside your average cup.
My review of Handstand Kitchen's mini hot chocolate bomb kit
The kit I'm recommending offers fewer bells and whistles than some of the cocoa bomb chocolate-making kits you can find. But this three-piece hot chocolate bomb mold kit is small and straightforward, which earns it high marks from me. Most importantly, it meets all three of the key criteria for a good bomb mold: it's flexible, it's got the right capacity and it's the perfect size to slip inside a mug of steaming milk.
The kit includes a small, flexible silicone tray in a cheerful, Valentine-pink color, with four half-sphere sections, enough to make two cocoa bombs – in other words, one for you and your lover.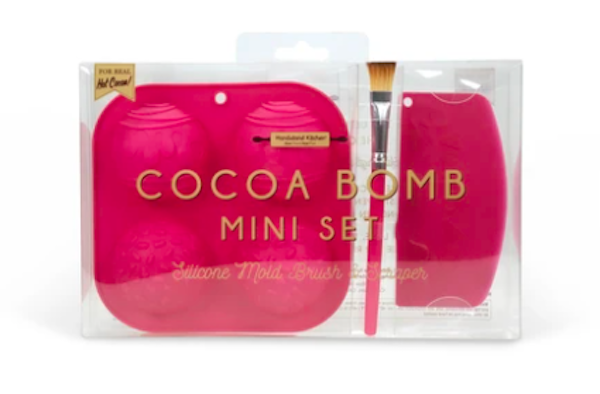 What's included
Sphere silicone mold to make two cocoa bombs
A scraper to smooth the edges of the chocolate shells
A brush to paint the chocolate into the cocoa bomb mold
QR code to scan for instructions and recipes
You will also need a few tools you probably have at home, including a tablespoon measure, a microwave-safe plate, spatula and either a microwave-safe mixing bowl or a double boiler. (See the next paragraph for my notes on the best way to melt chocolate.) And that's all you need to make custom hot chocolate bombs at home. (All of the materials are food-grade and BPA-free. The mold is reusable and dishwasher-safe.)
How to make hot cocoa bombs with this kit
A hot chocolate bomb is made by forming two half-circle-shaped shells from melted chocolate. The included instructions explain how to melt chocolate in the microwave. However, I recommend melting your chocolate chips or candy melts using the indirect heat of a double boiler as microwaving chocolate can be tricky. And there's potential for the chocolate to burn in the microwave. The chocolate shells are made in two layers by painting a thin layer of chocolate on the inside of the mold, letting it cool for five minutes then heating more chocolate and repeating these steps.
RELATED: Get some great tips for cooking with chocolate
Handstand Kitchen says this makes the shells much sturdier than chocolate bombs made from a thicker, single layer. I think the two-step process is worth it but just keep in mind that you're going to need some patience for this crafting project.
Once the chocolate is removed from all four of the cocoa bomb molds, two of the hollow semi-spheres get filled with your favorite hot cocoa mix, about a tablespoon, plus any custom ingredients you want to add, like mini marshmallows, peppermint chips or spices. After the two halves of the chocolate shell are formed and cooled in your silicone molds, gently melt the edges and fuse the two half spheres together with the melted chocolate. They're all ready to be added to a cup of hot milk, water or your favorite milk alternative.
And there you have it! That's how to make hot chocolate bombs with this simple and streamlined kit.
After trying my hand at a bit of chocolate-making, I will say this: you have to be a crafter at heart to really get into this chocolate-making project. Those of us who lack the artistic skills to form stunning chocolate molds will cringe a little at our slightly bumpy or off-center creations. But will the recipient of this chocolate gift appreciate it? Absolutely! In fact, I think the imperfections of a homemade chocolate gift are more enticing than something you brought home from the store.
Although I'm suggesting that you make these chocolate bombs for your lover, you may be wondering if this chocolate bomb diy kit is suitable for the whole family. The manufacturer recommends this kit for ages 6+. And I can tell you that my kids were into it. (Of course, they're the hot chocolate connoisseurs in my house.)
A tip for choosing a chocolate to melt
The one tip I can give you for making the best hot chocolate bombs is to use great ingredients. Making the shells from premium dark chocolate will not only help to ensure great flavor in your hot cocoa but will also intensify the possible aphrodisiac effects of the drink. (The darker the chocolate, the more health benefits – including aphrodisiac benefits – it offers. Here's more information on chocolate, your health and your sex life.)
Dark chocolate brands that work well for making these chocolate bomb molds include Callebaut Belgian dark chocolate callets. (This are my first choice for most baking tasks that involve melting or tempering chocolate.) But there are plenty of less expensive but still great choices, including some you can find at the grocery store like Ghirardelli dark chocolate chips. (Their melting chocolate wafers are also great but you'll probably have to order these online as most neighborhood grocery stores don't carry them.) I also like Trader Joe's dark chocolate bars. When finely chopped, these chocolate pieces work very well for melting. (You can purchase them in individual and "pound plus" baking bar sizes.)
If you're making these hot chocolate bombs for adults, I also recommend giving your hot chocolate mix upgrade to drinking chocolate. You can even use something spicy like this ancho chili drinking chocolate from Real Treat. Any chile lover would be thrilled to find these spicy treats under the Christmas tree or as a Valentine.
Where can you buy Handstand Kitchen's hot cocoa bomb kit?
This mini hot chocolate bomb set retails for $20. You can order this or any of Handstand Kitchen's more deluxe cocoa bomb mold kits directly from the Handstand Kitchen website. You can also shop for it on Amazon. Or if you want to make even more cocoa bombs at a time, you can get their 18-piece "ultimate" hot chocolate bomb kit on Amazon for around $35.
The kit makes a great tool for producing homemade chocolate gifts. But if you're not a crafter, you can always buy this chocolate mold kit as an inexpensive gift for your favorite chocolate-loving crafter. And hopefully, you'll be the recipient of their chocolate-covered, hot cocoa gifts.
Latest posts by Amy Reiley
(see all)
Get on our mailing list
Subscribe and get our exclusive list of Six Great Sex-Boosting Snack Foods for FREE! Unsubscribe at any time.