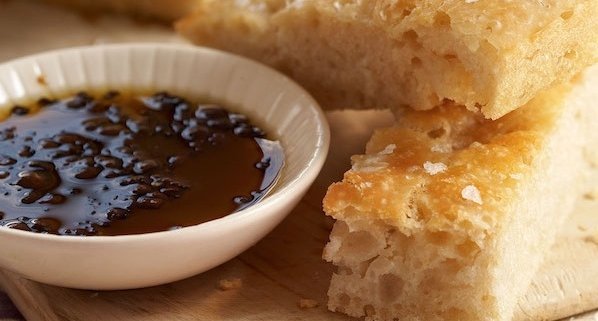 Our articles may contain affiliate links. For more information, view our policies.
Your next baking project
Looking for a new baking project? This recipe, from Jill Silverman Hough's 100 Perfect Pairings: Small Plates to Enjoy with Wines You Love, gives an aphrodisiac spin to a classic, Italian bread. This homemade focaccia is served with Jill's Coffee-Pepper dipping sauce. It's a unique indulgence made with not just two, but three of my favorite aphrodisiac ingredients. 
A wealth of aphrodisiacs
As the name implies, the dip's primary flavors come from coffee. (Or the aphrodisiac of adrenalin, as I like to call it.) And it has a spike of pepper to add aphrodisiac heat. But to round out the flavor and texture of this savory dipping sauce is a hint of Dijon mustard. Although you might not realize it, mustard has a long history as an aphrodisiac in both Eastern and Western cultures.
You don't have to bake homemade focaccia
Jill says you don't have to make your own focaccia to enjoy the dipping sauce. However she highly recommends you try her homemade focaccia recipe at least once. Comments Jill, "This is the wildly popular focaccia I used to serve at the café I owned in Sausalito, just across the Golden Gate Bridge from San Francisco. The recipe doesn't need a lot of hands-on time, but it does need to be started at least a day before you plan to bake it."
A wine pairing
Because this recipe comes from Jill's wine pairing cookbook, I should probably mention that it's a great appetizer to serve with wine. So next time you need a great ap. to serve at your wine club, book club, mommy club or, of course, a romantic night for two, think Cabernet Sauvignon. Jill, who is also a widely published wine writer, advises that the bitterness of the coffee is offset beautifully by the robust flavors of this red wine varietal.
Focaccia with Coffee-Pepper Dipping Oil
Print Recipe
You know how when you go to a nice, often Italian restaurant, they pour a little something into a shallow bowl for you to dip your bread into? This recipe is an enhanced version of one of those dipping sauces, the slight bitterness of the coffee making it especially perfect for Cabernet Sauvignon. And while it's not imperative that you bake homemade focaccia to go with the sauce—you can buy focaccia in the bakery department at many major supermarkets these days—it's quite easy to make. There's nothing like fresh bread, still warm from the oven, and a glass of wine to celebrate it.
Ingredients
For the Coffee-Pepper Dipping Oil
1/2

cup

extra virgin olive oil

2

tsp

coarsely ground unflavored coffee beans*

2

tso coarsely ground black pepper

1

Tbsp

soy sauce

1

tsp

Dijon mustard
For the Focaccia
2

tsp

active dry yeast

divided

2 3/4

plus 2/3 cups all-purpose flour

divided

1/2

cup

extra virgin olive oil

divided, plus more for the bowl and baking sheet

2

Tbsp

plus 1/2 tsp coarse kosher salt

divided
Instructions
For the Coffee-Pepper Dipping Oil
Half of a 9 x 12-inch loaf focaccia bread, homemade (recipe follows) or store-bought, for serving

In a small saucepan over medium heat, combine the olive oil, coffee, and pepper.

When the mixture is almost at a simmer, remove the saucepan from the heat.

Set aside to steep for 10 minutes.

Whisk in the soy sauce and mustard. (You can prepare the dipping sauce up to 2 days in advance, storing it covered in the refrigerator. Return to room temperature before serving.)

Cut the focaccia into about 1 x 4 1/2-inch strips.

Serve the dipping sauce in shallow bowls on the side.
For the Focaccia
Place 1/2 cup of warm water (118°F to 120°F) in a medium bowl. Sprinkle 1 teaspoon of the yeast on top of the water and set aside for 15 minutes (the mixture might not get foamy).

Stir in 2/3 cup of the flour.

Loosely cover the bowl with plastic wrap and set aside at room temperature for 45 minutes.

Place 2 tablespoons of warm water (118°F to 120°F) in the bowl of an electric mixer that has a dough hook attachment.

Sprinkle the remaining 1 teaspoon of yeast on top of the water and set aside for 15 minutes (the mixture might not get foamy).

Add the flour mixture, 3 tablespoons of the olive oil, 2 tablespoons of the salt, and 2/3 cup of cool water to the mixer bowl and stir lightly.

Add the remaining 2 3/4 cup flour and use a dough hook to mix on medium-low speed for 2 minutes.

Let the dough rest for 5 minutes.

Mix again on medium-low for 4 minutes. The dough should be smooth and slightly sticky.

Place the dough in a lightly oiled bowl, rolling it to coat.

Cover the bowl with plastic wrap, let it sit at room temperature for 30 minutes, then refrigerate it overnight. (You can prepare the dough in advance, storing it covered in the refrigerator for up to 2 days or in the freezer for several months. Thaw in the refrigerator before proceeding.)

Coat a rimmed baking sheet with olive oil.

Place the dough on the baking sheet and gently coax it into about an 8 x 10-inch rectangle.

Lightly cover the dough with plastic wrap and set it aside at room temperature until it expands to about 9 x 12 inches and is about 1 1/2 inches tall, about 2 hours.

Preheat the oven to 400°F.

Uncover the dough and use your fingertips to deeply dimple it.

Drizzle the dough with the remaining 1 tablespoon of olive oil, then sprinkle it with the remaining 1/2 teaspoon of salt.

Bake the focaccia until nicely browned, 25 to 30 minutes.

Transfer the baking pan with the focaccia to a wire rack to cool for 10 minutes.

Remove the focaccia from the baking pan and return it to the wire rack to cool completely. (You can prepare the focaccia in advance, storing it covered in the freezer for up to a month. Thaw at room temperature before serving.)
Notes
*Note: If you don't keep coarsely ground coffee beans on hand—or whole beans and a coffee grinder—just buy a tiny amount of whole beans, then use a mortar and pestle or the end of a wooden spoon to crush them to a coarse grind.
Love the recipe? Get the whole cookbook!

Pin this recipe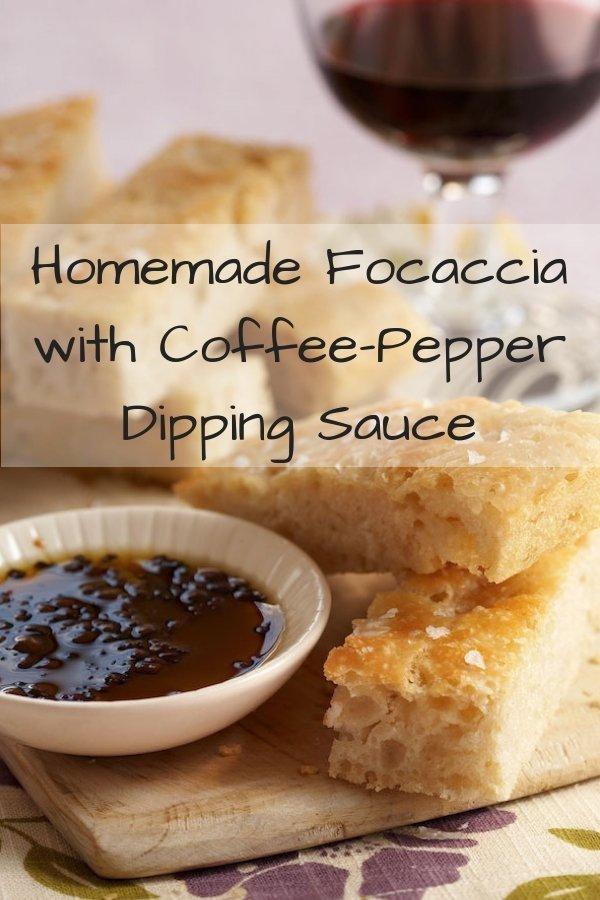 FREE APHRODISIAC NEWSLETTER
Subscribe to our free aphrodisiac newsletter