Recipe for Mediterranean Farro Salad with Dried Fruits
Our articles may contain affiliate links. For more information, view our policies.
A vegan farro salad for every season
This Mediterranean farro salad recipe is a tasty and easy upgrade from rice or pasta salad. Although it's an exceptionally healthy recipe, what's really remarkable about this vegetarian farro recipe is robust flavor–not to mention a variety of textures to tempt all of your senses. It is one of our favorite quick and easy farro recipes of all time.
Cooking with farro
The recipe, our latest from Diane Brown, author of The Seduction Cookbook, calls for pre-cooking the farro. She likes to use a quick cooking variety. (Her favorite is the one sold at Trader Joe's stores.) Just keep in mind that quick cooking farro has some or all of the bran removed, which means its less nutritious than whole grain farro. (Here are some key facts on farro nutrition from Healthline.)
Whatever type of farro you choose to buy, you can cook it just like pasta, added to boiling water. Just check the recommended cooking time on the package for a ballpark idea of when it will be done. But don't go just by package instructions. Use your instinct taste, taste, taste to ensure that your farro is properly cooked. It should be al dente, with a slight firmness in the middle but mostly soft.
RELATED: Hearty Farro with Mushrooms & Spinach
Although Diane doesn't mention it in the instructions for this farro salad with lemon vinaigrette, we like to toast our farro before adding it to the boiling water. You can toast the farro in a dry sauté pan until it starts to turn golden and fragrant, no more than 10 minutes.
RELATED: Learn how to make Farrotto 
How to customize this Mediterranean farro salad
As you can see from Diane's simple farro salad recipe below, she leaves a lot of room for customizing the recipe, either by season or by what's on hand. You'll notice she leaves the choice of both the herbs and the dried fruit up to you.
We wanted to make this vegan farro recipe a complete meal by adding our greens, so we added an entire cup of chopped baby arugula along with a few minced basil leaves and the dried fruit. Since mint and parsley tend to be readily available year-round, these might be your choice in fall or winter. And if you're looking to do a lemon farro salad at the Holidays, the crimson of cranberries combine with the vibrant green of winter makes a nice, seasonal touch.
Serve this whole grain salad on date night
This healthy, whole grain recipe is intended to serve four as a hearty, farro side dish. But it could also be used as a plant based main course for two, perhaps for a low-key date night at home. After all, the dried fruits and herbs like basil are all aphrodisiacs. And many of the nutrients found in farro will support healthy sexual hormones.
Although you can serve this recipe warm or cold, we recommend serving it as a warm farro salad for dinner. Then you can put the leftovers in your lunch box to enjoy as cold salad the next day.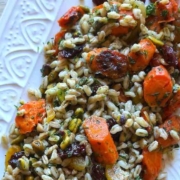 Mediterranean Farro Salad with Fruit and Fresh Herbs
Print Recipe
This quick and easy grain-based salad is a healthy, year-round dinner solution. Serve it as a hearty vegan side dish for 4 or as a vegetarian main course for two.
Ingredients
2

cups

cooked farro

10

carrots

peeled and sliced in 2" sections

1

Tbsp

olive oil

salt & pepper

1-2

Tbsp

or to taste your favorite dried fruit, finely chopped (apricots, peaches, cherries, cranberries, raisins or currants)

1-2

Tbsp

fresh herbs

finely chopped (parsley, dill, basil, mint, chives, etc or substitute with arugula or spinach)

zest of one lemon

juice of 1/2 lemon

1

Tbsp

pine nuts

substitute chopped pecans or pistachios

additional olive oil to taste

additional salt & pepper to taste
Instructions
Preheat oven to 400 degrees.

Place your carrots on a baking sheet in a single layer, drizzle with olive oil and season with salt & pepper.

Turn them periodically with a spatula as they cook and take them out when they are charred but still a little crisp. (This should take 15-20 minutes.)

Add whatever chopped up dried fruit you have, I used apricots and cherries, but figs, raisins, pears, all would be great!

Fold in a handful of chopped herbs, like dill, basil, mint, even arugula or spinach works.

Then fold in the lemon zest and lemon juice.

After all the other ingredients are added, gently toss in the nuts, drizzle with olive oil and season with salt and pepper to taste

Adjust your seasoning with additional lemon juice and olive oil if needed.
Notes
It will be wonderful for 3 days, so prep it in advance or enjoy it right away.
Pin this healthy farro salad recipe:
FREE APHRODISIAC NEWSLETTER
Subscribe to our free aphrodisiac newsletter