The Best Foods for a Healthy Breakfast on the Go
Our articles may contain affiliate links. For more information, view our policies.
Ask any nutrition expert, including our own Delahna Flagg, and they'll tell it's bad for your health to skip breakfast. But for many of us, morning is a time of chaos.
For those of us who have little time for scrambling eggs, never mind sitting down to indulge in warm plate of lovingly prepared whole foods, grab and go items are a staple. But the terms grab and go and healthy breakfast are rarely synonymous.
In fact, I sometimes wonder if I wouldn't be better off skipping breakfast than indulging in most of the vending-type options the American food processing industry has dreamt up. That's why we're spotlighting these options for a healthy breakfast on the go.
TO TRY: A high protein pumpkin pie smoothie recipe
Easy breakfasts on the go
I'm always on the lookout for alternatives to the bruised apple in my purse or a sugary bar tossed in a pocket. It takes the mindset of a detective to unearth to go breakfast ideas.
But they do exist!
And most not only offer superior nutrition but also more balanced–and more complex–flavors than what you'll find pushed to the front of you average grocery store shelf. Here are some of my favorite discoveries. And best of all, every one of these easy grab and go breakfasts is vegetarian.
RELATED: Check out all of our favorite Gourmet & Natural Foods
Healthy vegetarian breakfast ideas on the go

Tosi Almond Superbites, a grab and go healthy breakfast for vegans
If your preference is for clean eating, you need not worry when you sink your teeth into these bars. Tosi Almond Super Bites are made from real food. The ingredient list is short and includes a blend of almonds with flax, sesame seeds, chia, cane juice and salt–that's it. They're not only a vegan breakfast option but they're dairy free and gluten free.
And since we're all about feeding your libido, I should mention that most of those ingredients contain essential nutrients for supporting a healthy  sex life. The bars also come in cashew. But I prefer the crunch and interplay of bitter and sweet from the almond bar. Although they'll never replace sitting down to a balanced meal, they fulfill your nutritional needs for a healthy breakfast with a satisfying, roasted nut flavor.
For more information, visit the Tosi website.
Love Grown Oat Clusters are an on the go breakfast idea for snackers
We've been in love with the all-natural goodness of Love Grown Foods granolas for several years. Their granola Oat Clusters are suited for topping yogurt or just eating from the bag. They're non-GMO, gluten-free and vegan friendly and they're flavored subtly to enhance the natural taste of oats, not disguise it.
But there's more to Love Grown than just a healthy breakfast option. I'd carried their granolas around for years before I met the company's founder, Maddy D'Amato. And in that meeting, she completely changed my picture of American food manufacturing.
This vibrant (and tireless) woman is a visionary. She created a company that spreads love in more than the obvious ways. The drive behind Love Grown Foods is educating adults and kids that good-for-you-foods can be delicious.
To make their point, the Love team offers a school program. They go into America's schools and teach kids about the importance of breakfast. They educate our youth on the role of good fats and the commitment to love yourself with healthy goodness. So when you buy Love Grown Oat Clusters in any of the 5 flavors, (my picks are Apple Walnut Delight and Cocoa Goodness), know that you are helping to share the love across the USA.
For more information, visit the Love Grown website.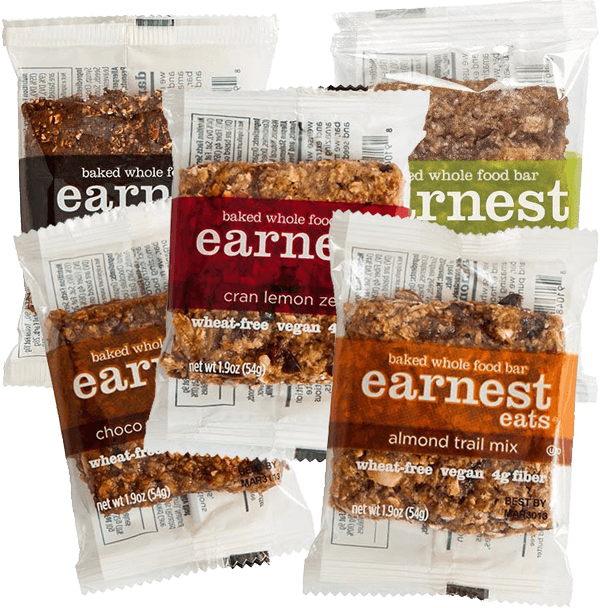 Earnest Eats Superfood Baked Bars for a quick healthy breakfast on the go
In a taste test of over 25 traditional granola bars, I picked Earnest Eats Superfood Baked Bars as the best bar for balance of flavor, texture and nutrition. The bars are made just the way you'd make granola bars at home if you had the time. There are no unpronounceable, science lab words in the ingredient lists. The bars simply offer nuts, seeds, fruits and grains. The whole food bars are great for throwing in your bag.
And I can vouch that the approximately 200 calorie snacks provide you with ample energy replace a traditional, hot meal. I personally favor the Double Espresso, which offers the buzz of espresso powder along with the nutrition of almond butter, whole oats, pumpkin seeds and walnuts. No, it will never replace the civilized feeling of sitting down to an espresso and a soft boiled egg with whole grain toast soldiers. But it will give your body the healthy breakfast it needs in a very convenient package.
For more information visit the Earnest Eats website.
Vitatops are great for a healthy breakfast on the go
If your idea of a satisfying breakfast is pastry, this is the option for you. Vitatops, made by Vitalicious, offer a variety of pre-packaged muffin tops loaded with fiber and fortified with essential vitamins and minerals.
No, they won't fulfill your fantasies of a freshly-baked, sweet cheese-filled fruit muffin with melted, golden, Irish butter. (That's my breakfast pastry fantasy, anyway.) But they will satisfy a sweet tooth and curb hunger while feeding your body with a surprising amount of nutrition.
The Wild Blueberries muffin tops are made with whole wheat flour and real blueberry, (a noted aphrodisiac). They're also thin enough to pop in a toaster while you lace up your shoes. My favorite is the Classic Deep Chocolate. They're made with cocoa and speckled with real chocolate chips. But each 100 calorie serving delivers 9 grams of fiber and three grams of protein. Not bad for a breakfast pastry!
For more information, visit the Vitalicious website.
And for those days when you find the time to cook a healthy breakfast at home, get inspired with our breakfast recipes
FREE APHRODISIAC NEWSLETTER
Subscribe to our free aphrodisiac newsletter