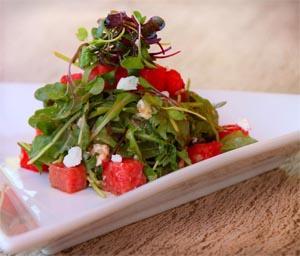 Grilled Watermelon Salad with Baby Arugula and Goat Cheese salad
Grilled Watermelon might be the perfect summer flavor
A big thanks goes out to Chef Eric Finney of the Arizona Grand Resort & Spa. His grilled watermelon salad may be our new favorite barbecue dish. What's better for beating the heat than watermelon? And grilled watermelon simply makes the perfect combination of summer flavors in one dish. Oh, and best of all? Everything in the dish is aphrodisiac! 
The salad features watermelon, one of the world's most interesting aphrodisiacs. (Watermelon is also one of our 10 best foods for men. Discover why men need what watermelon has to offer.) And we would be remiss if we didn't mention that the salad also includes the aphrodisiacs of arugula and cheese. Yep, this grilled watermelon salad is refreshing, it's nutritious and it offers a trifecta of aphrodisiacs.
A note from our kitchen
Chef Finney, who is known for working in the high-volume kitchens of luxury resorts, attempted to pare this recipe down for the home cook. The amount of watermelon is a little vague but we find that using half of a medium melon works perfectly. (Look for something about the size of a soccer ball.) Incidentally, the chef doesn't call for it but we like this grilled watermelon salad finished with a pinch of salt and black pepper. But you be the judge.
Grilled watermelon with baby arugula and goat cheese salad.
This salad features the aphrodisiac of grilled watermelon with baby arugula and goat cheese salad (also aphrodisiacs!)
Ingredients
1/2

medium watermelon peeled and cut into rectangles

3

tbsp

high quality extra virgin olive oil

4

c

baby arugula

1/2

c

crumbled goat cheese
Instructions
Grill watermelon over a very hot grill just long enough to place nice grill marks on both sides and pick up some flavor from the grill.

Place watermelon rectangles in refrigerator to cool – you want the watermelon to be very cold when you actually prepare the salad.

Remove watermelon from refrigerator and cut into uniform cubes.

Combine the olive oil, arugula and goat cheese in mixing bowl and gently toss in the watermelon before serving.
FREE APHRODISIAC NEWSLETTER
Subscribe to our free aphrodisiac newsletter