Grilled Summer Fruit – the healthy way to do dessert
Our articles may contain affiliate links. For more information, view our policies.
An easy guide to serving fruits of passion
This recipe is our reminiscence of a retreat that shared many of our passions. The Oaks at Ojai was known for incorporating healthy, local, seasonal ingredients into its menus. And for giving guests the tools to feel their best by modifying diet. With this grilled summer fruit recipe, their culinary team took the essence of summer and transform it into a succulent dessert. What I love the most is that instead of creating a dessert with a lot of added fat and sugar, the did it through the magic of grilling.
The Oaks closed their doors a few years ago after the area was ravaged by wildfire. I had such great respect for what this health retreat did and their ability to promote wellness through really tasty food! Although the spa is gone, I still have some of their recipes, like this summery grilled stone fruit dish to help share our passion for eating right.
The unmatched flavor of grilled summer fruit
If you've never grilled fruit, you're in for a treat. In our test kitchen, we love how the simple act of grilling pulls out the fleshy succulence and an almost creamy quality from stone fruits. By caramelizing the sugars on the cut side of the fruit, grilling gives the cut side of a stone fruit an almost candy-coated crust. (The recipe calls for peaches but you can use apricots or nectarines.) And of course, as anyone who has ever tried a fruit pie or cobbler knows, heating fruit gives an effect if intensified sweetness.
Here, The Oaks chef used the technique in such a way that will have even the most inexperienced home cook serving up platters of sensual, grilled fruits. Once you get the hang of this technique, you can move on to pineapple, pears and–slightly more challenging–bananas.
You can even grill watermelon. Try this recipe for a grilled watermelon salad. 
A happy ending to a romantic dinner
The ease of this dish makes it a candidate for the dessert to serve at your next barbecue. But there are some particular reasons I recommend saving this one for your next romantic dinner.
For one thing, this grilled summer fruit recipe is a simple dish, one that doesn't require the kind of extra work or stress that can take away from the most important part of your evening: time with your lover. And then there's the aphrodisiacs. A buffet of nutrients beneficial to your sex life, this recipe includes several of my favorite aphrodisiacs, like peaches (or apricots), nuts and cheese. That's right, every ingredient in this recipe has something to offer to your sexual health.
Use this fruit recipe for more than just dessert
Although this makes the perfect happy ending to a meal, the chef  recommended that I also try using this grilled summer fruit as an accompaniment to grilled fish and chicken dishes. Another variation? On a steaming hot day, try filling the center of the fruits with sorbet or ice cream instead of cheese for a cooling, yet still sexy dessert.
Love fruit desserts? Don't miss this recipe for a creamy, tropical fruit salad.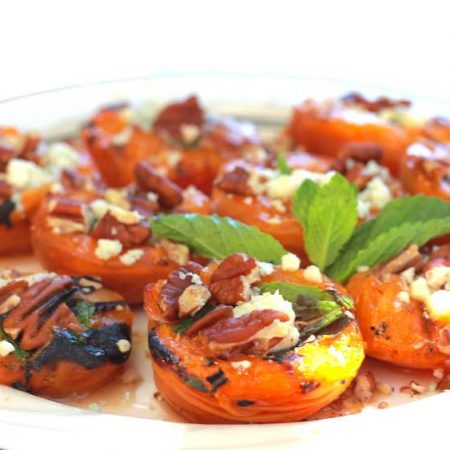 Grilled Summer Fruit
Print Recipe
This simple, summery dessert recipe takes the best of summer fruit and transforms it into a slightly savory yet sweetness-kissed dessert. 
Ingredients
2-3

lbs

slightly underripe yellow or white peaches

nectarines or apricots*

olive oil or your favorite nut oil

such as walnut or almond oil, for brushing

balsamic vinegar for brushing

2

oz

chevre or blue cheese

1

tbsp

roasted walnut slivers or sunflower seeds for garnish

optional
Instructions
Cut each fruit in half; brush each surface with olive oil (using a little nut oil such as walnut oil gives it even more complexity of flavors). Then brush with a little balsamic vinegar.

Place cut side down on a heated grill or barbeque. You can broil these as well, but then you have to have your oven on when it's already hot everywhere!

Grill for 2 minutes before turning. When you turn the fruit over, place a leaf of mint or basil or rosemary in the hollow of the fruit. Grill for an additional 1-2 minutes

Remove from grill—place a dollop of goat cheese, bleu cheese or feta in the hollow as well. Garnish with toasted sliced almonds or sunflower seeds.
Notes
*This particular treatment of fruit is best done with slightly under ripe or barely ripe fruit. Cut each fruit in half; brush each surface with olive oil (using a little nut oil such as walnut oil gives it even more complexity of flavors) and a little balsamic vinegar.
If you wish to pipe a filling into the fruit for a more finished look, consider mixing ¼ cup low fat cream cheese with one of the above, adding chopped herbs and putting the mixture in pastry bag fitted with a decorative tip. You can then dust with nuts.
It goes without saying that this grilled fruit, done simply with olive oil and mint makes a wonderful receptacle for a sorbet or ice cream finish to a meal. Mixing one tablespoon of maple syrup to ¼ c. olive oil is especially tasty to brush the fruit with if you are using for dessert.
Pin this recipe:
FREE APHRODISIAC NEWSLETTER
Subscribe to our free aphrodisiac newsletter