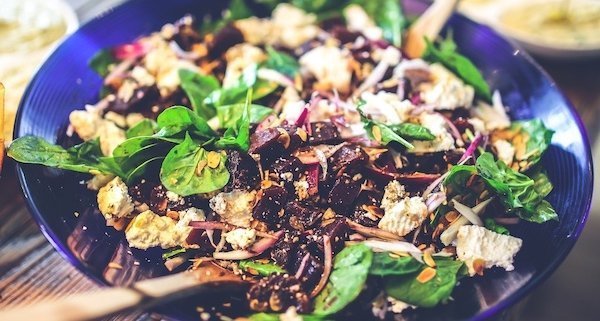 Grilled Chicken Salad Your Way – A Customizable Recipe
Our articles may contain affiliate links. For more information, view our policies.
Grilled chicken salad done right
Grilled chicken salad has been done. And done again. But has it ever been done YOUR way? I wrote this recipe to inspire you rather than command. It is little more than a guide to help you make the salad world's most tired dish into something you love…And will want to eat again and again, only maybe a little differently next time!
Your seasonal favorites
The grilled chicken salad in this recipe is little more than a skeleton, a sketch for you to color with the best of the season. In addition to some instructions on how to get the most flavor out of a boneless breast of chicken, I offer suggestions of some of my favorite healthy aphrodisiac ingredients. I've included variations you can change you grilled chicken salad to match what's fresh in season.
The secret to succulent chicken
Chicken breast on it's own is virtually tasteless. And it's easy to dry out during cooking. In order to make succulent chicken breast, I recommend two things. You need a marinade and you need salt. For this recipe I marinate the chicken in white wine for at least two hours. You need to plan ahead because you don't want to cheat the chicken out of this tenderizing process.
The acidity in the wine will soften the chicken and allow the flavor from the spice rub to soak in. If you want to keep the flavor simple, you can skip the rub and just generously salt both sides of the chicken before adding it to the dish with the wine. Although you can let the chicken for this grilled chicken salad rest in the marinade for several hours, you don't want to leave it overnight. Poultry will eventually start to toughen up if it's left in a marinade for too long.
Grilled Chicken Salad YOUR Way
Print Recipe
Customize your grilled chicken salad to make the perfect dish every time with these seasonal and aphrodisiac topping suggestions. 
Ingredients
1

lb

boneless

skinless chicken breast

your favorite spice rub

4

c

lettuce

in summer, try fresh-picked butter lettuce, baby romaine, tiny spinach leaves or your favorite; in winter, try wild arugula or kale; year-round baby lettuce blends are always available

4

c

thinly sliced vegetables

we love radishes, scallions, cucumbers, and raw corn cut off the cob in summer. In winter, try carrots, sweet onions, finely chopped red cabbage and chives.

2

medium or 4 baby potatoes—skin on

in summer, we like tiny fingerlings and in winter, try sweet potatoes
Optional additional ingredients:
freshly shaved Parmesan

crumbled feta

crispy bacon

avocado

Heirloom tomato

pea shoots

radish sprouts

broccoli

grilled asparagus

grilled eggplant

chopped walnuts

raw pumpkin seeds
for the dressing:
2

tbsp

red wine vinegar

2

tsp

dijon mustard

1

tsp

finely chopped green garlic or shallots

2

tsp

grape seed oil

salt & white pepper to taste
Instructions
Coat chicken in the spice rub with a gentle massage, then place in a pan or shallow baking dish with 1/2 c white wine for a minimum of 2 hours. Turn the chicken over after 1 hour. 

Prepare lettuce and vegetables and divide among 4 plates.

For the potatoes: bring water in a medium sauce pan to a boil. Add potatoes and boil until soft, (a knife can easily be inserted into the center). Drain potatoes and rest until cool enough to handle then cut into bite-size pieces. Set aside until chicken is grilled.

For the dressing: combine vinegar, mustard and green garlic or shallots. Whisking vigorously, slowly add oil, continuing to whisk until completely combine. Season with salt and pepper to taste. Rest until ready to serve.

Heat grill to medium-high. Cook chicken for 6-8 minutes per side (depending on thickness), until thoroughly cooked. Remove from heat and rest for 5 minutes before slicing into 1/3 inch thickness.

Toss dressing with lettuce and other vegetables. Top with chicken and potato pieces and serve while chicken is still warm.
Pin this Grilled Chicken Salad recipe
FREE APHRODISIAC NEWSLETTER
Subscribe to our free aphrodisiac newsletter