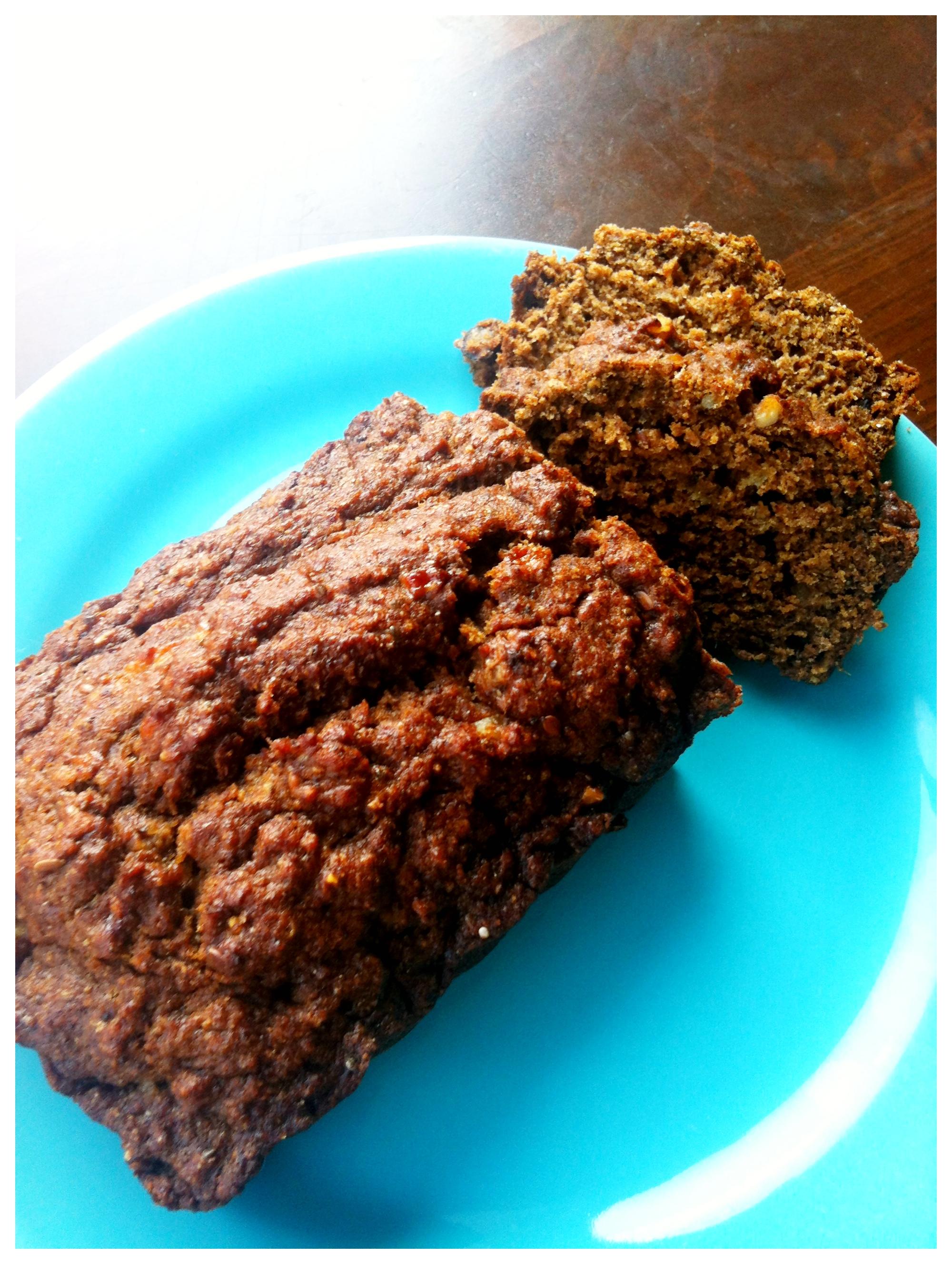 This Healthy Banana Bread Recipe Will Make You More Sexy
Our articles may contain affiliate links. For more information, view our policies.
I've loved banana bread since I was a little girl. Some of my fondest recipes are of my mom making my grandma's banana bread from the sorry, brown, forgotten bananas in the hanging fruit basket.
Now that I'm a bit older and don't have that same cheetah-esque metabolism I did as an 8 year old, I find high-sugar, buttery banana bread to be a little dangerous to my health (and hips).
Grandma's banana bread made with health-boosting ingredients
I've taken my grandma's recipe and made it over into a healthy banana bread I can eat and still slip into my sexy jeans. I've also injected a few health benefits that are sure to support a healthy libido and the rest of the body, too.
It was easy to take an old fashioned banana bread recipe and give it an injection of libido-boosting nutrition. I didn't even have to alter the main ingredient, since banana, is a well known aphrodisiac. And I think that if Grandma knew what we now know about nutrition and libido, she'd have been making banana bread this way, too!
RELATED: Why Potassium is Important for Sexual Health
Healthy banana bread strategies
Here are my favorite strategies for taking ordinary banana bread and making it into a tasty treat that's also good for you:
1. Use date sugar as a substitute for white, refined sugar
Literally just ground up dates,  date sugar is loaded with vitamins and minerals like calcium, iron, magnesium, phosphorous, zinc, iron, copper, polyphenols, antioxidants, selenium and is a huge source of potassium. White sugar has nada. Date sugar also offers fiber, protein, and carbs, which will aid in healthy digestion and help you feel fuller longer.
2. Use coconut oil as a substitute for butter/margarine
Coconut oil is high in fat and has about the same amount of saturated fat as butter but don't be fooled. Coconut oil has been proven to aid in digestion, weight loss, heart health, and can boost your immune system. It's also wonderful for your skin, so if you cook a little sloppy, no worries, just rub that oil on your hands to firm up your skin.
As for your sexual health, did you know that coconut is among the 10 best foods for men's sexual health?
3. Use wheat and oat flours as a substitute for white flour
White enriched flour has been bleached and had all fiber and anything with any nutrients extracted. It's basically sugar and that's how your body is going to process it. Whole wheat flour contains vitamins, minerals, protein, calcium and iron. And using it in the batter helps make this a super healthy banana bread.
Another one of my favorite tricks for avoiding white flour is to make healthy banana bread with oats in the form of oat flour. Oat flour because it adds nutrition and a nutty slightly sweet flavor. Oat flour has been proven to reduce certain types of cancer, treat mild diabetes and osteoporosis, is gluten free, and strengthens cardiovascular health and lowers cholesterol levels.
Incidentally, like coconut, oats make the list of the 10 best foods for men's sexual health.
4. Add walnuts
Walnuts are packed full of Omega 3 fatty acids – they have the highest ratio of any nut. We need Omega 3 fatty acids for a number of reasons but largely to reduce inflammation. They are essential for optimum health.
Walnuts contain several other vitamins and minerals essential to sexual health. And they're also known for reducing stress. Can't handle Bikram Yoga? Eat some walnuts!
How to store banana bread
This banana bread is best when it's fresh out of the oven. You can prepare the batter the night before and store it in the refrigerator until morning. Then make a tempting breakfast in bed in the morning.
Leftovers should be stored in the refrigerator for up to 5-6 days.
This banana bread loaf can be frozen, tightly wrapped, for up to three months. But why would you freeze it when it's so good fresh?
RELATED: Want a vegan banana bread? Try this recipe! 
Grandma's Healthy Banana Bread
Print Recipe
Healthy eating expert entices the senses and feeds libido with this healthy and easy version of a classic banana bread. 
Ingredients
4

very ripe bananas

1

cup

of date sugar

1/2

cup

of coconut oil

1 1/4

whole wheat flour

1/4

cup

oat flour

2

eggs

beaten

1

tsp

baking soda

1/2

tsp

salt

1/2

tsp

vanilla

1/4

cup

coarsely chopped walnuts
Instructions
Cream together coconut oil and date sugar in a large mixing bowl.

Add beaten eggs and pulverized bananas.

Combine well.

Sift together flour, soda and salt. Add to creamed mix and add vanilla.

Pour into greased and floured loaf pan.

Bake at 350 degrees for about an hour.
Notes
Recipe keeps well in the refrigerator.
This healthy take on my grandma's banana bread comes out a deep golden brown (because of the date sugar) and is the perfect amount of sweet and savory. Enjoy for breakfast or any time of the day while wearing your well fitting sexy jeans.
FREE APHRODISIAC NEWSLETTER
Subscribe to our free aphrodisiac newsletter