Gluten-Free Christmas Cookies–3 easy recipes without the gluten
We at Eat Something Sexy have a serious love affair with gluten. But we also think that those with gluten intolerance shouldn't have to miss out on this season's best treats. So this week we're offering a trio of gluten-free Christmas cookie recipes. And these recipes aren't classics remade with gluten-free ingredients so they "almost" taste like the real thing but not quite. No, our gluten-free friends deserve the very best–naturally, organically gluten-free recipes that are delicious just the way they are!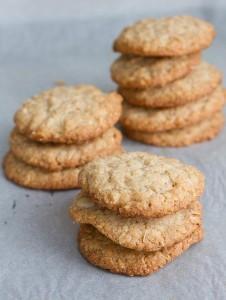 Gluten-Free Buckwheat Nut Bites
This recipe comes to us from Estonian baker Pille Petersoo of the Nami-Nami blog. In Estonia, buckwheat flour is quite popular and here she uses it in the kind of simple, comforting cookie that would normally call for wheat flour. This means they are deliciously and naturally gluten-free Christmas cookies. (You can also use rice flour for this recipe, although it gives slightly less depth of flavor.)
If you're interested in more uses for buckwheat, follow Pille's Buckwheat Pinterest board.
Gluten-Free Buckwheat Nut Bites
Diet and Health:
gluten-free
Servings
:
2
dozen cookies
Ingredients
Ingredients

4

oz

butter

softened

1/3

c

granulated sugar

1

egg

2/3

c

buckwheat flour

light

1

tsp

baking powder

1/3

c

chopped hazelnuts or chopped/sliced almonds
Instructions
Heat the oven to 350F.

Line a baking sheet with parchment paper.

Cream together the butter and sugar, followed by the egg.

Mix in the flour, baking powder and nuts. Combine. (If the mixture is on the dry side, add a spoonful or two of cold water)*.

Take a heaped teaspoonful of the mixture, roll into balls and place onto the baking sheet. Gently press with a fork to flatten the cookie dough balls a little.

Bake for 15-20 minutes in the preheated oven until the cookies are light golden.

Let cool for about 5 minutes, then transfer onto the metal rack to cool completely.
Notes
* I've also used a different method - combined all the dry ingredients (buckwheat flour, sugar, baking powder), added the grated softened butter and the egg, and simply mixed everything and rolled into walnut-sized balls.
Gluten-free Sea Salt Oatmeal Chocolate Chip Cookies
This recipe comes to us from one of our favorite bakers, Leah Kuo, Lead Baker at Urban Pantry in Arlington, Virginia. Although Leah is among our posse of gluten lovers, she believing in baking for all tastes and dietary needs.
That's why she created this irresistibly delicious cookie, loaded with aphrodisiac ingredients. It's almost savory quality, thanks to a pinch of salt, makes it a perfect cookie for pairing with one of our other favorite aphrodisiacs–wine.
Gluten-Free Sea Salt Oatmeal Chocolate Chip Cookies
Diet and Health:
gluten-free
Seasonal:
Christmas, Easter, Fourth of July, Holiday season
Ingredient:
chocolate chips
Ingredients
1 1/3

cups

unsalted butter

¾

cup

brown sugar

1 ½

cups

granulated sugar

2

large eggs

1

tablespoon

vanilla

1

cup

plus 2 tablespoons rice flour

1 ¼

cup

cassava flour

1 ¾

teaspoon

baking powder

¾

teaspoon

baking soda

½

teaspoon

sea salt

2 1/3

cups

gluten-free oats

1 12-

ounce

bag semi-sweet chocolate chips
Instructions
Preheat oven to 350 degrees.

Line baking sheets with parchment paper.

Whisk the rice flour, cassava flour, baking powder, baking soda, and sea salt.

In a mixer, cream the butter, brown sugar, and granulated sugar until light and fluffy.

Add in eggs and vanilla and beat until combined.

Add in dry ingredients and beat to combine.

Add in oats and mix until distributed evenly.

Fold in chocolate chips.

Spoon balls of dough on to baking sheets and press down slightly.

Bake for about 12 minutes until slightly golden. Cookies will be slightly chewy. If you want a crisp cookie bake an additional 3-4 minutes.

Cool cookies on the baking sheet for about 5 minutes, then remove the cookies onto a cooling rack.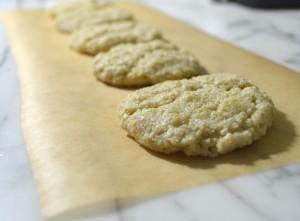 Amy's Gluten-Free Cashew Cookies
Our Editorial Director Amy Reiley shared this recipe with us. It was inspired by the Doli di Noci recipe from Southern Italian Desserts: Rediscovering the Sweet Traditions of Calabria, Campania, Basilicata, Puglia, and Sicily
. But Amy puts a tropical spin on this Italian favorite by using cashew instead of the traditional walnut. One of the easiest cookie recipes you'll ever find, it's also one that lends itself well to variation. Try topping each cookie with a cashew half or folding in chocolate chips before baking.
Amy's Gluten-Free Cashew Cookies
Diet and Health:
gluten-free
Seasonal:
Christmas, Holiday season
Ingredients
1 3/4

c

cashew meal*

1

c

granulated sugar

1

lage egg

*If you can't find cashew meal you can make your own by pulsing 2 1/4-2 /12 c unsalted cashews in a food processor. Or substitute almond meal.
Instructions
Preheat the oven to 375°F with a rack in the upper third of the oven. Line a baking sheet with parchment paper or a silicone baking mat.

Combine the cashew meal and sugar in a medium mixing bowl.

Make a well in the middle of the cashew/sugar mixture and add the egg.

Use a fork to briefly whisk the egg, then begin incorporating the nuts until everything is thoroughly combined. (You'll need to finish the mixture with your hands.) The dough will be quite moist and a little sticky.

Divide the dough into two pieces On a flat surface, shape each piece of the dough into an 8-inch log, flattening the sides to make a bar about 1 inch on each side. Cut the bar into 9 even segments.

Space the cookies evenly on the prepared baking sheet, standing upright (not on a cut side) with 1 inch of space on each side. Repeat with the remaining bar.

Bake the cookies on the upper oven rack for about 15 minutes, until they are golden all over.

Cool on the pan for about 5 minutes before removing.
FREE APHRODISIAC NEWSLETTER
Subscribe to our free aphrodisiac newsletter