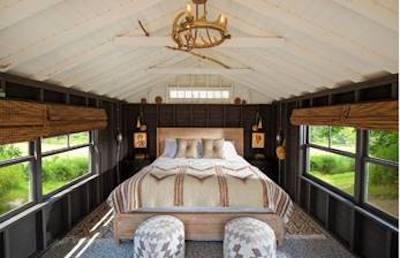 Romantic Glamping in Maine at Sandy Pines Campground
Our articles may contain affiliate links. For more information, view our policies.
Unique Maine retreats for a romantic getaway
Maybe you're an avid camper or maybe you're just considering dabbling in a natural retreat. Either way, we think we've found an ideal location for a romantic escape. And whether or not you've wondered where to go glamping in Maine, this retreat is one for your couples bucket list.
RELATED: Catalina Island Camping for Romance
What is glamping and why would I do it?
If you still haven't heard of glamping, you're not alone. This marketer made term is simply a rather graceless mashup of "glamorous and camping." Glamping is what those of us who love nature and hate sleeping on the cold ground with a stick poking your back prefer.
This style of pampered camping allows the camper to spend time in a peaceful secluded setting, away from the "evils" of technology. But with glamping, you do so without having to give up the comforts that, for some of us, make life a pleasure.
RELATED: Wines for a Romantic Picnic
A glamping couples' retreat in Kennebunkport, Maine
Sandy Pines Campground just outside of Kennebunkport, Maine as the glamper's bucket list destination is because the campground's new, "unique retreats" represent just what the glamper ordered.
This is the kind of place you can create a couples' escape for a weekend or even a couple of weeks. With privacy and plenty of space to roam, Sandy Pine's luxury camping accommodations offer opportunities for couples time and the kind of space to allow for a little alone time.
Glamping Maine in a Unique Retreat
While many campgrounds offer a glamping experience with cottages or tents that offer heat and running water, Sandy Pines takes glamping to an even more creative place with what they call their unique retreats.
These six, luxury appointed retreats take camping fantasies to the next level. If you've dreamed of sleeping under the stars but fear a cascade of flies trickling into your open mouth, then you're going to love Sandy Pines Oasis Dome.
Or if your couple fantasies embrace a pioneering spirit, you need to book a night in a Conestoga Wagon.
Other unique experiences at this Kennebunkport, Maine glamping destination include a decked-out Airstream, Glass House and Shepherd's Hut.
These retreats are all tucked into reasonably secluded campsites overlooking a marsh. They all offer king or queen-sized beds, heating and air conditioning. (And don't forget to pack your Indian Spice Love Oil!)
Sandy Pines Couples Cottages
This Maine campground also offers a more standard style of glamping experience with 12 Couples Camp Cottages. Each of these uniquely appointed cottages offers a king-sized bed, heat and ac, a fire pit, beverage cooler and outdoor seating area.
You can view photos of each of the couples retreat cottages on the campground website, to help choose the cottage that suits your unique style.
It should be noted that children and pets are not allowed in the Couples Cottage area.
Sandy Pines Campground amenities
In addition to the in-room amenities, the property also includes a heated, saltwater swimming pool and an onsite general store with basics–including wine. The campground staff can also arrange bike and kayak rentals. Glamping in Maine has never seen it so good!
Of course, your Sandy Pines retreat may feel like a secluded getaway.
But your glamping site is just a hop, skip and jump from the luxuries of tony Kennebunkport. Here you'll find sparkling, white beaches, Maine's hippest restaurants and enough culture to fill you up should your nature getaway make you itch for urban life.
RELATED: For Autumn Romantic Getaways in Maine, Look to Portland
How to book your glamping in Maine getaway
If you think glamping in Maine sounds like your kind of couples retreat, start planning now.
Sandy Pines opens for the season on May 10. As I mentioned, there are only six of the new, unique retreats and they're bound to book quickly. Visit the Sandy Pines website for additional information and to make reservations.
RELATED: You need these collapsible wine glasses
FREE APHRODISIAC NEWSLETTER
Subscribe to our free aphrodisiac newsletter