What are you lusting after? Whether it's a cookbook, new snack, beauty aid, kitchen essential, chef memoir, or edible body dust, we've got something that will make you tingle.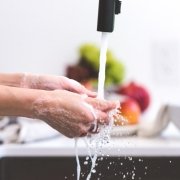 We didn't always use all-natural cleaning products in our test kitchen. But we do now. The reason is simple. A couple of years ago, Amy developed severe allergies and chemical sensitivities. The kitchen started making her sick. We knew we had to do one of two things. We could excuse her from all cleaning duties. […]
FREE APHRODISIAC NEWSLETTER
Subscribe to our free aphrodisiac newsletter
Thank you for subscribing.
Something went wrong.
We respect your privacy and take protecting it seriously