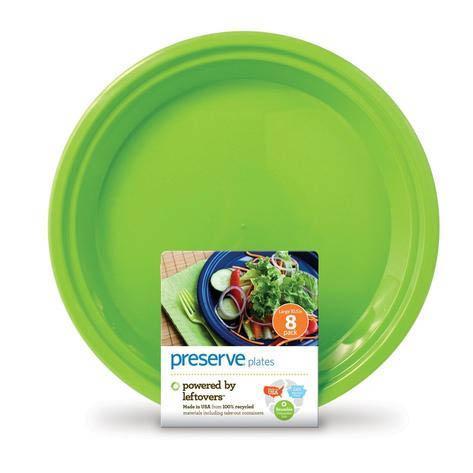 My Favorite Outdoor Tableware – it's eco-friendly!
Our articles may contain affiliate links. For more information, view our policies.
We all do it. We throw that backyard barbecue or picnic in the park that requires us to buy mile-high stacks of disposable plates. And although the sight of endless paper or plastic saucers tossed carelessly into the trash makes the eco-minded among us cringe, we still do it. Or rather, I used to do it. That was until I found an outdoor tableware alternative that gives my inner eco warrior some peace.
Enter Preserve outdoor tableware
Since summer is coming and with it, the outdoor dining season, I'm passing my discovery on to you with the hope of saving a few more plates from landfills this year.
Made by a company called Preserve, this outdoor tableware includes an assortment of plates, bowls, cups and cutlery. What sets the products apart is their composition. They're made from 100% recycled #5 plastic. This plastic is one of the safest but it's also one of the least recycled. So the company's philosophy is not only to use this safe and effective recycled plastic but to take their concept full circle with recycling centers across the country for this often thrown out plastic. With #5 recycling collection locations in Whole Foods stores, they are able to obtain the raw product for their outdoor tableware for free! Not a bad idea, is it?
These recycled plates come in three sizes. There are 10.5″, 9.5″ and 7″ sizes. They're offered in a variety of vibrant colors that simply scream summer, from fire engine red to hot pink to spring green. In addition to being lightweight and reusable, they are, of course, recyclable. But because they're dishwasher safe, you'll probably find yourself using them again and again. Best of all? The cost for this eco-friendly outdoor tableware is about the same as a stack of single use plates from a party store.
And although my mind is on summer and entertaining, I'd like to mention that Preserve uses recycled #5 plastics to make a variety of other items for your home that are worth considering. They have toothbrushes, razors, storage containers and even a line of kitchen tools.
How to recycle your Preserve tableware
And, if you can't find a place to recycle #5 plastics–many local recycling centers don't–you can simply mail them back to Preserve. The company will then turn them back into useful products. It's a part of Preserve's sustainable approach to design. Visit the Preserve website to learn more about how to recycle #5 plastics and how you can help turn them into something functional for your home. And be sure to check out the company's full line including storage containers and cool kitchen tools.
And while you're thinking about your summer fun, check out my favorite, portable wine glasses!
FREE APHRODISIAC NEWSLETTER
Subscribe to our free aphrodisiac newsletter