Fatwood – for anyone who needs help lighting their fire
Fatwood is a better way to start a fire
Is there anything more romantic than cuddling in front of a roaring fire during winter's coldest nights? But sometimes, you just can't get that fire started…literally and possibly figuratively. That's why we're featuring Fatwood.  When your fire–the literal one–just won't start, the easiest thing to do is reach for a man-made fire starter, like chemically treated pinecones or "logs" made of sawdust and assorted chemicals. These products certainly make the flames dance but they usually also release toxic fumes into the environment. And I don't know about you but toxic smoke inhillation is not on my list of top 10 ways to spend a Sunday night. (But here's one way I DO recommend.)
Fatwood is all natural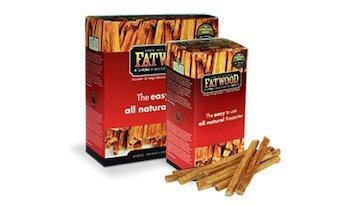 Fatwood, on the other hand, is a commercially available fire starter created by nature. It's made from the old pine stumps. Perhaps not the most romantic of origins. But this fire starter is makes an environmentally friendly alternative to chemical fire starters–and a reliable one at that. The secret is resin. The resin of a pine tree moves gradually downward during a tree's life and collects in the stump. It turns out, that resin is highly flammable. Which means a stick or two of Fatwood is all you need to get your fire roaring to life. And because these unique fire starters are all natural, their shelf life is indefinite.
All it takes is two 8-inch sticks to light any fire. This fire starter works for all situations, including campfires, wood stoves and grills. (Check out one of my best grilling recipes.) The company also makes a product  called Firedrops, made from the sawdust created in the process of manufacturing the fire starter sticks. They're bound together with paraffin wax and burns for up to 20 minutes.
For more information visit http://www.fatwood.com.
These fire starters are available at home improvement, grocery and gift stores or order yours now on Amazon:
FREE APHRODISIAC NEWSLETTER
Subscribe to our free aphrodisiac newsletter