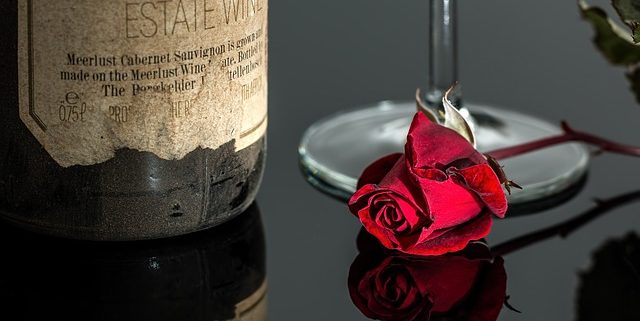 My Favorite Romantic Wines
Last month I was asked to write an article for Gayot.com on my favorite "romantic" wines. To me, a romantic wine is one that is not only special because it is delicious and a wine you might not drink every day, but in my world, a romantic wine has to have pheromonal properties. Some wines, but not all, have in the chemical makeup of their aromas, notes that replicate the scent of human pheromones. Typically, common wines with these sexy notes are oily Rieslings, yeasty Blanc de Blancs, earthy Burgundies (both red and white), truffly Cabs and Cab blends and leathery Syrahs. Here is just a taste of some of my favorite romantic wines:
Tin Shed
2009 Wild Bunch Riesling
If you thought Riesling couldn't be sexy, think again. This well-balanced wine offers faint, exotic, floral aromas mingled with that classic petrol scent. On the palate, it is deliciously restrained yet still fresh, featuring a hint of lime followed by a rainbow of exotic fruit.
Musella Winery & Relais
2008 Valpolicella Superiore Vigne Nuove
With its smooth tannins and bright acidity, this Italian number goes down easy (particularly for the price). Its aromas and flavors are of cherries and violets with underlying vanilla and musky notes.
Chamonix
2008 Reserve Pinot Noir
A masculine note running from aroma to finish gives the wine some very aphrodisiac attributes at a wallet-friendly price. A hint of roses as well as lingering chocolate on the finish will make it a winner with the ladies.
Swanson
2007 Alexis
A study in contrasts, this is a big, serious wine with surprisingly feminine qualities. Although the nose has masculine, pheromonal notes of cedar and leather, on the tongue this red blend offers complex and delicate black cherry, black currant and a hint of eucalyptus. The finish lingers long with caramel and toasted oak.
Darioush
2007 Signature Cabernet Sauvignon
Made in the style of cool-climate Bordeaux, this Cab offers rich, sexy, masculine characteristics of bramble, sandalwood and tobacco. Its earthy notes are balanced with blackberry, currant and cocoa.
Weingut Setzer
2009 Gruner Veltliner "Ausstich" DAC
Although its name doesn't roll off the tongue like a sweet nothing, Gruner Veltliner is a romantic, feminine varietal. This Gruner offers delicate fruit and a lightness on the palate, but with an underlying hint of something feral.
FREE APHRODISIAC NEWSLETTER
Subscribe to our free aphrodisiac newsletter