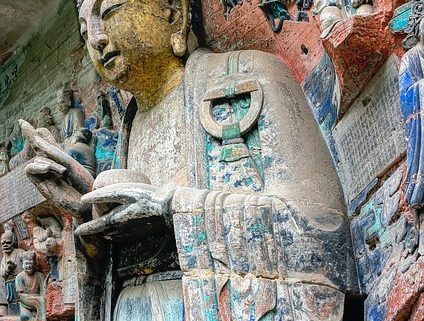 What Would Buddha Do on a Day Trip from Chongqing?
Deep in the farming territories of the Yangtze River Valley, just two and a half hours from the megalopolis known as Chongqing, sits what might be the most stunning system of Buddhist rock carvings on the planet.
This is Buddhism Chinese style – colorful, larger than life and with parables to make you think twice about that new BMW you want so much or the headache that has just overtaken your evening.
The Dazu Grottoes, as they are known stem from the time of the Qing Dynasty in 650 AD but were seeing continuous developments and additions through the 13th century, when it is believed Mongol armies may have scared the artists off.
The history of the Dazu Grottoes
Unlike many earlier relics along the ancient Silk Road in western China, these walls and caves have remained in tact and protected all these years and still bear most of their original shapes and colors in vivid depictions of strife and glory on the road to Nirvana. There may be more than 50,000 figures carved into the countryside around Dazu County. But the Buddhas of Baoding Mountain just 15 kilometers from Dazu town may be the most spectacular. These were created under the prompting of monk Zhao Zhifeng during the Southern Song Dynasty and wove together tales of Confucianism and Taoism along with the story of Buddha.
It is here we see such stories as the 1007 hands, preserved in a swell of golden beauty inside a cave of its own.
As its story goes, a man was so angry that his daughter had decided to become a nun that he went on a rampage and killed several nuns and monks at a nearby temple. Soon he became very ill and no one could help him. In a dream he learned that only the only cure was the sacrifice of an eye and a hand from his daughter. He asked his older daughter and was refused. He asked his younger daughter, the nun, and she cut off her hand and gouged out her eye and gave them willingly to her father.
The father was cured and Buddha came back to him to tell him the deed must be rewarded with 1007 eyes and hands. A wall covering 88 square meters and filled with a riot of golden hands – each bearing an eyeball – illustrates this story in one of the many works here undergoing preservation measures by UNESCO.
The entire site spans about 1.5 kilometers and a slow walk that takes about two hours, during which time you get to find out why Buddha has coils in his hair (he sat still for so long in meditation that the birds built nests on his head); what will become of you if you kill animals and eat them (you shall lose your beauty); what becomes of a man who drinks (he will no longer recognize his family and will probably kill his father); or if you live a life of debauchery (you will lose your beauty –and parts of your body). But the life lived mindfully is played out in the carving called the Wheel of Life: you will have it all – health, family, housing, community.
Getting there
A trip to Dazu is usually accomplished during a float down the Yangtze that begins or ends in Chongqing and is easily arranged through tour companies servicing that area, such as Pacific Delight Tours and China Highlights, as an add-on. The drive each way takes 2.5 hours so it is a full day, with lunch in Dazu and maybe a day tour of Chongqing (don't miss the pandas!). Hilton, Sheraton and Intercontinental all have properties in this city and concierge services that can set up the visit with a private car and English-speaking guide.
FREE APHRODISIAC NEWSLETTER
Subscribe to our free aphrodisiac newsletter