Why I'm Drinking Crocker & Starr in Quarantine
Our articles may contain affiliate links. For more information, view our policies.
Crocker & Starr 2016 Napa Valley Cabernet Franc
When we are feeling isolated and searching for light, creativity and a little humor, Napa's Crocker & Starr pulled it out of the hat, so to speak, and had their employees create an Easter garden made of wine barrels painted to celebrate the holiday.
Just looking at the photos today when I opened up my computer brought a smile to my face as I imagined winemaker Pam Starr with her endless energy, leading the charge to create her own form of sculpture garden.
I have had the privilege of spending time with the team at Crocker & Starr and their commitment to making great Cabernet Franc, Cabernet Sauvignon and Sauvignon Blanc, all while having fun and giving back to children's charities, is admirable. And I love their sense of fun which makes the winery an anomaly among all the seriousness of the Napa Valley.
Some history on this Napa winery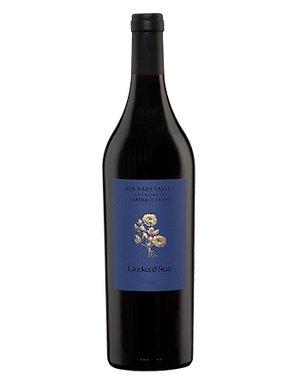 What started as a collaboration between Charlie Crocker, scion of one of California's oldest founding families and a Nape grape grower, and Pam Starr, a winemaker with a rich following, have rescued an 1870s winery, built stunning vineyards and created a brand with a highly loyal following. Yet, there is still time for fun and frivolity.
My review of Crocker & Starr's Cabernet Franc
For a splurge during lockdown, get a hold of the Crocker & Starr 2016 Napa Valley Cabernet Franc. At $50 a bottle, it definitely doesn't fall into my everyday drinking list but then, these are not everyday drinking times. And to be honest, if you heard the buzz about this wine when it was first released, you'd say that $50 was a bargain for a wine with such critical acclaim.
This elegant Cab Franc is reminiscent of a right bank Bordeaux and layers in Merlot and Malbec in the final blend. Although you could happily cellar this wine for another 10 years, I recommend drinking it right now  with port roast or lamb shanks with a bit of spice.
You can order this wine for delivery. It is currently available directly from the winery and from K&L Wines among other retailers with national distribution.
For more wine recommendations, check out all of our Wines of the Week
Latest posts by Barbara Barrielle
(see all)
Get on our mailing list
Don't miss out on a thing! Get news, deals & more!