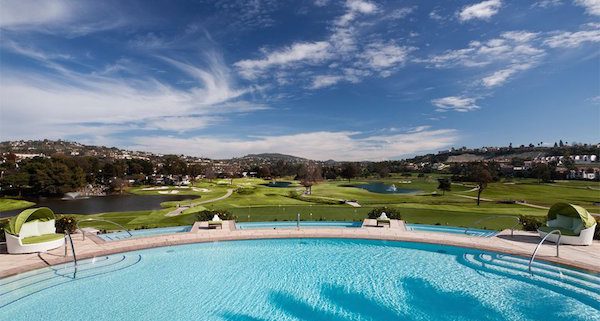 Looking west, head to the coast just above San Diego for a new look at old La Costa. The La Costa Resort and Spa might be credited with starting the spa craze back in 1965. It was the first U.S. resort with a full-service spa and suddenly women were joining their husbands on their "boys weekend" golf getaways for some no-nonsense muscle pounding within a setting of Italian statuary, water features and flowing artificial grape vines.
Today, the prestige golf tours remain but spa has become religion. Gone are the treatment stalls and floral cascades and in are two stress-busting spas: the Chopra Institute and the new, 28,000-square-foot Spa at La Costa.
The Spa is an homage to feng shui with an indoor/outdoor waiting lounge that opens onto gardens, a health-focused café, and an adults swimming pool with Roman waterfalls to beat into submission any aches or shoulder cramps a treatment may have missed. The spa's 42 PRIVATE treatment rooms include two coupling lairs or uberluxe VIP suites, and a Yamaguchi Salon is there to feng shui the hair when the lounging is done.
A KSL resort, the Spa takes a trick from its former KSL sister, The Grand Wailea in Maui, and prepares massage-goers with a quick and relaxing exfoliation and scrub taken in the Agua de la Vida room of whirlpools and steam. The five-minute "taste" lets the skin prepare to take in the oils and stimulates the senses as a sort of foreplay to such offerings as a Coastal Stone hot and cool stone massage using the geology of the Pacific Coast; or the signature La Costa Massage employing a blend of techniques and oils customized to the body's needs.
On the same campus of cafes, boutiques, golf shops, pools and tennis courts stands the Chopra Center, founded and run by holistic medical guru Deepak Chopra. Here, complimentary mediation and yoga classes happen as do in-depth, three- to five-day spiritual transformation programs run by Chopra Center-trained therapists.
For my time, as a casual weekend visitor seeking spiritual wellness within a 48-hour time slot, a ($185) 65-minute Gandharva or feather-light massage, would have to do.
Of the Vata, Pitta and Kapha types, I was decidedly a Pitta, it seemed. Pungent oil smelling of sandalwood was warmed, the rim of a bronze bowl rubbed for its harmonic resonance and mystical rejuvenation powers, and I was off – to nirvana and my lost 20s, I hoped.
The rooms at the new La Costa are spacious (starting at $250/night, on average), now with a Spanish colonial core and upgraded with sleek and comfortable furnishings. The ocean's edge lies minutes away, walk able, uncrowded, necessary. A resort shuttle makes the rounds frequently. San Diego, too, is a short roll down the freeway. But La Costa leaves little to the wanting – except more time.
Contact La Costa at (800) 854-5000, www.lacosta.com; and the Chopra Center at (888) 424-6772, www.chopra.com.
FREE APHRODISIAC NEWSLETTER
Subscribe to our free aphrodisiac newsletter