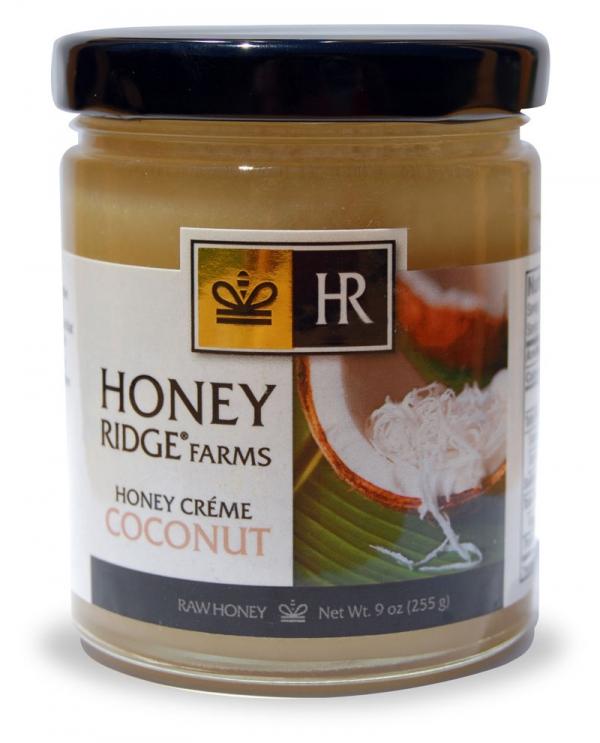 Coconut honey is a magical nectar
My favorite synonym for honey is Nectar of the Gods. Creamy and viscous, honey is undeniably aphrodisiac in texture. But it also offers nutrition to support sexual health. Honey is, in my estimation, a nearly perfect food. I never considered that it could be improved upon until Honey Ridge Farms sent me a care package that included something called Coconut Honey Créme. Could the two ingredients of coconut and honey marry, merging into an aphrodisiac superfood? The answer is simply, yes.Coconut Honey Créme  is a voluptuous blend of creamed raw, clover honey with a mere kiss of natural coconut flavoring. Its aromas conjure up a private island filled with succulent tropical flowers. And the flavor is a sweet kiss of something faintly exotic yet wholly comforting. Imagine your childhood favorite smeared with an animalistic musk–that's what you get in a jar of this flavored honey.
The allure of creamed honey
As for the texture, well that's in another league. Creaming the honey transforms the liquid gold into a velvety, thick, spreadable product, smooth as butter. And Honey Ridge Farms Coconut Honey Créme, with its thick, luscious texture, makes a perfect partner for a cheese plate, pancakes, or a butter-drenched slice of whole grain toast served under the covers after midnight.
There are several other flavors of Honey Créme for those who like their honey as a smear, not a drizzle. Although the most sexy is without a doubt the coconut, other flavors include: Spiced; Clover; Raspberry; Blood Orange and Lavender.
About Honey Ridge Farms
If you're not familiar with Honey Ridge Farms, their story is one worth knowing. This family-run company was started by fourth-generation bee keepers. In fact, the Honey Ridge bees help pollinate crops throughout four states, helping farmers maintain healthy, natural agriculture. To learn more about this Washington-based honey producer, and to order your Coconut Honey Créme, visit the Honey Ridge Farms website.
FREE APHRODISIAC NEWSLETTER
Subscribe to our free aphrodisiac newsletter