Christmas Cookies with a Pinch of Sugar and Spice
Our articles may contain affiliate links. For more information, view our policies.
Because one Christmas Cookie is never enough
I love Christmas cookies. They're one of the things I look most forward to about the Holiday season. So this week instead of offering just one kind of cookies, we're offering four different, Holiday-ready cookies filled with seductive spice. After all, nobody ever serves just one kind of cookies at the Holidays. Tis the season of sweetness and excess.
Salted Peanut Butter Cookies
This recipe was inspired by Bron Marshall's All Star Peanut Butter Cookies. Our own Delahna Flagg made the cookie her own because peanut butter are her favorite kind of Christmas cookies. She used natural peanut butter to create a cookie with a balance of savory and sweet. The crunch of salt on top accents the cookie's sweet flavor and moist, soft texture. The result is a batch of cookies more sophisticated than your average Christmas cookies.
Thank you Bron Marshall for inspiring the adult version of the classic Peanut Butter Cookie.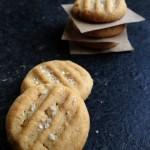 Salted Peanut Butter Cookies
Print Recipe
Ingredients
1/4

cup

white sugar

3/4

cup

lightly packed soft brown sugar

1

cup

of chunky

natural peanut butter - use the best you can afford. I use this brand.

125

g

of softened butter

1

large egg - at room temperature

1

cup

plain all purpose flour

1

tsp

baking powder

Sea or rock salt

make sure it's not iodized table salt
Instructions
Preheat your oven to 170°C (338°F). Line your baking tray(s) with baking paper.

Sift the flour and baking powder together.

Beat the sugars, peanut butter and softened butter together until well mixed, creamy and smooth-ish (no lumps).

Add the egg and beat until well combined. Scrap down the sides of the mixing bowl so that everything is well mixed.

On a low speed stir through or gently fold in the flour and baking powder until mixed through - but don't over mix it.

The dough will be rather soft so I prefer to refrigerate it (about an hour) until its cold and stiff enough to handle with my fingers and roll in my palms - but try to work quickly even if you're working with refrigerated dough. You can choose not to refrigerate if you don't want to or cannot wait.

Roll heaped teaspoonfuls of the dough into balls and place onto the baking tray.

Then use the back of a fork (lightly dusted with flour every now and again so it won't stick) and flatten the balls of cookie dough down a little into discs.

Bake between 10-12 minutes, rotating your tray at half time, until the cookies are lightly brown. Your cookies should be just that bit soft if you gently poke with at it.

Do this quickly - before the cookies cool down and while it's still hot and warm from the oven, sprinkle some salt over the cookies.

Then cool the cookies on the tray - the cookies will crisp up on the outside and remain just that bit chewy inside.

The dough yielded around 40 cookies for me but it'll all depend on how big/small you make these cookies.
For more Christmas Cookies with a Pinch of Sugar and Spice, check out:
Linda Amendt's Pumpkin Spice Cookies
Almond and Cardamom Cookies
FREE APHRODISIAC NEWSLETTER
Subscribe to our free aphrodisiac newsletter