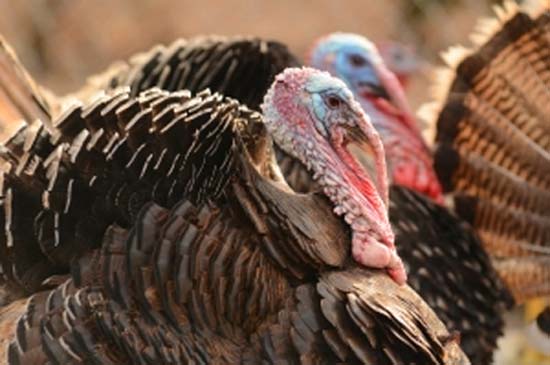 Important Tips for Choosing a Thanksgiving Bird
Our articles may contain affiliate links. For more information, view our policies.
We at Eat Something Sexy feel confident in our skills at roasting a Thanksgiving bird, but there's always a thing or two to be learned. So we asked our favorite farmer in the bird world, Jim Reichardt of Sonoma County Poultry (aka the Duck Man – you may be familiar with his Liberty Ducks) to weigh in before we tackle this year's Thanksgiving feast.
READ NEXT: Tips on choosing your Thanksgiving wine
Seeking, selecting and serving a great Holiday bird from heritage turkey to Liberty Duck
ESS: Organic poultry, free-range, hormone-free?
Duck Man: Ok, hormone-free… first, no poultry has hormones added by law. The ones that advertise [hormone-free] are making an empty statement. Maybe it's a good thing to keep saying it as education – as long as you aren't saying you are special because of it.
Should you choose organic poultry?
Duck Man: Organic poultry is always a good thing. The word doesn't mean the poultry is not raised in a non-confinement situation although you would ideally think of the organic movement being some mom and pop with chickens in the back yard. It could refer simply to Tyson or Perdue or Foster Farms feeding organic feed. Again, that is a good thing. It lessens the amount of chemicals on the fields.
What does free-range turkey even mean?
Duck Man: Free-range stated on a label means that the birds have access to the outdoors, not that they necessarily go outdoors. It may be that the birds do spend a substantial amount of time outdoors, but the requirements don't insist on it. The commercial birds raised free-range may not go out very much if at all. There are other varieties of chickens, heritage breeds, with a ranging mentality now coming into the market.
Tips for roasting a turkey
ESS: You've obviously cooked your share of birds. Any hints on roasting Thanksgiving turkey or even duck?
Duck Man: I don't believe in cooking it as long as they [recipes] say you have to. All those nasty things are on the surface, so get the surface over 140 and you are fine. People don't like raw chicken, but somewhere in between [raw and thoroughly cooked] is fine – sort of like med/med rare pork. Last case of trichinosis in this country? Last totally dead person from a piece of pork?
Heritage turkeys for Thanksgiving
ESS: What's your Holiday bird? Turkey? Duck? Turducken?
Duck Man: No turducken! Well, do it once to say you did. If you want to eat turkey, heritage turkey is the answer. I recommend this project from http://www.slowfoodrr.org in conjunction with 4-H. It's pretty cool.
ESS: (Edited Nov. 2021) Heritage turkey has grown increasingly popular as a Thanksgiving bird since we first published this article. If you're wondering, "What is a heritage turkey," these are birds from a variety of strains that retain many characteristics bred out of most modern birds raised as food. The characteristics of a heritage bird more closely resemble those of a wild turkey.
Heritage turkey can cost as much as five times as much money as a frozen bird sold at the grocery store. But most chefs will tell you the cost is worth it if you can afford the splurge. Although each heritage breed has a unique flavor, heritage turkeys tend to have a finer texture and greater flavor than conventional turkey. In addition, these birds are generally considered the more environmental choice than the conventionally raised domestic turkey.
Duck for Thanksgiving?
Duck Man: Duck is not what I think of as a bird for Thanksgiving dinner. Although I have some customers that swear by it. I'm more of a crab (crack your own) guy.

ESS: For our readers who need a break from the big gobbler, where can the home cook buy your Liberty Ducks? (Liberty Duck is a strain of Pekin Duck developed in Denmark. Jim's Liberty Ducks are known as some of the finest and most flavorful ducks raised in the United States.)
Duck Man: http://www.libertyducks.com for your duck needs. I ship to individuals.
This article was published in 2007 and most recently updated in November 2021.
Get on our mailing list
Subscribe and get our exclusive list of Six Great Sex-Boosting Snack Foods for FREE! Unsubscribe at any time.