A Chicken Soup Recipe for Spring
Our articles may contain affiliate links. For more information, view our policies.
My Spring Chicken Soup Recipe
I don't know who first called chicken soup food for the soul. But certainly it is a favorite  (and effective) cure for the common cold. (According to Web MD, it really is effective!) But what Web MD doesn't mention is that chicken soup is also good for the libido—especially when your chicken soup recipe is crafted from the right collection of ingredients.
The aphrodisiac key to my chicken soup comes from a blend of dark leafy greens, garlic and a combination of plant and animal protein. True, it's just a bowl of soup. But serve it with a wedge of whole grain bread and a glass of Pinot Noir followed by a serving of dark chocolate. Suddenly, you've elevated this chicken soup recipe into something more than just your soul will appreciate.
I don't know about you, but for things like chicken soup I tend to take the same base recipe and vary it by the season. So for spring, my chicken soup includes green garlic and fava beans. (In summer, I do the same soup but with fat, freshly shelled peas.) And baby spinach or even watercress can replace the kale in summer. But you want to add these fragile ingredients at the end, with the carrot greens.
I've added linguica to my broth its smoky, salty flavor. You could try bacon or chorizo instead or, if you prefer to keep the dish purely poultry, chicken sausage will work (although it won't have the same richness). If you're making this chicken soup recipe in summer, you might want to make a lighter version by omitting the linguica entirely. Just add a little extra chicken or beans to replace the protein and a pinch of smoked salt to help replace the meat's deep, salty flavor.
Spring Chicken Soup
Print Recipe
Ingredients
1

tbsp

grape seed or canola oil

2

stalks green garlic

tough green ends removed, minced

2

large carrots and their greens

2/3

cup

shelled fava beans

substitute lima or soy beans

3

kale leaves

ribs removed

2

large roasted chicken thighs

shredded

2

oz

sautéed linguica

cut into 1/4-inch cubes

6

cups

chicken stock

salt & pepper
Instructions
Prepare the vegetables by cutting the carrots into 1/4-inch thick rounds. Remove any thick stems from the carrot greens and roughly chop. Shred the kale.

In a large stockpot, heat the oil. Add the garlic, carrots and fava beans and sauté for one minute.

Add the kale, chicken, linguica and stock to the pot and season with a pinch of salt and pepper.

Bring soup to a boil. Turn heat to low and simmer for 1 hour.

Season with salt if needed. Stir in carrot greens and cook for 1 minute before serving.
Pin this recipe: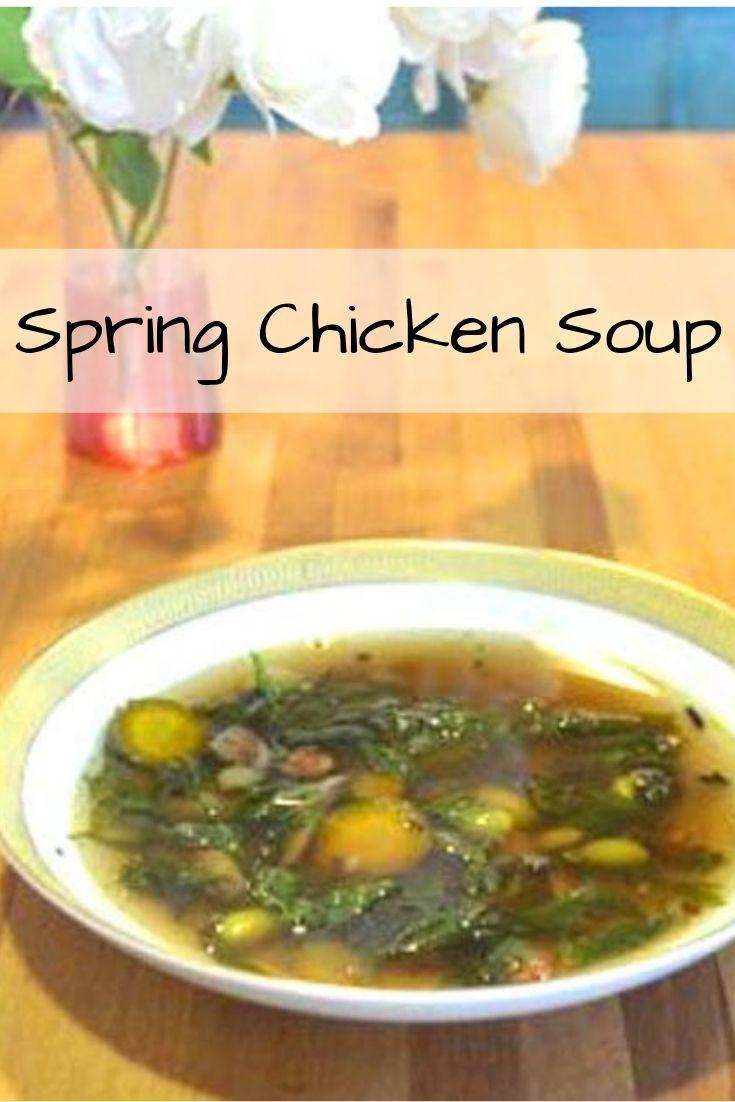 FREE APHRODISIAC NEWSLETTER
Subscribe to our free aphrodisiac newsletter