Roast Chicken Breast with Chorizo Roasted New Potatoes Recipe
Our articles may contain affiliate links. For more information, view our policies.
A one-pan chicken dish with hints of smoky paprika
Chicken is the safety meat. Everyone will eat it but few people will say it's a favorite food. That's because chicken breast has very little flavor. But you can choose to look at a roast chicken breast as boring. Or you can choose to look at it as a blank canvas. I choose the latter.
What is chorizo?
In this one-pan recipe, I take that boring old bird and add the seduction of chorizo. Chorizo is a spicy pork sausage most often found in  Spanish and Mexican dishes. (Mexican chorizo  is sometimes made with beef or other meats and is typically spicier then the Spanish version.) What makes this meat so compelling is its seasoning of smoky paprika.
Love a one-pan meal? Try this one-pan recipe for Asian-Style Fish Tacos.
In this dish, I layer the bottom of the pan with the paprika. As the fat in the sausage melts, it flavors and crisps the potatoes. And as the paprika warms, it's distinctly smoky aromas infuse the roast chicken breast. In short, a small amount  of Spanish chorizo transforms plain chicken and potatoes with ease as seamless as a magician  raising a wand. 
An alternate preparation for your roast chicken breast
I designed this as a one-pan meal. I prefer the simplicity of stacking the ingredients in one roasting pan and forgetting about the whole thing while it cooks. However, you might prefer a simpler flavor.
If you prefer your roast chicken breast with just a classic, rosemary flavor, you can roast the potatoes and chorizo separately from the chicken. If you have two ovens, this is on problem. If you only have a single oven, roast the chicken first then warm it before serving.
I've also been know to just make the potatoes and chorizo and skip  the roast chicken breast altogether. Served on their own they make a light supper for two when paired with a green salad.
Want more chicken inspiration? Here are some more of my favorite chicken recipes.
Roast Chicken Breast with Chorizo Roasted New Potatoes
Print Recipe
This one-pan recipe produces succulent chicken atop potatoes infused with the spice of chorizo. The potatoes and chorizo also make a great light dinner on their own, served with a salad. 
Ingredients
1

lb

new potatoes

4

oz

Spanish chorizo

sliced in ¼ inch rounds

1/2

lemon

cut into 6 slices

1

clove

garlic

thinly sliced

2

bone-in chicken breasts

approximately 1-1 ½ lb

1

tbsp

fresh rosemary

roughly chopped

salt & pepper
Instructions
Preheat a convection oven to 425 degrees.

Slice potatoes in half. If the potatoes are small, cut the chorizo in half. Coat a square baking dish with cooking oil and layer 1 slice (or ½ slice) of chorizo under ½ potato (cut side down). Scatter lemon and garlic slices around the pan..

Roast the potatoes for 15 minutes.

While the potatoes are roasting, slide the rosemary under the chicken skin. Liberally salt and pepper both sides of the chicken and set aside (at room temperature) until the potatoes have cooked for 15 minutes.

Top the potatoes with the chicken, cover pan with foil and return to oven for an additional 15 minutes.

Turn temperature down to 350 degrees but do not open the oven. Cook for another 15 minutes.

Uncover and cook for an additional 15-20 minutes, until chicken skin is crispy and juices run clear.
Pin this one-pan Roast Chicken Breast recipe: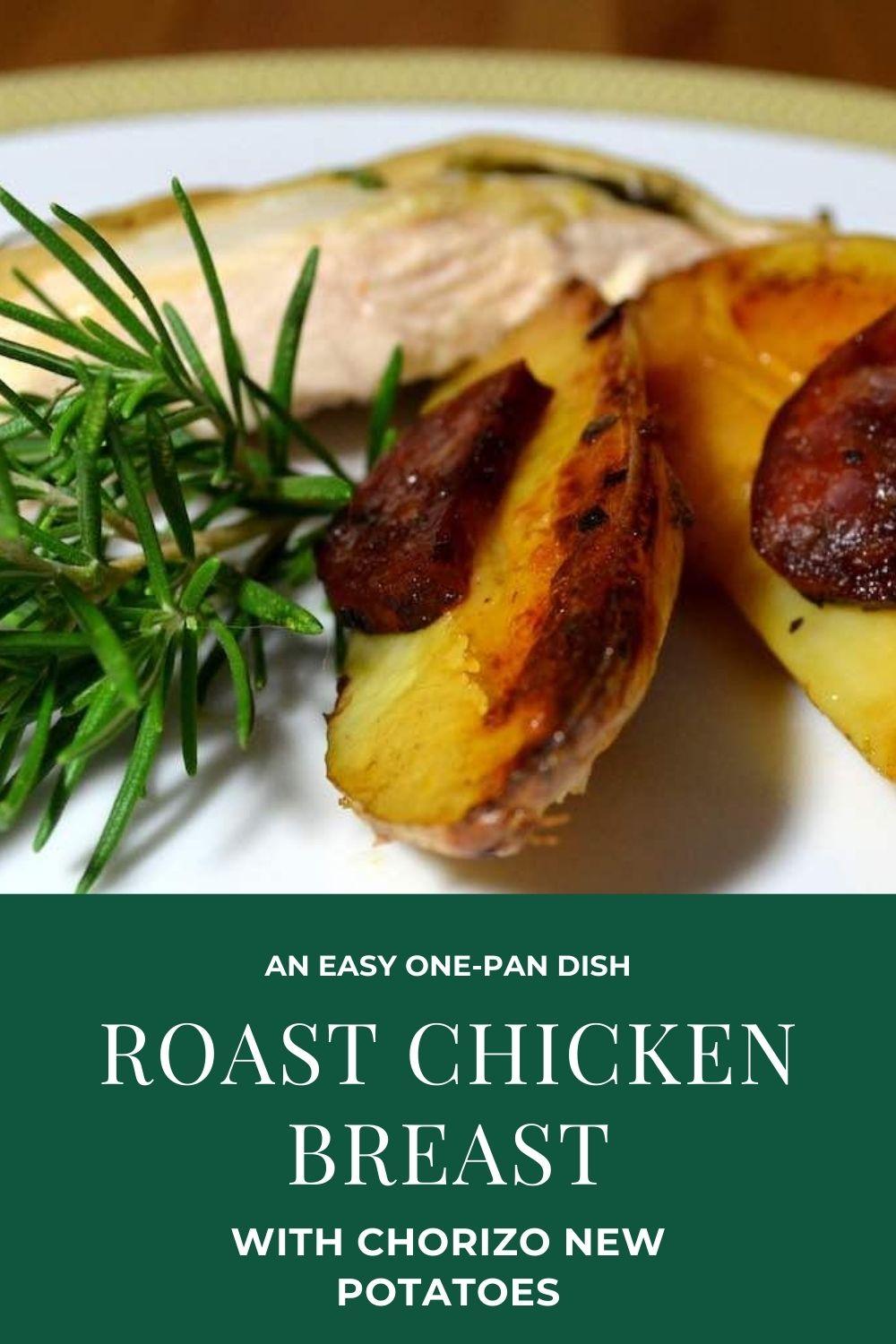 FREE APHRODISIAC NEWSLETTER
Subscribe to our free aphrodisiac newsletter