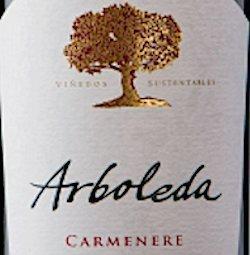 Carménère from Chile: Old World Charm from a New World Wine
Our articles may contain affiliate links. For more information, view our policies.
2016 Arboleda, Carménère, Aconcagua Valley, Chile
I was craving an earthy, savory, old world-style red wine. Unfortunately, I was in a place with no wines from the old world. The sommelier recommended this Carménère from Chile, promising it would not disappoint. She was right.
Old world-style wines are typically more earthy and minerally than new world-style wines. This is not to say they do not have ripe fruit characteristics, it's just that they have other nuances that play equal or greater roles. They are also known to have more pronounced acidity, and are frequently lower in alcohol than their new world-style counterparts. And, by the way, they are not required to be from the "old world" to fit this category. Same goes for new world-style wines and the "new world".
Carménère is an old world grape (from Bordeaux) that found its spiritual home in the new. It thrives in Chile's hot sunshine where this late ripening grape can reach its full potential. At its best, Carménère balances supple fruit and spice with savory earth and herbs. In this sense, it bears a bit of similarity to another Bordeaux varietal, Cabernet Franc.
The founder of Viña Arboleda, Eduardo Chadwick, is the fifth generation of the family that founded Viña Errazuriz. It was Chadwick's ancestors who are credited with changing the hot, dry, and viticulturally challenged Aconcagua Valley into one of Chile's premium wine producing regions.
About this wine
Looking into the inky blackness in the glass, one might expect something much more dense or aggressive than what comes next. Initial aromas of black pepper, hearty herbs, and oily black olives opened to include red plum and a hint of rose. On the palate, rich roasted red pepper is accentuated with woodsy herbs. Subtle notes of coffee and cocoa play with tart cranberry and cassis. Tannins are moderate and soft. And the mouthfeel of this Carménère from Chile is clean and juicy.
When in Chile, grilled steaks rule. With this wine, I have to go with the same. For those who prefer to skip the meat, I like to look to the Middle East for rich spice blends, ample use of roasted red pepper and toasted nuts, and the earthy tartness of pomegranate and pomegranate molasses.
The verdict
It is pure coincidence that this week's Carménère from Chile is from the same family as the late-harvest Sauvignon Blanc I wrote about recently. For me, it was fun to learn that the apple didn't fall far from the family tree. And, that there is plenty of great wine coming from the Aconcagua Valley. I'm excited to taste more of it as soon as possible!
Want to try this Chilean Carménère? Search where it's available near you.
FREE APHRODISIAC NEWSLETTER
Subscribe to our free aphrodisiac newsletter