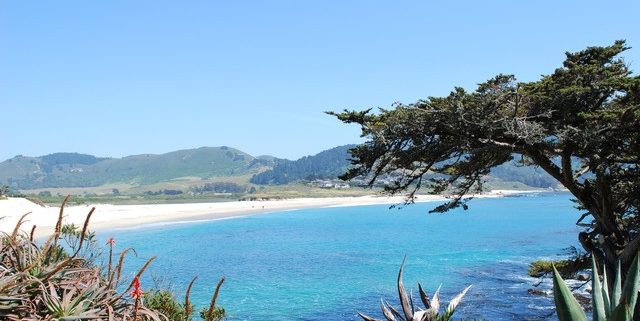 Romance is alive and well in Carmel
Look around the small town of Carmel-by-the-Sea and you'll spot people walking hand in hand. Young, old, no matter the age, this quaint city settled in a pine forest grabs the hearts of those who visit. Ideal for folks looking to decompress, the town has built-in privacy with monikers versus street numbers used to identify addresses. As for the residents, they'll happily give you a smile and introduce you to their dogs, residents in their own right. Go for a stroll and in minutes you'll be scrunching sand between your toes on one of the most beautiful beaches on the planet.
Where to stay
There are several ways to reach this idyllic burg. Fly into the San Francisco or Oakland airports where you can rent a car then enjoy a leisurely drive along the breathtaking Pacific Coast Highway. Though Carmel is only 120 miles from San Francisco, allot more time for this winding but spectacular, scenic drive. A more direct option: fly into the Monterey Airport, then taking a cab into Carmel for a stay on foot.
Forty-five inns dot the streets of Carmel-by-the-Sea, each with its own unique style and history. Such is the case with La Playa Hotel. Built in 1904 by Chris Jorgensen as a honeymoon home for his bride, a member of the Ghiradelli family, La Playa Hotel is an estate in pink often overlooked by the passerby. The lobby is welcoming with a fireplace serving as its focal point. Walk beyond and you'll happen into the Terrace Grill with views overlooking the gardens and pool. Most guest rooms have courtyard views that stretch to where the sea meets the horizon. At the base of the property are five idyllic cottages. One to choose – the Moongate Cottage with its wood-burning fireplace and private patio off the bedroom.
Closer to the heart of downtown is the Cypress Inn, built in 1929. Here you'll find yourself sharing high tea next to various breeds of canines, a common theme in this dog friendly town. Stay in Room 215 for a private verandah with an ocean view, fireplace and Jacuzzi tub. Waiting for guests is a complimentary fruit basket and cream sherry. Cypress Inn is one of the rare places you'll find live music at night due to the town's noise ordinances. Settle in at an electric blue table in the Library Bar aka Terry's and reminisce over walls adorned by posters of co-owner Doris Day's films.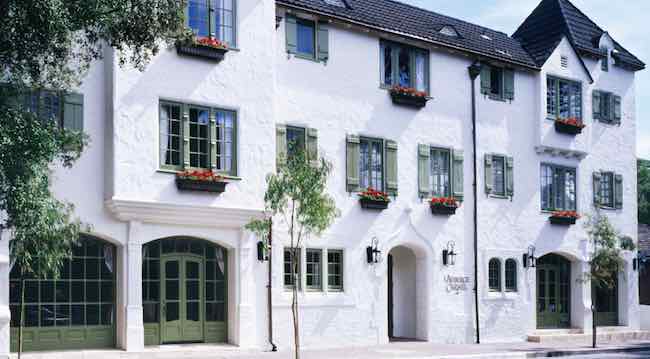 A block away is L'Auberge Carmel. Built in 1929, the European-style inn has a sweet courtyard filled with potted red geraniums and is just right for lounging over a complimentary breakfast of coddled egg and pastries. The rooms are equipped for comfort with deep tubs and beds made for sinking into. Another luscious indulgence – homemade cookies at turndown. Also delectable is dinner in the 12-table dining room helmed by Executive Chef Walter Manzke with offerings of California cuisine.
Where to eat
Most of Carmel's inns include breakfast with accommodations. Fun, too, is breakfast in town. Try the breakfast buffet at Il Fornaio, fresh-baked pastries at the Carmel Bakery and Coffee Company or Katy's Place to sample the 12 different versions of Eggs Benedict.
Indeed, great dining establishments abound in Carmel. For sustenance while window-shopping, lunch at the Porta Bella restaurant. Dine on the patio for people-watching over Mediterranean cuisine. Sublime is the warm chicken salad with seasonal fruit. Finish off with a refreshing lemon sorbet served in an almond shell.
Discover why Carmel is a town for lovers of dogs
Another option can include taking in the ocean breeze with a picnic lunch under the shade of a cypress tree at Carmel Beach. Stop by The Cheese Shop at Carmel Plaza to stock up on gourmet fare from their international selection of wines, dried fruit, unique spreads and cheeses from around the world. Staff like Gary Bartram will direct you toward cheese creations like no other from Belgian Chimay with Confit Red Onions to Berger Roquefort coupled with Dried Apricot and Fromage D'Affinois paired with Dried Cherries and Scharffen Berger Chocolate.
High tea in Carmel is a great way to enjoy a breather later in the day. No hats are required, and dogs are allowed (at the Cypress, anyway.) The Tuck Box English Tea Room is situated in a Comstock cottage of which Alice in Wonderland would surely approve. Arrive in time for lunch and you can feast on one of their daily pie offerings from Shepherd's to Beefsteak.
Cypress Inn has daily high tea from 2:00 p.m. to 4:00 p.m. Guests have their choice of sitting in the cozy lobby, hip library bar or sunny outdoor courtyard. Dig into homemade scones with jam and thickened cream, tea sandwiches and cookies. Compare notes on the Darjeeling with the Schnauzer at the next table.
As night falls, kick back at the double-sided fireplace at Boucheé restaurant. Dine on creative cuisine from Executive Chef Manzke (also the chef at L'Auberge Carmel) such as the Liberty Duck Breast with Wild French Asparagus, Barley and Duck-Port Wine Sauce. For dessert, dig into the Rocky Road Crème Brulee Espuma.
There are two restaurants for savoring renowned chef Kurt Grasing's cuisine, Kurt's Carmel Chop House and Grasing's Coastal Cuisine. Enjoy both by starting at the Chop House for signature martinis and a taste of home with appetizers like Maryland Crabcakes and Steamed Clams. Stay for a dinner with outstanding beef entrees such as American Kobe Beef, or head to Grasing's for selections such as the Portabella and Tofu Tower or Braised Veal "Osso Bucco."
Things to do in Carmel

Once upon a time, women could be cited for wearing high heels in Carmel-by-the-Sea due to the danger of injury from the town's cobblestone streets and sidewalks. Today, guests can stop by City Hall and procure a license to wear high heels as a memento of their trip. License in hand – go shopping!
Downtown there are 200 specialty shops plus 100 art studios and galleries. Aviation fans should check out Wings America. Pour over everything from books featuring local adventures to hats in all colors at the eclectic Carmel Bay Company. Succumb to your sweet tooth at Cottage of Sweets.
During your stay, soak in the beauty of the Central Coast with outings to Monterey to check out Cannery Row and the Monterey Bay Aquarium, the valleys for wine tastings and Big Sur for its awe-inspiring beaches. Adventures by the Sea will provide bikes or surreys for exploring the area be it along Carmel's Scenic Road or 17-Mile Drive that starts in downtown Carmel and winds through Pebble Beach. Along the way keep an eye out for seals, seagulls, migrating whales and the famous Lone Cypress. Something golf lovers are sure to spy – Pebble Beach's outstanding fairways.
In Carmel visit the Carmel Mission Basilica and national shrine of blessed Junipero Serra; Tor House and Hawk Tower, once the home of California's poet Robinson Jeffers and Devendorf Park, the resting place of the town dog, Pal. Get a history lesson with a walking tour hosted by the Carmel Heritage Society or a self guided tour mapped out by the Chamber of Commerce. Later, take a break from your busy itinerary and grab a beer at the notorious Hog's Breath Inn, an establishment once owned by former mayor, Clint Eastwood.
The perfect way to end your stay in Carmel — an evening at the newly renovated Sunset Center. Once a school auditorium, this converted state-of-the-art cultural center now hosts performances from the Monterey Symphony to the National Acrobats of Taiwan to Lyle Lovett. All in all, Carmel-by-the-Sea deserves a standing ovation.
For visitor information, visit www.montereyinfo.org
FREE APHRODISIAC NEWSLETTER
Subscribe to our free aphrodisiac newsletter