Our articles may contain affiliate links. For more information, view our policies.
The recent (and ongoing) Napa and Sonoma County fires have created unprecedented devastation to homes and businesses, most particularly the wine industry. At present we know that 16 Napa and Sonoma County wineries, including Paradise Ridge, Signorello, White Rock, Backbone and Sill Family Vineyards have suffered extreme and in some cases complete losses.
Many wineries in both counties have suffered damage to facilities and vineyards. Most of the losses are still unclear and the fires continue to burn. What we do know right now is how you can help.
If you are in the area, there is a current need for vineyard and winery labor, including unskilled help as well as the need for tractors and trailers.
To volunteer your resources, please fill out the Disaster Relief for Vintners form: https://docs.google.com/forms/d/e/1FAIpQLSdzXi-INnZOEshQqP4Dm88AOaimt4g7wqoKlq-xhdjnHUsE1g/viewform
For those of us too far away to lend a helping hand, here's what can be done to help this beloved, American industry and the people who work so hard to bring us world class wines:
You can donate to the Community Foundation of Sonoma County by visiting: https://donatenow.networkforgood.org/1431417.
To assist our friends in Napa, donate to the Napa Valley Community Foundation by visiting: http://www.napavalleycf.org/fire-donation-page/.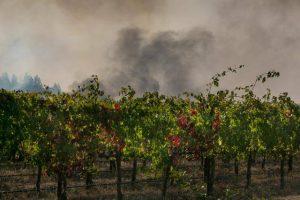 Obviously, when the smoke clears (quite literally), the region will also need our help in the form of tourism dollars. So one of the best things you can do is start planning your next trip to the Wine Country.
Map image of the Napa and Sonoma County fires reprinted from the Cal Fire website and provided by Google Maps, depicting burn area as of October 11, 2o17.
Additional photography by George Rose
FREE APHRODISIAC NEWSLETTER
Subscribe to our free aphrodisiac newsletter