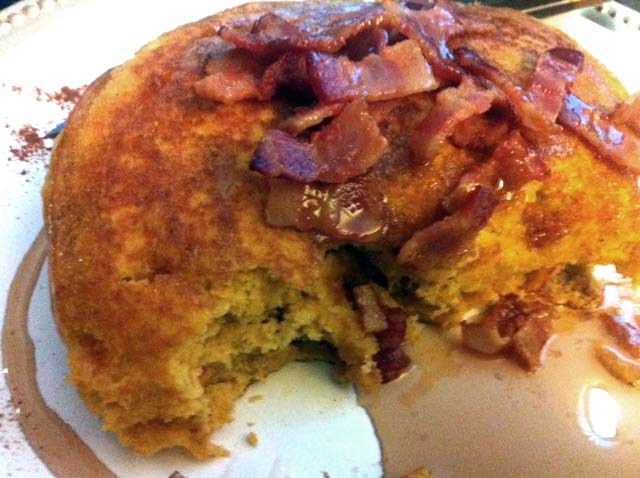 Buttermilk Pumpkin Spice Pancakes with Lardons
Our articles may contain affiliate links. For more information, view our policies.
This taste of fall flavors is a gift from Chrysta Wilson, author of Kiss My Bundt recipes from the award-winning bakery. Like every baking recipe that Chrysta makes, these pumpkin spice pancakes are easy to make and offer craving-worthy flavor. Seriously! All of Chrysta's recipes are A+ in my book and this buttermilk pancake recipe is no exception.
For her pumpkin spice pancakes recipe, Wilson uses the seductive flavor of pumpkin pie spice to put a seasonal twist on classic buttermilk pancakes.
Don't miss Chrysta's Pumpkin Bundt Cake recipe. 
Why you need to try this pumpkin spice recipe
In case you've been living in a foreign land that has escaped the commercialization of the fall season, pumpkin spice is a bottled blend of baking spices. This blended spice powder typically contains many of my favorite aphrodisiac ingredients. Pumpkin spice ingredients typically include cinnamon, mace, allspice, cloves, ginger and nutmeg.
That's it.
Yep! Pumpkin pie spice contains no pumpkin. But it has the kind of warm and inviting aroma that evokes memories of the carefree autumn days of childhood…and it may also evoke something else but more on that later…
Now, for those of you–and it is probably most of you–who have become hardened to the joys of pumpkin spice thanks to over-saturation…I know, you've seen it all when it comes to pumpkin pie spice. I get it. I'm pretty much over pumpkin pie spice recipes, too. (Honestly, I think I even saw pumpkin spice potato chips the last time I ventured down the snack aisle of my grocery store.)
But here's the thing. This spice blend, or at least your favorite elements of it still have merit and I think this recipe showcases exactly what I mean. The judicious way Chrysta uses the seasoning is the right way. If you're sick of the commercial varieties, you can always make a homemade pumpkin spice blend using only your favorite of the spices.
Just remember to use it as directed because not only will it give your buttermilk pancakes comforting, fall flavor, the aroma of pumpkin pie spice happens to be a proven aphrodisiac for men.
What are lardons?
Chrysta adds lardons to her pumpkin spice buttermilk pancakes for extra texture and a burst of salty flavor. Lardons are just small strips of slab bacon. (Cbrysta makes hers with slices of thick-cut bacon to simplify.)
By cutting the bacon into batons, you can more easily achieve perfect crispness while maintaining juiciness in the meat. Many culinary experts consider lardons to be far superior to strips of bacon. They're commonly used in salads but we love how Chrysta uses them here to add a sexy crunch to her pumpkin spice pancakes.
While a traditional plate of pancakes would come with the bacon on the side, Chrysta's over the top plan calls for you to sprinkle those crisped lardons right on top of the pancakes. Perhaps it is a gesture of excess but since bacon is an aphrodisiac, I say get them on there!
Check out this Chipotle Bacon Chocolate Chip Cookie recipe. 
A romantic breakfast recipe
Whether you're planning to serve these pumpkin spice pancakes at the table, or to someone special as a breakfast in bed recipe, don't forget the maple syrup. True, maple syrup adds a jolt of sweetness to play against the fat and salt of the bacons.
But the reason I'm recommending it is because pure maple syrup is an aphrodisiac. You might be surprised to learn that unlike most other syrups, real maple syrup actually has some nutritional benefits. Seriously! Pour it on and enjoy.
Love pancakes? Check out all of our pancake recipes.
Buttermilk Pumpkin Spice Pancakes with Lardons
Print Recipe
This first taste of fall flavors comes to us from Chrysta Wilson, author of Kiss My Bundt recipes from the award-winning bakery. Serve them to someone special for an unforgettable breakfast in bed.
Ingredients
6

strips uncooked

thick-cut bacon

1

cup + 2 tbsp

all-purpose flour

2

tbsp

sugar

granulated white

1 1/4

tsp

baking powder

1/2

tsp

baking soda

1/4

teaspoon

salt

1

cup

C buttermilk

1

large egg

5

tbsp

pumpkin puree

4

tbsp

pumpkin pie spice

(alternatively 1 tsp cinnamon, 1 tsp nutmeg)

3

tbsp

vegetable oil or melted butter

1

tsp

vanilla extract
Instructions
To make the pancakes:
Combine the dry ingredients: Mix flour, sugar, salt, spices, baking powder and baking soda together in medium bowl.

Combine the wet ingredients: In a separate bowl, mix eggs, buttermilk, pumpkin puree, vanilla extract, and oil/butter together.

Mix wet and dry ingredients together: Add the wet ingredients into the dry ingredients. Stir just until combined: the batter should have lumps in it. Baker's Note: Do not beat until smooth as this will overmix the batter.

Turn stove onto medium heat. Lightly grease pan or skillet with a teaspoon of melted butter/oil or a baking spray.

Drop 1/3 cup of batter onto heated pan/skillet. Use the backside of the measuring cup to help even out the batter into a nice circle.

Cook your pancake until bubbles begin to form on surface of the pancake, which takes about two minutes. Then, using a spatula, flip the pancake over onto the other side. Cook another 2 minutes, or until the pancake is golden brown.
**Tip: You can keep them warm in a 200 degree oven until all the pancakes are finished**
To serve, sprinkle cinnamon onto the plate, and then place two pancakes on top of one another. Sprinkle your lardons on top of the pancake, drizzle some maple syrup over everything and devour.
Pin this Buttermilk Pumpkin Spice Pancake recipe:
FREE APHRODISIAC NEWSLETTER
Subscribe to our free aphrodisiac newsletter