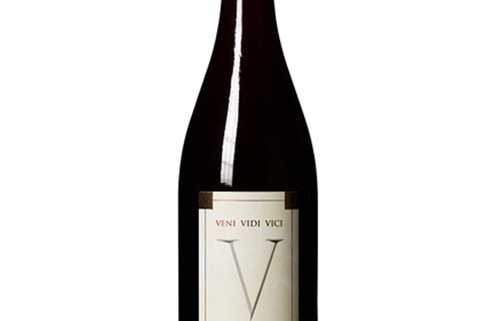 Bulgarian Pinot Noir: Pinot Noir with a Passport, Part 2
Our articles may contain affiliate links. For more information, view our policies.
2015 VINI, "Veni Vidi Vici", Pinot Noir, Thracian Valley, Bulgaria
Wine of the Week with Annette Tomei
When considering where in the world your next Pinot Noir will come from, my guess is that Bulgaria is not on your radar. But, yes – there is tasty Bulgarian Pinot Noir!
Despite at least a millennium of wine production under its belt, Bulgaria is not on most wine lovers' radar. In a way, that is understandable. Bulgaria's viticultural heyday was in the mid-14th century just before the Ottoman Turks took over. The next was in the 1980s when Bulgaria was best known for producing a sea of plonk, prior to the collapse of communism. A renewed interest in wine production is mostly based on classic French grapes (Cabernet Sauvignon, Merlot, and Chardonnay).
There are now five world-recognized wine-growing regions in Bulgaria. These include the Thracian Valley (also known as the Thracian Lowlands) in the southern part of the country. The Balkan Mountains protect that area from cold weather coming down from Russia, providing a moderate climate.
About this Wine
VINI is produced specifically for the North American market. It's imported by Bulgarian Master Vintners, a Sonoma County-based importer deeply passionate about the wines of Bulgaria.
This Bulgarian Pinot Noir has a deep garnet color and aromas of redwood forest, roast pork, and cherry cola. On the palate, it is tart and pleasantly astringent with flavors of cranberry, pomegranate, and dried leaves. There is a nice balance of fruit and earth, with moderate fruit tannins on the front of the palate and a clean finish.
I recommend enjoying this Bulgarian Pinot Noir with cedar plank roasted salmon, grilled brined pork chops, or crispy skinned duck breast. If veggies are more your thing, try a hearty warm salad of grilled lacinato kale or other sturdy flavorful greens. Or consider an assortment of roasted roots with a dressing made with pomegranate molasses and toasted pumpkin seed oil–add some chewy nutty ancient grains to make a more hearty meal.
The Verdict
Pinot Noir is not yet a popular grape to grow in Bulgaria. So, all the more exciting to find Bulgarian Pinot Noir that is tasty and a great value at under $10/bottle. VINI also produces several other varietal-specific wines. These include Cabernet Sauvignon, Merlot, Chardonnay, Pinot Grigio, and a rosé of Pinot Noir.
I hope you enjoyed the second pour of our Pinot with a Passport flight, and that you will continue to join me over the next few weeks as we continue our summertime flights of fancy! To view last week's pour, check out the recommendation.
For more about where I enjoyed this and other flights, please visit Crush Bistro.
Latest posts by Annette Tomei
(see all)
FREE APHRODISIAC NEWSLETTER
Subscribe to our free aphrodisiac newsletter